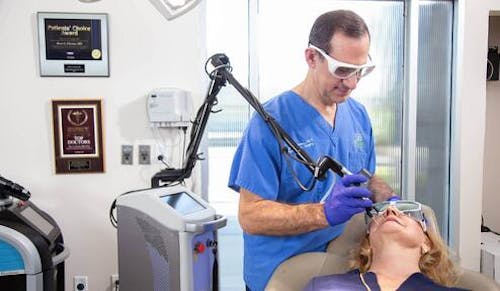 Smooth, glowing skin helps create a radiant, youthful appearance free of wrinkles, brown spots, and other natural imperfections. Laser skin resurfacing is a procedure that reduces signs of aging to achieve a luminous complexion without surgery.
Let's talk about laser skin resurfacing: what it treats, how it's performed, and what you can expect from your results.
Laser Skin Resurfacing: What Symptoms Does It Treat?
If you're like most of our patients, you've probably heard of laser skin resurfacing but are not sure whether or not you need it. Your laser skin resurfacing treatment can address:
Fine to deep lines and wrinkles
Complexion abnormalities
Sallowness
Brown spots
Scarring
Rosacea
Precancerous skin
Depending on your specific procedure, laser skin resurfacing can also correct loose skin, skin laxity, and uneven skin texture. It's possible to achieve a 20 percent degree of skin tightening with a laser. There are specific types of lasers and radio frequency treatments that aim to tighten the skin and create an uplifting of the cheeks, tightening of the jawline, and/or tightening of the neckline to create a more youthful, contoured appearance.
How Does Laser Skin Resurfacing Work?
The term "laser" may bring to mind a device used in a sci-fi film. However, laser-powered skin resurfacing systems are among the most reliable and transformational tools in aesthetic medicine, and facial plastic surgeons have used them for years to treat a variety of skin conditions safely and effectively.
Laser skin resurfacing works by using light energy to stimulate your body's natural ability to heal, regenerate skin cells, and produce collagen—all of which improves your skin's tone and texture. Your laser specialist will choose the right device and technique to achieve your goals. While you're wearing protective eyewear, your provider will pass the laser handpiece over your skin carefully in a controlled manner while the laser sends pulses of light to be absorbed and processed by your skin.
Just as the term "laser-focused" suggests, each laser has a very specific purpose and is designed to achieve a particular result. For example, the lasers we use for skin tightening aren't the same tools used to correct hyperpigmentation. Lasers we use to revitalize the skin are called "laser skin resurfacing" devices. These devices come in many types, with some working better for some types of skin and others having more success minimizing deeper lines and wrinkles. Whatever your individual concerns are, at our practice we have the latest technology available so we can address them.
What To Expect From Your Treatment and Results
Your laser skin resurfacing treatment should be completely customized to your specific skin needs and goals for your appearance. You and your provider can discuss your goals during your cosmetic consultation, and you can expect your treatment plan to be unique to you and your skin type—and not necessarily the same as your friend who just got gorgeous results from her skin resurfacing treatment. The device and protocol used to achieve your friend's result may or may not be right for you. Our advice? Focus on the symptoms you want to address, and your laser specialist can design a treatment plan to get you there!
Customized Procedure
At our practice, our laser specialists have more than 10 state-of-the-art specialized laser devices from which to choose. Having more lasers in our collection offers more flexibility for our providers to select exactly the right device to help patients achieve their unique goals.
Our laser specialists are experts at what they do, and we can match the right laser to each patient based on your skin type, degree of sun damage, available downtime, and unique needs. Treatments take approximately 30-90 minutes and are performed in-office with numbing creams and Clevens Comfort+, an optional medication to reduce anxiety and discomfort during your procedure.
Recovery Time
You can choose to have either a single, deeper treatment that produces faster results but has some downtime and requires aftercare, or a series of milder treatments to minimize downtime and achieve your desired results over time. Some laser skin resurfacing procedures have little-to-no recovery time, whereas others may take a week to 10 days to recover. Recovery varies depending on your custom-tailored treatment, however, most of our laser skin resurfacing patients can expect to experience a pink appearance and mild sunburn sensation, with the potential for some peeling after deeper treatments.
Aftercare
Plan to moisturize, wear sunscreen daily, and avoid direct sun exposure following your laser skin resurfacing treatment to maximize your results. Also, commit to following a medical-grade skincare regimen to enjoy your outcome for as long as possible. Sometimes, we recommend patients meet with our medical aestheticians before a laser treatment or peel so they can recommend a regimen that will "prep" the skin for a few weeks prior to treatment, to maximize results!
Combination Treatments
Many also opt to combine laser skin resurfacing with other popular procedures like eyelid surgery, facelifts, or our Laser-Assisted Weekend Neck Lift™ for enhanced results. You can discuss all your options with your specialist during your consultation.
Want to learn more about laser skin resurfacing and other nonsurgical facial rejuvenation treatments? Tune in to our complimentary nonsurgical facial rejuvenation webinar to learn more about the procedure and whether it makes sense for you.