Do you ever wish you could just wave a magic wand to rejuvenate your face and refresh your appearance without surgery?
Enter the liquid facelift: a highly effective, nonsurgical alternative to traditional facelifts that delivers immediate, natural-looking, and (dare we say) magical results. If you're on the hunt for a customizable, fast-acting facial rejuvenation treatment and want to avoid surgery, a liquid facelift may be the ideal solution for you.
Here's all you need to know about liquid facelifts:
What they are
Which areas they treat
How the procedure is performed
What to expect from your recovery and results
Liquid Facelift: What Is It & What Does It Treat?
A liquid facelift is a nonsurgical cosmetic procedure that uses dermal filler injectables to achieve a rejuvenated and refreshed appearance without surgery. It's the perfect solution for adding back lost definition to your facial structure.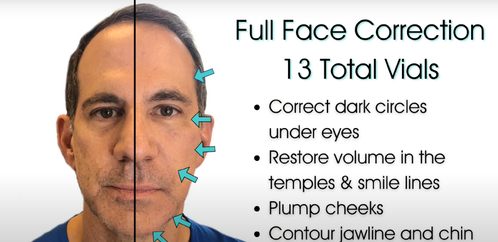 Liquid facelifts are used to treat areas of the upper, mid, and lower face, including the forehead, under the eyes, the temples and eyebrows, cheeks, nasolabial folds, around the mouth, the chin and jawline, jowls, and the upper neck. Although it varies from person to person, our facial plastic surgeons typically use injectable dermal fillers made up of hyaluronic acid or the body's own fatty tissue during a liquid facelift.
Injectable fillers help to:
Lift and plump the cheeks
Smooth lines and wrinkles
Accentuate under the eyes
Address dark circles under the eyes
Restore lost facial volume
Redefine the chin and jaw
Reduce mild skin sagging
Contour the upper neck
Additionally, a liquid facelift can be combined with Botox to treat the "elevens" between your brows, as well as forehead lines and crow's feet. It's also common for liquid facelift patients to combine their procedure with laser skin resurfacing or an RF microneedling treatment, which improves the overall quality and texture of your skin for a smooth, glowing complexion.
What Exactly Is a C-Lift & Is It Right For Me?
At our plastic surgery practice, we offer the C-Lift (short for "Clevens Lift"), which is our fully customizable version of a liquid facelift. The C-Lift goes deeper in targeted areas than a simple filler treatment and involves a full-face assessment, including the changes over time to fat, muscle, and bone within the face and neck. It also seeks to restore the structures within your face to rejuvenate from the inside out for a more balanced aesthetic result, ultimately refreshing your face while enhancing your natural beauty.

In addition to being a deeper treatment and allowing for a more natural, balanced result, many patients choose the C-Lift over a surgical facelift for the following reasons:
Minimally Invasive
One of the biggest benefits to having a liquid facelift is that it's a nonsurgical cosmetic procedure that requires no anesthesia, downtime, incisions, or potential for scarring. Plus, it's almost completely painless, with some patients experiencing very mild discomfort, fullness, bruising, and/or redness that is temporary and resolves within days.
No Downtime
Many of our liquid facelift patients love that they can rejuvenate their face in less than 30 minutes and without any downtime—meaning no time off work or away from your other day-to-day activities like a surgical facelift requires.
Affordability
A liquid facelift is more affordable than a surgical facelift, costing between $3,000-$8,000 on average, depending on your location and the type/amount of fillers used. On the other hand, a surgical facelift costs upwards of $15,000, but offers a more permanent solution for facial rejuvenation.
Customizable
Liquid facelifts are completely customizable, meaning they can be tailored to your unique needs to achieve your desired results. Our facial plastic surgeons can customize both the placement and type of filler used in each area of your face to deliver the best outcome possible.
About the C-Lift Procedure: How It Works
During the C-Lift, our signature liquid facelift procedure, our facial plastic surgeon, Ross A. Clevens, MD, FACS, uses a combination of Botox and injectable dermal fillers to address signs of aging on the upper, mid, and lower face.
The C-Lift is performed in our office in less than 30 minutes, and desired results can typically be achieved in just one treatment session. During treatment, many of our C-Lift patients include our optional add-on Clevens Comfort+, a special inhalant that minimizes discomfort during nonsurgical procedures. (Full-face rejuvenation, pain-free and without any downtime!)
You may be wondering why you should go to a facial plastic surgeon for a nonsurgical cosmetic procedure. The answer comes down to expertise and specialization. Dr. Clevens draws on his surgical facelifting techniques, mastery of injectables, and expertise with facial anatomy to achieve the most natural-looking results from your liquid facelift. This "specialist advantage" enables us to deliver exceptional results for our patients, each and every time!
C-Lift Recovery & Results: What To Expect
The best part about a C-Lift liquid facelift is that there's no downtime or recovery involved! With the exception of some minor bruising and fullness immediately following the procedure, you'll have no side effects or recovery period whatsoever. We typically ask to see patients for a follow-up visit about two weeks after their C-Lift to make sure they are fully satisfied with their outcome. Because the procedure is completely customizable, we can tailor your treatment to achieve your unique desired results.
Another great perk to having a liquid facelift is that results are instantaneous and designed to be long-lasting. We find that in most patients, the C-Lift lasts for up to two years, depending on which fillers are used and where they're placed. We also recommend periodic touch-ups to maintain your cosmetic outcome over time.
Your lifestyle can also make a difference in terms of maintaining your results. For example, following (and sticking to) a medical-grade skincare regimen on a daily basis can extend results for longer and slow down signs of aging to help you look as youthful as possible, for as long as possible. (Yes, please!)
Here's how one of our C-Lift patients described her outcome: "I'm very happy with my results—it looks amazing! Everyone was friendly, helpful, and made me feel very comfortable. If you're looking to get any kind of facial procedure done, Dr. Clevens is the guy!" —Krystal820, review on RealSelf
Think a liquid facelift might be the perfect procedure to improve signs of aging on your face without surgery? Schedule your consultation with Dr. Clevens and our care team for a full-face assessment to discuss your personal goals and find out whether you're a good C-Lift candidate. After that? Magic awaits!