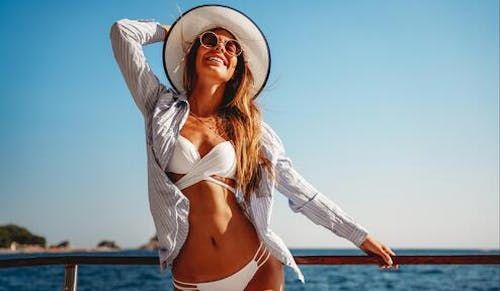 What if we told you there was a way to get rid of up to 25 percent of your most stubborn, persistent body fat without the need for surgery, anesthesia, little to no downtime, or a recovery? Well, there actually is—and no, it's not too good to be true. It's CoolSculpting® ELITE, the most advanced CoolSculpting system yet!
CoolSculpting ELITE can help boost your confidence so you love what you see when you look in the mirror. Not only that, but clothing also fits better and many patients feel the treatment helped them commit to living a healthier lifestyle to maintain their results.
Sounding like a great option for you?
Here's what you need to know about the world's leading nonsurgical fat reduction treatment: what it is, how it works, areas it treats, and why it's the go-to procedure for countless men and women seeking nonsurgical body sculpting.
CoolSculpting ELITE: How It Works & What It Treats
As we age or experience weight fluctuations, we all accumulate stubborn areas of fat that just won't go away, even with the most dedicated diet and exercise. CoolSculpting ELITE is an FDA-cleared nonsurgical fat reduction treatment to target and freeze away fat cells from nine different areas of the face and body—more than any other noninvasive fat reduction technology. These nine areas include:
Abdomen (muffin top)
Sides/flanks (love handles)
Upper arms
Back fat
Bra rolls
Inner/outer thighs
Under your butt (banana roll)
Double chin
Below the jawline
What should you be doing NOW to ensure you age gracefully? Check out our guide, Cosmetic Procedures For Every Decade Of Your Life."
Our patients in and around Brevard County, Florida, choose CoolSculpting ELITE because of all the benefits it offers. The treatment itself is short and sweet, and takes around 35 minutes per session—meaning you can even get it done over your lunch break! Some patients achieve their desired results in a single session, while others may add additional treatments to maximize their outcome. CoolSculpting ELITE costs range from $3,000-$4,000, depending on your individual treatment plan.
Both our female and male body contouring patients love that CoolSculpting ELITE treatments are completely customizable, meaning your unique treatment is entirely based on the areas you'd like to improve, the aesthetic results you're hoping for, and how to best achieve an optimal, natural-looking outcome.
Following CoolSculpting ELITE, there is no recovery period and little to no downtime. Results are noticeable after about 30 days and continue to improve for up to 12 weeks. Not only are there no activity restrictions, but many people even find that a treatment can accelerate results seen from working out in the gym.
Some even take it a step further by combining CoolSculpting ELITE with CoolTone, a magnetic muscle stimulation treatment, to strengthen and tone their muscles for a firmer look and better athletic performance. Additionally, some patients have CoolSculpting ELITE to enhance results following a tummy tuck or our Laser-Assisted Weekend Neck Lift™ by targeting other areas, such as the back or arms.
How Is ELITE Better Than Traditional CoolSculpting?
Wondering what makes the new CoolSculpting system ELITE? Better outcomes and faster results! CoolSculpting ELITE:
Achieves 33 percent better outcomes than traditional CoolSculpting
Was redesigned to freeze more fat cells with better contact
Features completely re-engineered applicators that treat a larger surface area and are curved to better fit your body's natural contours
Typically shows faster results than CoolSculpting (approximately 30 days post-treatment)
Offers continued improvement for up to 12 weeks after treatment
If you're looking for a nonsurgical way to eliminate diet- and exercise-resistant fat, CoolSculpting ELITE may be the perfect solution for you. With CoolSculpting ELITE, you can say goodbye to stubborn fat bulges once and for all—and that's the ELITE treatment you deserve!
Are you curious about CoolSculpting ELITE and how it can help you enhance your appearance and boost your confidence in the process? Schedule your consultation to meet with our CoolSculpting ELITE experts and talk about your concerns—so we can develop your customized treatment plan to achieve your body goals.

CoolSculpting® is FDA-cleared to treat visible fat bulges in 9 areas of the body. Some common side effects include temporary numbness, discomfort, and swelling.
CoolTone® is FDA-cleared to strengthen, tone, and firm the abdomen, buttocks, and thighs. Common side effects include muscle, joint, or tendon pain, muscle spasm, and skin redness.