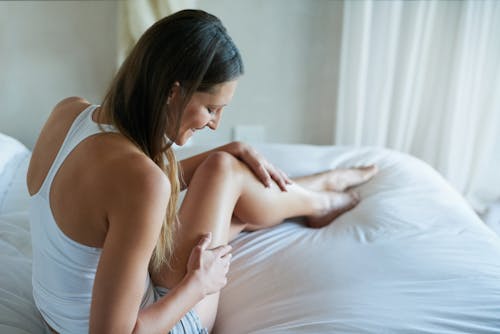 Sculptra is a minimally invasive injectable filler treatment that can be performed in the office with local anesthesia. Sculptra is a bio stimulatory filler, meaning it induces your body's own ability to produce collagen over a period of time after treatment. We lose about 1% of our existing collagen each year. Losing collagen means you are losing volume, and your skin is getting weaker and looser. We lose volume throughout our entire face and body, and we can use Sculptra to replace that lost volume and replenish the skin.
"Hip dips" are contour deformities along the hips caused by deficiency of volume that affect the silhouette. Many women and men aim to achieve an hourglass body shape, which commonly involves enhancing the hips and buttocks. Sculptra is an effective nonsurgical treatment for volume replacement, and the effects of Sculptra can last two years and sometimes more. Sculptra is made of Poly-L-Lactic acid which is a synthetic sugar naturally found in the body.
Who is a Sculptra Hip Dip candidate?
You're a great Sculptra candidate if you are looking to have the perfect hourglass shape, if you need volume along the hips or buttocks, or if you feel you have indentations along the thighs. Because Sculptra stimulates the body's natural production of collagen, the results are not immediate. To achieve your cosmetic goal, you may need multiple Sculptra treatments, and your result will continue to improve until about three months after your last injection. Each Sculptra treatment is performed about 4-6 weeks apart, and it can take up to 4 treatments. If you have more loose skin than actual dips, you may want to consider removing the skin with thigh lift surgery prior to any filler injections. And if you want a more immediate result and or have a substantial dip or contour to correct, you may need to consider liposuction with fat grafting surgery.
What to expect the day of treatment?
After a thorough consultation and evaluation with an experienced and licensed medical provider, you are ready to schedule your first Sculptra treatment. On the day of your treatment, you will want to arrive 30 minutes prior to your appointment time to have topical numbing cream applied for 20-30 minutes. Then, your provider will remove the numbing cream and mark the areas to be treated. All markings will be verified with you to ensure placement of the Sculptra product into the desired area. Sculptra injections are not painful, as there is also lidocaine for additional numbing included in each syringe. The Sculptra injections will take about 20 minutes. Following the injections, your medical provider will apply warm compresses and deep massage for 2-3 minutes. You will then be instructed to repeat the massage daily for 3-5 minutes for the first week following your treatment. The purpose of the massage is to avoid any clumping of the product which could lead to Sculptra nodules. Sculptra will then take about 4-6 weeks to induce your body's own production of new collagen. This same process will be repeated every 4 weeks 3-4 times or until desired results are achieved. Bruising and swelling may occur with any injections whether along the face or body. Bruising and swelling usually take 3 weeks to resolve. Any new collagen your body produces is yours forever, however the actual Sculptra particles will remain active for about two years following complete treatment.
What is fat grafting?
Fat grafting is a surgical procedure that involves liposuction and liposculpting. Fat is removed from one area of the body, for example your abdomen and injected into another area of the body such as the buttocks, hips, or breasts. The surgeon will sculpt the area to meet your needs. Most patients want a flatter abdomen and more projected hips or buttocks or both. For some patients who may not have enough fat to transfer from one area to another, we can use silicone hip or buttocks implants to fill up the hip dip.
Now that you know your options to correct a hip dip, the best way to learn more is to meet with an experienced Master Injector or Plastic Surgeon in consultation. Your provider will listen to your goals, assess whether you are a candidate, and answer all the questions you have about which treatment is right for you.