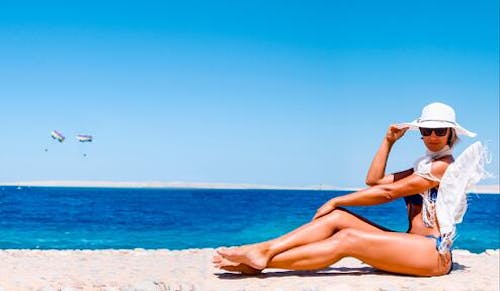 Liposuction is one of the most popular cosmetic procedures among both male and female plastic surgery patients. Designed to reshape and contour different areas of your body, liposuction is highly effective at minimizing stubborn fat that's resistant to diet and exercise. The result is a slimmer, more proportionate physique that enables you to achieve an aesthetic that is sometimes impossible to get any other way.
6 Areas of Your Body You Can Treat With Liposuction
Wondering which trouble spots liposuction can treat? Liposuction can be used to remove fat from several areas of the body, including the following:
1. Abdomen
When most people think of liposuction, they immediately associate it with the abdominal area—which is undoubtedly the most popular treatment area. Liposuction can be performed on your upper stomach, lower stomach, or both, with the goal of reducing excess fat and getting rid of the "belly pooch."
It's important to note that although many patients think they need liposuction in this area, they may be a better candidate for abdominoplasty, more commonly known as a tummy tuck. Although liposuction is highly effective at removing isolated pockets of fat, it does not address laxity—or loose, sagging skin—in the way a tummy tuck does.
2. Hips
Your hips (also called flanks) can be treated with liposuction as well. Liposuction is used here to address the love handles, or fat that sometimes hangs over pants, which is one of the most difficult areas to slim—even with the strictest diet and exercise regimen. (An hourglass figure? Yes, please!)
3. Arms
As we age, it's natural for the upper arms to become fuller and less defined. Liposuction helps reduce pockets of fat along the posterior upper arms for a slimmer look that gives you confidence, even in a sleeveless top or swimsuit. Keep in mind that liposuction can't address bat wings, or the loose skin under the arms. For that, you'll want to explore an arm lift or "brachioplasty" to achieve your desired results.
Before you choose your plastic surgeon, read this guide to understand your quote and exactly what you're paying for.
4. Neck
Liposuction can also be used to address fullness in the neck for a stronger, more defined jawline with better contours. By improving the contour of your neck and facial profile with liposuction, you can reduce the appearance of a double chin for a slimmer and more youthful look. However, liposuction can't be used to address skin laxity—you'll need a neck lift, facelift, or the Laser-Assisted Weekend Neck Lift™ to reduce loose, sagging skin in the neck and jowl area.
5. Thighs
Your thighs can also benefit from liposuction. You can reduce excess fat on your inner and/or outer thighs, depending on your body goals. Treating inner thighs helps to create a thigh gap, whereas treating outer thighs—or "saddlebags"—improves your shape and makes it easier to wear tight jeans with confidence. A thigh lift is more effective if you're looking to address loose, sagging skin on your inner and outer thighs that may appear over time or after losing weight.
6. Back
Lastly, you can also get liposuction to reduce back fat. Unsightly fat, or "bra rolls," on the sides and back are a common concern for many liposuction patients. Liposuction can be performed to remove those fat rolls, slimming and smoothing out the back for a more proportionate look overall.
Customizing Liposuction To Meet Your Unique Goals
No two bodies are the same, and no two patients have the same goals or concerns. That's why customizing your liposuction is ideal, because it allows you to tailor your procedure to meet your personal goals, focusing on the specific areas you want to target.
Liponique Body Contouring, exclusively available at our plastic surgery practice in Brevard County, Florida, customizes liposuction to achieve your desired results. Our board-certified plastic surgeons specializing in breast and body procedures combine different liposuction and body sculpting technologies to focus on the areas you want to target. Mixing and matching different liposuction methods is highly advantageous because it helps our breast and body specialists achieve the best results for your body.

Ready to say "so long" to stubborn, diet- and exercise-resistant fat? Schedule your consultation to learn more about Liponique Body Contouring, discuss your goals for your appearance, and find out whether it's the right solution for you.