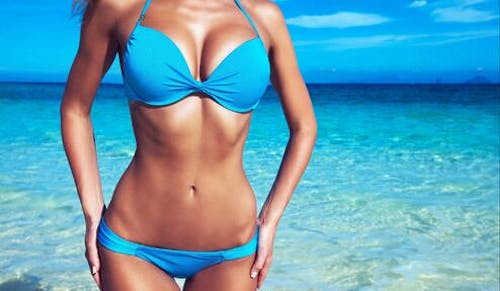 Pairing breast and body procedures is a great way to accomplish full-body contouring and to achieve the unique results you're looking for without needing to undergo and recover from multiple surgeries. Many of our tummy tuck patients opt to combine certain breast and body treatments for an optimal outcome.
Learn which breast procedures you can combine with a tummy tuck to make your personal body goals a reality.
5 Breast Procedures You Can Combine With a Tummy Tuck
1. Breast Lift
A breast lift procedure lifts and reshapes the breasts to address any sagging caused by the natural aging process and/or weight fluctuations. It's a great way to restore the look of your natural breasts and reverse signs of aging or changes in shape due to pregnancy and breastfeeding. In addition to helping restore a more youthful figure, a breast lift can also enhance the shape or size of your areolas and the location of your nipples.
2. Breast Augmentation
Breast augmentation, or a "boob job", increases a woman's breast size and improves symmetry with an implant. However, in many cases it's about more than just size—women with naturally small breasts may choose augmentation for that reason, whereas others may combine it with a breast lift to correct sagging and/or shrinkage due to weight loss, pregnancy, or aging.
When a breast lift is performed alongside augmentation, breasts are fuller and perkier as a result. In addition to choosing whether to combine breast augmentation with a breast lift and/or tummy tuck, the placement of the incision, type of implant, and technique used all depend on the patient's current breasts, body type, and desired results.
3. Breast Implant Exchange
Breast implant exchange is a procedure for patients who want to replace implants from prior augmentation with a different size or a more modern implant. Patients often opt to have a breast implant exchange to replace existing implants—often saline—with more modern, natural-looking silicone gel implants to address leakage, tissue hardening, and concerns with implant size or shape.
What should you be doing NOW to ensure you age gracefully? Check out our guide, Cosmetic Procedures For Every Decade Of Your Life."
4. Breast Implant Removal
One of the biggest benefits to breast augmentation is that it's completely reversible. Sometimes your needs and desired aesthetic change over time, and breast implant removal can help you get a look that matches your current life stage and appearance, reversing a prior breast augmentation procedure or removing implants to better meet your current goals for your appearance.
5. Breast Reduction
Looking to reduce the discomfort caused by large breasts? A breast reduction is the go-to solution for reducing the size of large, sagging breasts and addressing both aesthetic and physical concerns, including back pain, neck pain, indentations caused by bra straps, and skin irritation. Some of our tummy tuck patients opt to include a breast reduction to best meet their aesthetic goals for an end result.
Key Benefits Of Combining Breast and Body Procedures
One or more of the breast procedures outlined above may be combined with a tummy tuck, liposuction, and/or an arm or thigh lift, in order to achieve your unique body goals and provide more cohesive results.
For example, our Mommy Makeover patients typically customize their surgery to include a range of different procedures in various combinations, including a tummy tuck, breast augmentation, a breast lift, and liposuction. This allows women to restore the shape and appearance of their bodies after having children.
Along with helping you achieve your desired results, combining breast and body procedures is beneficial because it:
Helps patients avoid the need for multiple surgeries
Allows for one recovery period and less downtime
Reduces costs because it requires one surgery
If a tummy tuck alone can't help you reach the outcome you want, combining it with other breast and body procedures may be the best way forward. If you're interested in learning which breast procedures can be combined with a tummy tuck, we can help.
Schedule your consultation with one of our Florida breast and body specialists to discuss your options and determine the best combination to meet your body goals.