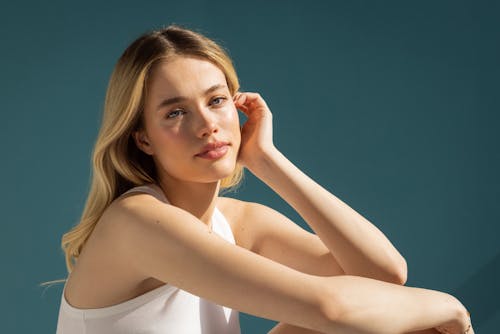 Signs of aging exist at every layer of the facial structure, including skin, fat pads, muscles, and bone. In our youth, facial features are defined and well-contoured. This is commonly described as the triangle of youth. As aging occurs, the triangle becomes inverted. Our goal as aesthetic practitioners is to naturally restore the triangle of youth.
How Do Our Cheeks Change as We Age?
Your cheeks play an important role when looking at your overall facial structure because your cheeks are at the center of your face. Loss of volume in the cheeks affects every structure above and below the cheeks. As we age, we lose collagen in our skin, we lose bone mass, but most importantly, we lose facial fat. Along the mid-face, we have superficial cheek fat compartments, medial cheek fat, middle cheek fat, lateral cheek fat, and deep cheek fat compartments. This does not include all of the fat compartments around the eye and below the cheek region.
Fat compartments keep our skin lifted and keep our face looking plump and youthful. As we age, we lose fat along all of the facial compartments, and this causes the triangle of youth to invert. Our goal is to maintain the triangle of youth. Nonsurgically, the only way to restore facial fat is by using fillers. Dermal fillers "fill" and that is the best way to describe the function of facial fillers. Restoring volume loss along the cheeks will lift all the structures below and give the appearance of a narrow, youthful lower face.
What Types of Fillers Restore Volume in Cheeks?
Today there are many types of fillers injectors and medical providers can use in the cheeks to restore volume. Types of fillers include hyaluronic acid fillers and bio-stimulatory fillers. Hyaluronic fillers when used for facial volume restoration along the cheeks yield an immediate result with little to no downtime, in just one or two sessions. Generally, we recommend three to six hyaluronic fillers along the mid and lateral cheeks to restore the volume loss caused by the loss of cheek fat compartments. The results from treatment with hyaluronic acid filler along the cheeks can last up to two years. For example, Juvederm Voluma is a type of hyaluronic acid filler that is FDA-approved for cheek volume restoration and can last up to two years.
Bio-stimulatory fillers on the other hand require multiple sessions, and final results are seen six to eight weeks after the last session. Bio-stimulatory fillers such as Sculptra, Radiesse and Bellafill stimulate your body's own ability to restore collagen, a process that increases volume along the areas treated. Results from bio-stimulatory fillers can also last up to two years, and Bellafill has been proven to last up to five years. The amount of filler required for cheek volume restoration varies among patients. Meeting with an experienced medical provider and obtaining a full facial assessment is the best way to have a custom treatment plan designed for you and your goals.
Am I a Good Candidate for Cheek Fillers?
The ideal candidate for cheek filler is a patient whose lower portion of the face is wider than the cheek width, someone with heavy jowls, deep nasolabial folds, and someone with hollowing along the mid-face. Patients with a significant amount of excess facial skin or severe skin laxity will likely require a combination of surgical interventions accompanied by cheek filler. Surgical procedures such as a facelift are meant to remove excess skin and provide an improvement in the contour of the lower face and neck, but they do not restore facial volume. Cheek volume can also be restored surgically by utilizing a cheek implant to replace the volume along the cheeks. A board-certified facial plastic surgery specialist would determine the type of cheek implant needed for your facial shape and size.
When evaluating a patient concerned with facial aging, I always start from top to bottom, beginning with the base of the inverted triangle along the mid-face and cheeks. This means I will correct the cheeks and mid-face prior to addressing the jowls, marionettes, and chin. A youthful appearance is obtained by making the base of that inverted triangle wider, lifting all the structures below it. More often than not for patients concerned with areas around the mouth, jowls, or marionettes, we will still address these areas individually. However, reversing signs of aging and creating a more youthful appearance will almost always require cheek volume restoration first.
How to Learn More About Cheek Fillers
If you are interested in learning more about cheek filler, the best first step is a cosmetic consultation with a Master Injector who is experienced with the artistry of facial rejuvenation and who has extensive knowledge and advanced training on facial anatomy. When you schedule your consultation, remember to request a full-face assessment so you can explore all the options available to you, and be prepared to discuss your goals to ensure your treatment plan is designed to achieve the look you want.