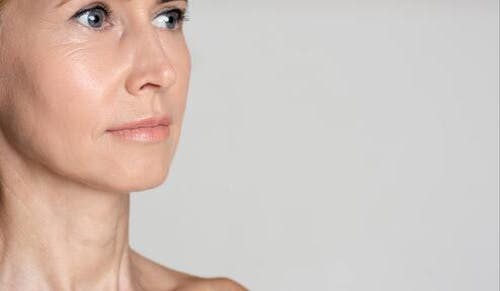 You want to love the way you look and walk with your head held high. Of course, that means you need to be confident in your appearance as you age—and that includes your neck! If you're searching for a way to restore the youthful appearance of your neck with little downtime, MyEllevate may be the right approach.
Learn all about MyEllevate, our nonsurgical neck lift.
Elevate Your Appearance With MyEllevate
Until someone discovers the fountain of youth, we'll all experience natural signs of aging, and although there are surgical remedies available, they're not a perfect fit for everyone. The good news is that nonsurgical cosmetic treatments like MyEllevate can help!
MyEllevate—also known as nonsurgical neck contouring or "The Zoom Lift"—is a revolutionary, minimally invasive neck contouring procedure designed to reduce fullness and sagging in the neck and chin area to reveal a more defined contour and youthful profile. Our MyEllevate patients love it because it makes natural-looking cosmetic improvements to their neck, chin, and jawline without the need for surgery, downtime, or an extensive recovery.
Instead, MyEllevate uses ICLED™ light-guided technology to place a suture support system that tightens the platysma muscle in the neck. Your MyEllevate treatment delivers immediate results, revealing a youthful profile. And the end product is natural-looking and long-lasting. While you may experience temporary fullness or bruising, most of our MyEllevate patients can return to work and other daily activities immediately following their nonsurgical neck lift.
Best of all, the procedure has lasting effects because the sutures are intended to be permanent, working to suspend and reshape your sagging neck, reveal a more youthful contour, and reduce banding.
How MyEllevate Differs From Other Procedures
Don't get us wrong; surgical neck contouring such as a Signature Profile Neck Lift™ (one of our premier services), a facelift, or neck lift work well for patients who wish to enhance their neck, chin, and jawline. However, nonsurgical treatments are equally appealing to others who are a suitable candidate for the procedure.
What should you be doing NOW to ensure you age gracefully? Check out our guide, Cosmetic Procedures For Every Decade Of Your Life."
MyEllevate has a few differences compared to traditional treatments, such as:
Anesthesia
For one thing, anesthetic varies by procedure. Traditional facelifts and neck lifts are performed under general anesthesia in an ambulatory surgical center (ASC), while nonsurgical procedures like MyEllevate are performed in the office, under local anesthesia.
Sutures
We also use different sutures depending on the service. For example, ThreadLift is a common approach to suturing, in which a plastic surgeon places dissolvable sutures beneath the skin "blindly," leading to more unpredictable, temporary results.
On the other hand, during our MyEllevate procedure, one of our facial plastic surgeons precisely places long-lasting sutures using an innovative, light-guided technology. Indissoluble sutures help maintain the firm contours of your neck and eliminate the need to return for a follow-up specifically to remove them.
Recovery
Surgical procedures like a facelift or neck lift require a period of recovery and downtime to allow for healing and achieve your optimal results. However, a nonsurgical neck lift like MyEllevate allows you to rejuvenate your neckline in under an hour with a quick recovery and results you can immediately appreciate.
Results
MyEllevate results are immediate and long-lasting. In fact, they can last for five years or more, depending on your lifestyle, symptom severity, and choice in a facial plastic surgeon. To enhance results, many of our patients opt to combine MyEllevate with other facial rejuvenation procedures, such as our ever-popular Express Lift™.
Stand Tall With a Nonsurgical Neck Lift Treatment
Are you weighing the options between a surgical and nonsurgical neck lift? Certainly, each procedure has its unique benefits. Only a board-certified facial plastic surgeon with expert understanding of facial anatomy like Ross A. Clevens, MD, FACS can make a recommendation on the best neck contouring procedure for you. Schedule your consultation and take the first step toward standing tall with a nonsurgical neck lift.