February 24, 2021 | By Clevens Face and Body Specialists
Locally Owned Specialty Plastic Surgery Group and Medispa is the First in Central Florida to Offer the Latest Innovation in Nonsurgical Fat Reduction
MELBOURNE, FLA. – February 24, 2021 – Many people are concerned about excess body fat that is resistant to diet and exercise, and now a new solution has arrived in Central Florida. Ross A. Clevens, MD, FACS and the team at Clevens Face and Body Specialists are excited to be among the first practices in the nation to offer patients CoolSculpting ELITE – the next generation system from the world's leading nonsurgical fat reduction treatment. The procedure is the most advanced CoolSculpting technology yet and is scientifically proven to eliminate up to 25 percent of stubborn fat in the treated area with no surgery and little to no downtime.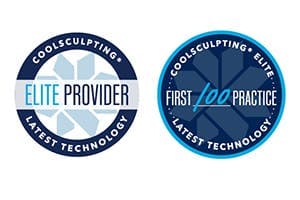 CoolSculpting ELITE is the only noninvasive body contouring treatment FDA-cleared to eliminate visible fat bulges in nine areas, including the belly, love handles, back, arms, thighs, bra roll and double chin. The new upgraded CoolSculpting ELITE system features completely re-engineered applicators that are nearly 20% larger and redesigned to fit the body's natural curves, resulting in improved outcomes for patients. Additionally, each device includes dual applicators to allow for two treatments at once, saving patients more time.
"We are most pleased to introduce CoolSculpting ELITE to our patients because this system truly is the future of nonsurgical fat reduction, treating more areas of fat faster and better," says Dr. Clevens, a Harvard-trained facial plastic surgeon who has practiced in Brevard County for more than 20 years. "The ELITE experience offers patients the most advanced CoolSculpting technology ever, achieving 33% better outcomes than traditional CoolSculpting. Patients treated with the new system also report seeing results faster as well – in about 30 days, as opposed to six to 12 weeks with the older technology."
Besides introducing CoolSculpting ELITE to patients in Brevard County and Central Florida, Clevens Face and Body Specialists is expanding their service area to offer consultations and treatments at both their Melbourne and Merritt Island offices. "We have offered nonsurgical body contouring at our location in the Eau Gallie Arts District for years, and now we are the first and only provider to offer CoolSculpting in Merritt Island," Dr. Clevens says. "Patients can choose to enjoy the benefits of CoolSculpting ELITE at either of our locations based on which is more convenient for them."
Launched more than 10 years ago, CoolSculpting is the world's leading non-invasive fat reduction treatment. The system uses cryolipolysis to target and destroy stubborn fat cells, "freezing" them away for good. More than 8 million treatments have been performed worldwide. The procedure is customizable and takes about 35 minutes to perform, and patients can return their regular activities immediately after their treatment.
Clevens Face and Body Specialists is hosting a CoolSculpting ELITE Consultation Day for anyone who wants to learn more about the new treatment. The event is by appointment only and will be held at the practice's Melbourne location at 707 W. Eau Gallie Blvd. on Fri., March 5 from 10 a.m. to 4 p.m. The day features complimentary private tours, personalized assessments, live demonstrations, introductory specials and more. Social distancing and masks are required for the safety of all. To learn more about CoolSculpting ELITE or to RSVP for the upcoming event, visit http://www.drclevens.com.
ABOUT CLEVENS FACE AND BODY SPECIALISTS
Clevens Face and Body Specialists is a specialty plastic surgery group and medispa founded by Ross A. Clevens, MD, FACS. A graduate of Yale, Harvard and the University of Michigan, Dr. Clevens is Brevard's double-board certified facial plastic and reconstructive surgeon. He has served patients in the Central Florida area and beyond for more than 20 years. With offices in Melbourne and Merritt Island, Fla. Clevens Face and Body Specialists also offers plastic surgery of the breast and body, Botox and fillers, NeoGraft "MaxGraft" hair restoration, laser treatments, nonsurgical body contouring, skin cancer care and medical-grade skin care. The practice helps patients look and feel their best by offering comprehensive care delivered by a team of specialists. Known for leading the way with innovation, community giving and excellence in patient care, Clevens Face and Body Specialists was named one of the nation's top healthcare firms in the American Business Awards.