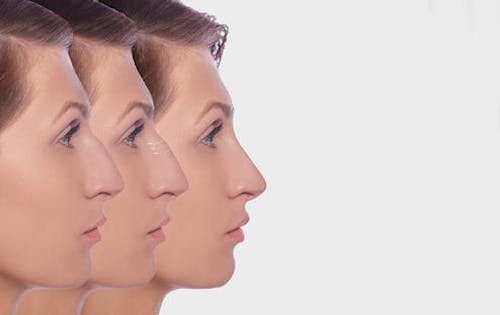 For many of our patients, having rhinoplasty, or a "nose job," is a dream come true. A well-performed rhinoplasty procedure can benefit you in multiple ways, from boosting your self-esteem and improving your overall facial aesthetic, to reducing congestion and improving your breathing.
Whether you've always wanted to enhance the look of your nose, or you recently started to have concerns, a rhinoplasty procedure may be the perfect solution for you. Learn the characteristics of the ideal nose, plus the common concerns a rhinoplasty procedure can help you resolve.
What Are the Characteristics Of the Ideal Nose?
To achieve ideal and classically "beautiful" results, our facial plastic surgeons identify and correct concerns to create symmetry, proportions, angles, and relationships among features. The ideal face is divided horizontally into one-thirds, and vertically into one-fifths equal to the width of the nose, which is really a triangular shape when you look at it geometrically.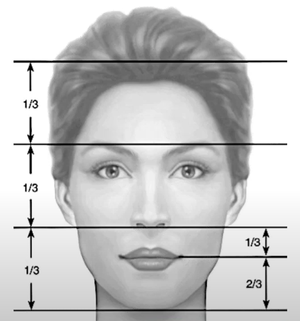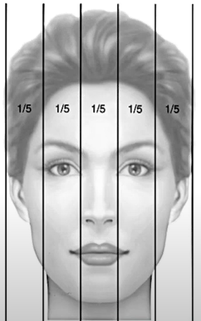 A nose is considered ideal when it is symmetrical and proportional to a person's overall facial features and appearance. In most cases, that's around a 90-95 degree angle for a man and a 100-115 degree angle for a woman. Along with gender and unique facial structure, other important considerations for an ideal nose include the thickness of the nasal skin, the columellar show (or the amount of inner nostril lining visible), and the relationship between the nose, chin, and forehead.
Looking for a real-life example? Plastic surgeons say Scarlett Johansson, Blake Lively, Emma Watson, Kim Kardashian, Meghan Markle, and Natalie Portman are examples of the most sought-after celebrity noses. Although the definition of a perfect nose is subjective, some of their shared attributes include soft, slender features and a natural-looking yet defined nasal tip.
5 Common Nose Concerns a Rhinoplasty Procedure Can Solve
Rhinoplasty can give you the nose you've always wanted: one that's better looking, more proportional, and more harmonious with your facial features. A rhinoplasty procedure seeks to improve your nasal appearance based on personal concerns you'd like to address and goals for your appearance.
Rhinoplasty can solve for each of the following concerns:
1. Overly Large, Wide, Long, or Small Nose
Many people look to rhinoplasty to resize and reshape a nose that's too large, wide, long, or even too small for their face. If that's you, resizing your nose so it's perfectly proportional and harmonious with your other features can improve your facial profile and boost your confidence in the process.
2. Nasal Bump or Humps On the Bridge
Nasal bumps and humps on the bridge are a common concern that many patients seek out rhinoplasty to correct. Nasal bumps and humps on the bridge of the nose can vary greatly in size and significantly detract from a person's overall appearance. Fortunately, rhinoplasty offers a lasting solution that conceals pronounced nasal bumps and humps and creates a natural-looking slope to your nose.
3. An Asymmetric Nose or Uneven Nostrils
Symmetry plays an important role when it comes to our facial features and appearance as a whole. An asymmetric or uneven nose can occur naturally, following nasal trauma, or as a result of a prior procedure. Correcting an asymmetric nose, nasal tip, and/or uneven nostrils with rhinoplasty helps to improve facial symmetry and harmony for a more balanced, proportionate look.
4. A Crooked or Misshapen Nose
Many patients pursue rhinoplasty to correct a crooked septum that takes away from their appearance and interferes with breathing and function. Crooked or misshapen noses can stem from either hereditary factors, or as the result of an injury or facial trauma. In some cases, correcting a severely crooked nose requires the nasal bones to be reset during a rhinoplasty; however, leading facial plastic surgeons have the artistic ability and experience required to do so with natural results and minimal to no complications.
5. A Drooping or Pointed Nasal Tip
Rhinoplasty is also commonly sought out to correct an unflattering drooping or pointed nasal tip. Drooping and pointed nasal tips are typically caused by excess cartilage around the nose. Many of our patients also experience a drooping or sagging nasal tip as they mature. Regardless of the reason behind it, either of these common concerns can be permanently addressed during rhinoplasty.
Surgical vs. Liquid Rhinoplasty: Which Is Right For You?
Both surgical and liquid rhinoplasty have the ability to resize and reshape an overly large or small nose, camouflage small bumps, improve symmetry, refine the nasal tip, and fill any indentations. The procedure itself—as well as the cost, downtime, and longevity of results—are all important factors to consider when choosing between surgical and liquid rhinoplasty procedures to address your concerns.
Surgical Rhinoplasty
Surgical rhinoplasty is the only long-lasting fix, but comes at a higher cost and requires a 7-10 day recovery period. Surgical rhinoplasty is preferred by many of our patients because it's completely customizable and the only long-lasting solution. Good candidates are healthy adults who wish to permanently address concerns and enhance the appearance of their nose.
Liquid Rhinoplasty
Liquid rhinoplasty is a temporary solution that can be achieved without the cost or recovery time of surgical rhinoplasty. Rather than correcting concerns with surgery, liquid rhinoplasty involves using injectable fillers to reshape the nose without the need for incisions. Good candidates are those who are unhappy with the look of their nose but are not yet ready or willing to undergo cosmetic surgery.
Patients with more functional rather than cosmetic concerns such as sleep apnea, severe congestion, trouble breathing, and/or a deviated septum are likely better candidates for surgical rhinoplasty. Additionally, not everyone is a candidate for a liquid rhinoplasty, because only certain concerns can be addressed nonsurgically. It all depends on you and your goals!
Moving Forward With Rhinoplasty To Solve Your Nose Concerns
The best next step is to meet with a board-certified facial plastic surgeon with expertise performing nasal procedures. They can make a recommendation on whether surgical or liquid rhinoplasty is the best fit for you, as well as the best approach to address your concerns and enhance your appearance.
Still have concerns about rhinoplasty and whether it's right for you?
Schedule your consultation with one of our specialist facial plastic surgeons to discuss any concerns you have and get an expert recommendation tailored to meet your needs and aesthetic goals. In the meantime, check out our complimentary webinar to learn more about rhinoplasty and the various concerns it helps to address.