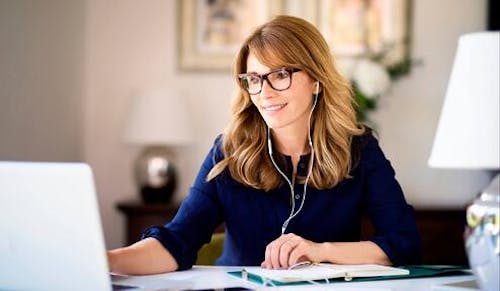 Do you have to take 55 selfies before you're semi-happy with how your chin looks? Do you feel like there's not a Zoom filter strong enough to disguise your double chin? We hear you.
If you, like so many people, have stubborn fat under your chin, you may want to consider a procedure to help you achieve a more defined profile—and fortunately, there are several cosmetic procedures to do just that. Let's look at the important details about each chin procedure.
1. Laser-Assisted Weekend Neck Lift™
To get the most dramatic results with just a short recovery, the Laser-Assisted Weekend Neck Lift is the ideal procedure for double chin and turkey neck. If you want to truly banish the part of your neck that plagues you, the Weekend Neck Lift™ may be the way to go.
Weekend Neck Lift™ Procedure
During the Weekend Neck Lift™ procedure, the surgeon uses a laser liposculpture technique to contour the fat in the neck and chin areas, then lifts and tightens the underlying muscle tissues and shrink-wraps the skin. The tiny incisions are hidden within the natural fold under the chin and behind each ear.
Weekend Neck Lift™ Recovery
The Weekend Neck Lift™ procedure is performed at a fully accredited outpatient surgical center by our facial plastic surgery specialists. The recovery time is a matter of a few days for most patients, who can return to normal work and play after what usually amounts to a long weekend. However, to ensure optimal results, most patients take it easy for about a week after the procedure.
Weekend Neck Lift™ Results
Talk about instant gratification! With the Weekend Neck Lift™, you get immediate and long-lasting results.
2. Fat-Freezing CoolSculpting ELITE
The CoolSculpting ELITE procedure is a great nonsurgical option to reduce pockets of fat under the chin. Compared to other CoolSculpting treatments, CoolSculpting ELITE can achieve outcomes that are 33 percent better and results that manifest more quickly.
CoolSculpting ELITE Procedure
CoolSculpting is pretty darn ... cool. The CoolSculpting ELITE applicator freezes away fat cells using cooling panels. The in-office procedure takes just 35 minutes and doesn't require anesthesia.
CoolSculpting ELITE Recovery
This procedure is completely nonsurgical and requires no recovery or downtime. You freeze away the fat and just go about your business as normal that same day.
CoolSculpting ELITE Results
While the procedure is short, and there is no recovery time, patients usually see results in 30 days and continue to see improvements for up to 12 weeks.
3. Nonsurgical Kybella
This is yet another superb nonsurgical option to kiss that double chin goodbye. Kybella uses an injectable made with deoxycholic acid—an acid your body naturally produces—to break down those dreaded fat cells. Your body safely absorbs the acid and flushes away the cells, leaving lasting results.
Kybella Procedure
The entire Kybella procedure takes 2-4 treatments, and each treatment lasts just a few minutes, with no need for anesthesia. However, patients can request a topical anesthetic or our Clevens Comfort+, a self-administered inhalant that safely and effectively soothes away anxiety or discomfort during nonsurgical treatments.
Kybella Recovery
Other than a few days of possible fullness, there's no recovery or downtime with this procedure.
Kybella Results
You'll love the results! Patients may notice some changes after the first or second treatment sessions. But the final results, which are long-term, can be seen a few weeks after the last session.
Before you choose your plastic surgeon, read this guide to understand your quote and exactly what you're paying for.
4. Minimally Invasive Express Lift™
Express Lift is a custom treatment that can address your double-chin concerns beautifully, with added benefits, if you wish! The procedure also can improve the look of jowls, as well as rejuvenate your eyes, tightening up sagging skin while melting away unwanted fat and smoothing lines and wrinkles. It's a minimally invasive procedure with a short recovery period and very little downtime.
Express Lift Procedure
The Express Lift procedure uses a radiofrequency-powered system that delivers heat through two small probes—one above the skin and one beneath. The in-office procedure takes about 45-90 minutes. Patients can opt for numbing cream and/or local anesthesia so they stay comfortable during the treatment.
Express Lift Recovery
It's a minimally invasive procedure with a short recovery period and very little downtime. Most patients return to usual activities in just a few days. You may see some bruising or fullness in the treated areas—this is normal and should go away within a week.
Express Lift Results
Complete facial rejuvenation with minimal downtime! Patients who get an Express Lift often see noticeable results immediately after the procedure—and the results will continue to improve over the next 3-6 months.
5. The Zoom Lift: MyEllevate®
Also known as "The Zoom Lift," the procedure helps target one of our most recent everyday needs: looking better on Zoom calls. MyEllevate is such an effective nonsurgical neck lift that has received national attention, even appearing in ELLE magazine.
MyEllevate Procedure
The MyEllevate procedure makes upping your game easy, because it requires no incisions or surgical removal of excess skin, and the results are natural-looking and immediate. The procedure uses ICLED™ light-guided technology to place a long-lasting suture support system that tightens the muscles in the neck.
MyEllevate Recovery
One of the best things about MyEllevate is that it provides immediate results with very little downtime. Patients may experience mild bruising or fullness that resolves in about a week. Most patients return to regular activities immediately after the procedure. However, there may be some restrictions on activities like lifting or exercise.
MyEllevate Results
You can see results right away. Patients love the immediate difference they see in the contour of their neck.
6. Skin-Tightening SculpSure™
Another nonsurgical option to consider for your double chin is SculpSure. This procedure is designed to address the fat below the chin, reducing 25 percent of fat in the area. SculpSure provides the added benefit of skin tightening in the treated area.
SculpSure Procedure
Using a special applicator, the SculpSure system can direct laser heat exactly where it needs to go to tackle subcutaneous fat.
SculpSure Recovery
No recovery or downtime—really! Patients may feel a little tenderness in the treated areas, which subsides in just a few days following treatment..
SculpSure Results
Patients can expect to see fat reduction in treated areas in about 6-12 weeks after just one treatment.
Choosing the Right Treatment Option For Your Double Chin
Now that we've shown you six awesome options, you have a new problem: figuring out which one will work the best for you! Think of your everyday life, and consider things like downtime and how invasive or non-invasive the procedure is.
Price is also a consideration—and real answers to those questions can sometimes seem elusive. Get real answers about the cost of plastic surgery and cosmetic procedures by downloading our e-book, The Definitive Guide to The Cost of Plastic Surgery. Or if you're ready to talk to an expert, schedule your consultation now