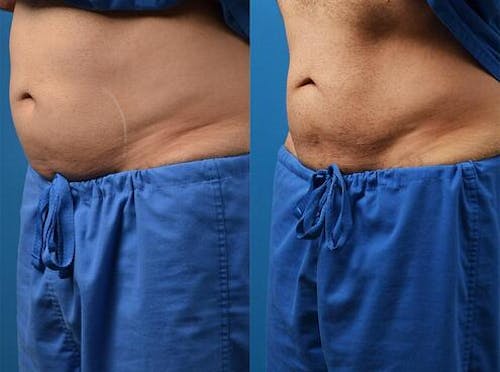 Aging is a natural and universal part of life—men and women alike want to continue to look and feel their best as they age. Contrary to the common misconception that only women have cosmetic treatments, there are several nonsurgical procedures for men.
Nowadays, there are modern nonsurgical treatment options with little to no downtime and very few risks, an increasing number of men are getting cosmetic procedures done each year. In fact, the 2018 Plastic Surgery Statistics Report from the American Society of Plastic Surgeons revealed that more than 1.3 million cosmetic procedures were performed on men in 2018, and that number is on the rise.
We'll walk through the most popular nonsurgical cosmetic procedures for men to help refresh the face and body, stimulate hair growth, and restore confidence.
8 Nonsurgical Cosmetic Procedures For Men
1. Botox Injections
Botox, or as we sometimes call it "BROtox", is a quick, painless, and highly effective treatment option that helps achieve a more youthful appearance by eliminating facial lines and wrinkles. It is a simple procedure and consistently the most sought-after nonsurgical cosmetic treatment for both men and women looking to combat signs of aging.
These injections, which are administered in-office using a small syringe, address several of the most common problem areas, including forehead lines and furrows, vertical brow creases, crow's feet around the eyes, vertical bands in the neck, and bunny lines around the nose. Though Botox does require maintenance visits every few months to maintain results, treatments are generally quick and pain-free, with no recovery or downtime.
2. Hair Restoration Treatments
Each year, millions of men (and women) struggle with hair loss. Common as it may be, losing hair can be damaging to a person's self-esteem. The good news is that there are modern cosmetic treatments available that make the hair restoration process much easier and more natural.
NeoGraft "MaxGraft" is a minimally invasive hair restoration procedure that we offer exclusively at Clevens Face and Body Specialists in Melbourne, Florida. Because it is a completely incisionless hair restoration treatment, NeoGraft "MaxGraft" doesn't result in scarring. This is a major benefit because most of the traditional hair transplant methods require surgical removal of a strip of tissue from the scalp, ultimately causing visible scars and resulting in an unnatural, "cornrow"-like appearance.
On the other hand, the NeoGraft "MaxGraft" procedure naturally restores and replenishes hair with a shorter, more comfortable recovery time. It works by extracting individual hair follicles one by one and transplanting them to other areas of scalp to achieve natural-looking results that are long-lasting.
Are you a candidate for hair restoration? Take this simple quiz to find out!
3. Laser Hair Removal
It is very common for men to seek out laser hair removal to get rid of unsightly body hair they hate. The laser hair removal procedure uses lasers to reduce unwanted hair in areas such as the chest, abdomen, neck and back, effectively eliminating the endless cycle of shaving, razor burn, and ingrown hairs.
Laser hair removal is a popular nonsurgical cosmetic procedure for men because it involves no recovery or downtime. Though multiple treatments and maintenance visits are often necessary to maintain lasting results, the outcome is intended to be permanent.
4. Laser Skin Resurfacing
Laser skin resurfacing is a nonsurgical cosmetic procedure designed to erase lines, wrinkles, brown spots, scars, rosacea, acne scars, and other facial imperfections. Depending on the specific laser that's used, it can even correct loose skin, skin laxity, and uneven texture. This procedure is a great way to get rid of imperfections and improve the skin's quality and texture without surgery.
Another reason why laser skin resurfacing is popular among both men and women is that the treatment can be tailored to each patient and their specific needs. There are different lasers available to correct a variety of skin problems, which can be matched to each person's unique skin type, areas of concern, and desired recovery period.
5. Chemical Peels
A chemical peel is a nonsurgical cosmetic treatment that uses an acidic solution to improve the skin's tone and texture by removing damaged top layers and stimulating new collagen growth. Chemical peels can improve acne, scars, fine lines and wrinkles, hyperpigmentation, sun damage, and rough patches.
There are different types of chemical peels, which can be customized to meet each person's unique needs. For example, popular peels use different solutions, such as glycolic acid and salicylic acid, at various percentages. Chemical peels are very effective at achieving desired results. After the peel, you may have some redness with sloughing skin, similar to a sunburn, which requires a slightly longer recovery period than some of the other procedures highlighted here—3-7 days, in most cases.
6. Dermal Fillers
Dermal fillers are injections that help rebuild the skin's natural support layer to instantly improve its appearance. Fillers can be used to correct a number of common issues—such as laugh and smile lines, facial folds and creases, scarring, fine lines, thinning lips, and a weak jawline or chin—without the need for a complicated surgery or recovery.
In just one session, fillers can also help smooth out wrinkles, restore volume and fullness to the skin, shape facial contours such as the cheeks, jowls, and jawline, improve facial depressions, and correct hollows around the eyes. The procedure itself is quick and painless, often completed in as little as 15 minutes.
After icing the area for a few minutes after the procedure is finished, most people get right back to work and their daily routine. Another benefit of getting dermal fillers is that results can last anywhere from several months to several years, depending on the type of filler used for the procedure.
7. Fat Reduction Procedures
Even with a healthy diet and exercise, we all deal with stubborn areas of fat on our faces and bodies at some point—especially as we age and experience weight fluctuations. There are multiple minimally invasive, FDA-cleared nonsurgical procedures that help to reduce unwanted pockets of fat almost anywhere on the face and body:
CoolSculpting is a fat reduction procedure that eliminates fat cells permanently in several areas of the face and body, such as the abdomen, upper back, lower back, flanks, upper arms, male breasts, and submental fat or "double chin." The procedure uses cryolipolysis to target and freeze away fat cells, resulting in a 20-25 percent reduction of unwanted fat accumulation.
SculpSure is a non-invasive body contouring procedure that uses laser technology to heat and reduce unwanted fat cells in areas of the body such as the flanks, abdomen, and back. Once fat cells are destroyed, the body gradually eliminates them over time, ultimately decreasing fat accumulation in treated areas by 25 percent in as little as 25 minutes.
8. Body Contouring
CoolTone is a nonsurgical cosmetic procedure for men that tones, firms, and strengthens muscles using magnetic muscle stimulation. This helps sculpt the body, resulting in a firmer, more defined look. Most men seek out CoolTone treatments to improve the appearance of the abdomen with the last bit of definition that diet and exercise can't achieve alone. It's common for patients to have CoolTone and CoolSculpting procedures done at the same time, as CoolSculpting freezes away fat cells, and CoolTone helps achieve muscle definition.
Combining Cosmetic Procedures for Optimal Results
Each person has unique goals and expectations in terms of results. Combining different face, body, and hair restoration procedures allows men to achieve optimal, natural-looking results that address specific problem areas that concern them.
Even though the cosmetic procedures we just highlighted are nonsurgical, some still have a small recovery period and require some healing time. Having multiple procedures performed at the same time not only ensures ideal results but also means only going through one recovery period—meaning less downtime away from work, the gym, and other day-to-day activities.
Are you thinking about having one of the cosmetic procedures we just mentioned? If it's a hair loss solution you're looking for, take this quick quiz to determine if you're a candidate for hair restoration, or contact us to meet with a specialist who can recommend the best nonsurgical cosmetic procedures for your needs, so you can feel more confident and look your best.