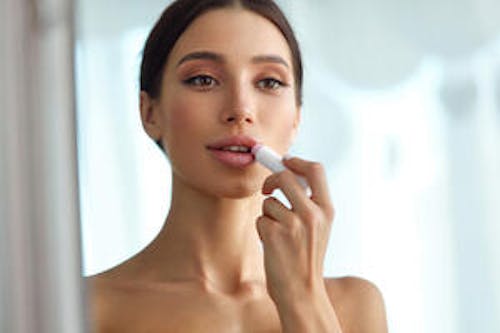 You want your lips to stay plump and youthful with the perfect pout. After all, aging may not be avoidable, but it can happen gracefully with the right approach, right?
Over time, the upper lip lengthens, corners of the mouth droop, and the lips lose volume. Although our lips can thin and "deflate" as we mature, various cosmetic procedures can help restore lost volume and enhance their appearance, from lip lifts and fillers to rhinoplasty. One of the concerns we hear from time to time is, "Can a nose job improve the appearance of my upper lip?"
In this article, we'll dive into whether a nose job can enhance the size, shape, and appearance of your upper lip, plus options for those looking for lip enhancements.
What Rhinoplasty Can (and Can't) Accomplish
Hundreds of thousands of people seek out rhinoplasty (or a "nose job") each year for both functional and cosmetic reasons. Although rhinoplasty offers significant benefits, it's important to have realistic expectations in terms of the results it can and can't deliver.
Both men and women seek out cosmetic rhinoplasty to: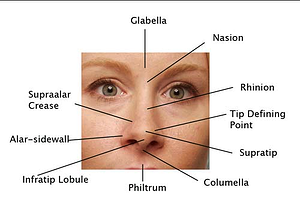 Straighten a crooked nose
Reduce a pronounced hump
Improve an asymmetrical nasal tip
Correct a bulbous or pinched nasal tip
Reshape a nose that is too large
Shorten a nose that is too long or pointy
Narrow a nose that is too wide
In addition to the cosmetic benefits, facial plastic surgeons also perform functional rhinoplasty to reshape the nasal structure, improve breathing and sinus function, reduce congestion, and straighten a deviated septum. Much of the time, rhinoplasty patients can benefit from both cosmetic and functional improvements after their surgery.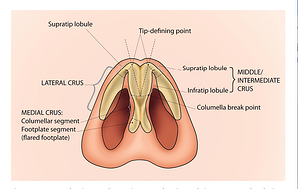 How does rhinoplasty impact the look of the upper lip? One of the goals of a nose job is to improve the shape and position as it relates to the upper lip, enhancing the appearance of the lip/nose junction. Rhinoplasty can influence the appearance of the upper lip and make it look longer, but it does not actually change the height.
If you express interest in making your upper lip more visible, your facial plastic surgeon may rotate or change the position of the nasal tip during a rhinoplasty procedure. Your plastic surgeon can also shorten or alter the position of the columella, or the tissue that links the nasal tip to the nasal base, to enhance the appearance of your upper lip.
Surgical and Nonsurgical Lip Enhancement Procedures
If you're interested in enhancing the appearance of both your nose and lips, a nose job may be the ideal approach. However, if you're not concerned with the appearance of your nasal tip and/or your columella, a surgical lip lift procedure or injectable fillers may be a better, more fitting solution to meet your needs.
Lip Lift
A lip lift is a surgical procedure that creates fuller, more youthful lips and reverses common signs of aging, like a thinning appearance and downturned corners of the mouth. Having a lip lift is a great way to permanently alter the shape and fullness of the lips, counteract aging lips, and create a more youthful look.
Lip lifts can be performed on the upper lip, lower lip, or both, depending on the areas you'd like to enhance. Patients love that they can customize their lip lift to best meet their unique needs, because multiple techniques can be used during the procedure. Most of our lip lift patients experience very little discomfort following their procedure, and typically they resume their normal routine 5-7 days.
Here's how one of our own lip lift patients described her results:

"I got my lips done by Dr. Clevens. I didn't like my upper lip and was always interested in plumping it up a bit for my own satisfaction. Dr. Clevens did an absolutely stellar job. He was very straightforward and honest with me about the procedure, which I appreciated greatly—no surprises. I told him how I imagined my lips post-procedure, and how I wanted them to look very natural. My results are better than I even imagined and yearned for!" —RealSelf Review
Lip Fillers
Lip fillers are a nonsurgical treatment that achieves temporary lip enhancement using injectables like Restylane, Juvederm, Belotero, and fat. Each lip filler option offers slightly different results, allowing you to customize your treatment similar to the lip lift procedure.
Restylane Kysse is a cosmetic filler that achieves natural-looking results that last for up to one year. This option is best for those looking to enhance the color and texture of their lips while maintaining flexible movement and facial expressions.
Juvederm Volbella is a hyaluronic acid filler that lasts around one year. It's ideal for patients who wish to reduce wrinkles around their mouth and add plumpness to their lips.
Belotero is a thin gel filler made from hyaluronic acid that lasts for around six months. It's an effective option for patients looking to restore volume to their lips.
Fat injections can be used in the lips after being carefully removed from other areas of the body, like the thighs and abdomen. Fat injections are a natural alternative to other fillers, with a very low rate of allergic reaction because it's taken from one's own body.
Lip fillers have little to no downtime and show immediate results. Although some patients experience bruising and fullness for up to a week after receiving lip fillers, an experienced facial plastic surgeon can use a cannula applicator to minimize discomfort during treatment and any bruising afterwards.
Which Lip Enhancement Procedure Is the Best Fit For You?
There are benefits to each of the approaches we've outlined, which can make it difficult to determine which you should pursue to perfect your pucker. Lip lifts are a longer-lasting alternative to lip fillers, but they require some recovery and downtime before patients see final results. On the other hand, lip fillers show immediate results and have little to no recovery or downtime, but they require repeat treatments to maintain the appearance of fuller lips. Then there are nose jobs, which can successfully enhance the appearance of the upper lip but do not actually change the dimensions of the lip.
Weighing the pros and cons to each approach will give you a better idea of which option might be right for you. However, because there are multiple ways to achieve attractive, natural-looking lip enhancement, the best way to make your decision is to consult with a specialist in facial procedures and lip enhancements.
During your consultation, an experienced facial plastic surgery specialist like Ross A. Clevens, MD, FACS, can assess the appearance of your upper lip and make a recommendation on the best surgical or nonsurgical treatment for you. In the meantime, learn all about the lip lift procedure in our complimentary webinar to see if it might be a good fit for you and your goals.