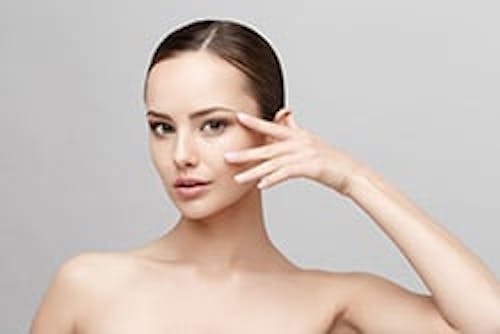 As you get older, you might be so focused on controlling or minimizing your wrinkles that you neglect another area of your skin: the size of your pores. There are a number of misconceptions about pores out there, starting with the myth that you can "open" them up with steam or hot water and "close" them with ice water. While you can't really change the size of your pores, if they are something you feel self-conscious about, you can take some steps to make them look less visible.
What Are Pores?
Pores are small openings on the surface of your skin. They contain hair follicles and oil glands. Oil is released onto the skin through the pores. In an ideal world, the amount of oil the glands produce is just enough, so that it releases onto your skin and spreads evenly, without making your skin feel oily.
What Makes Them Larger?
The size of your pores is in some ways determined by your genes or by the location of the pores. Some people simply have larger, more noticeable pores than others. And some areas of the skin have larger pores than others, because the oil glands leading to the pores are larger. You really can't do much about the size of your pores when the size is related to genes or the size of the gland. People who naturally have oily skin might have larger pores, since the increased oil production increases the size of the pore.
But some external factors can make your pores larger as well. The breakdown of elastin and collagen, which takes place as people get older and which can be accelerated with a lot of sun exposure, can enlarge pores. As you age, the loss of collagen means that your skin and pores doesn't have the support structure it once did to keep your pores their natural size.
Going to sleep with your makeup on or otherwise not cleansing your skin can also make your pores look bigger. Oil builds up and combines with any dirt, makeup or even dead skin cells, clogging the pores and making them bigger in an attempt to free up any trapped oil and debris.
What You Can Do
While you can't get rid of your pores (you need them) and you can't open or close them, you can do some things to make them less visible. First, you might want to review the products you are using on your skin. Look for noncomedogenic makeup or moisturizing products, as they won't clog your pores. It's a good idea to avoid heavy, oily products such as petroleum jelly, at least on your face.
Exfoliation is another important step when it comes to minimizing or maintaining the size of your pores, as it removes dead skin cells from the surface of your skin. There are a number of ways to exfoliate, including at home options and in-office options. At home, you can try adding a product that contains an alpha or beta hydroxy acid to your skincare routine.
A beta hydroxy acid, such as salicylic acid, helps slough off dead skin cells and also cleans inside the pores. An alpha hydroxy acid, such as glycolic acid, helps exfoliate the top layer of skin, making skin look refreshed and smoother. The Night Repair and Advanced Night Repair moisturizers from Dr. Clevens' Premium Skincare Collection contain glycolic acid and can help improve the look and texture of your skin.
Products containing retinol, a derivative of vitamin A, such as Dr. Clevens' Restoration Serum 10x, can also help improve the appearance of your pores. Retinol won't change the natural size of your pores, but it will help shrink pores that have been stretched out due to age, sun exposure, or poor hygiene. Along with helping to reduce your pore size and improve the texture of your skin, retinol is a proven wrinkle-fighter. It can also help fade dark spots.
Before you start an at-home skincare routine, it's a good idea to discuss your concerns with a facial plastic surgeon, so that you can choose the products that will work best for you without causing any irritation.
Skin resurfacing can also be performed by a facial plastic surgeon. How deep the exfoliation is depends in part on the treatment and in part on what you hope to get out of it. One option is a chemical peel, which will exfoliate the top layers of skin, so that your pores look less noticeable. A chemical peel can provide a number of other benefits, too, including minimizing the appearance of lines and wrinkles and making your skin tone more even.
If the increased size of your pores is related to a loss of collagen as you age, a treatment such as Icon laser skin resurfacing or Portrait skin regeneration can be helpful. The heat and energy during a treatment session with Portrait can help stimulate the production of collagen beneath the surface of the skin, which increases the support structure and can help your pores return to their original size.
Understanding what's making your pores look bigger will help you figure out the best way to cope with them. Speaking with a facial plastic surgeon can help you determine the best course of action to take. Dr. Ross Clevens is an Ivy League-trained, double board certified facial plastic surgeon. His team of specialists are available to evaluate your skin and recommend the treatment that's right for you.