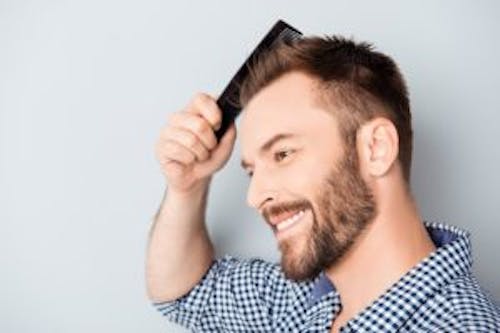 Hair loss can be a touchy subject. It happens to a lot of people, both male, and female, but it's still something many people feel embarrassed about. If you are currently dealing with hair loss, you might have tried a number of solutions, from medications such as Rogaine (minoxidil) or Propecia to changing the way you style your hair or wearing a hat to make the bald areas less noticeable.
While medicine, hairstyle changes, and other options can provide some help when it comes to coping with hair loss, there's only one option if you want to restore your lost hair, and that's hair restoration surgery. Not everyone is a candidate for the surgery, though. It might be too soon for some people or they might not have the right type of hair loss. Find out if the procedure is the right option for you.
The Amount of Hair Lost
One of the ways to determine if you are a good candidate for hair restoration surgery is to look at the amount of hair you have lost so far. It's easy to panic the minute you first notice the beginning of a bald spot, the widening of your part, or a receding hairline. But, if you are just beginning to lose your hair, it might be better to try less invasive options, such as medication or changing your haircut or style, first.
A hair transplant will restore lost hair, but it won't stop future hair loss in other areas from occurring. That means that if you have the surgery performed early on, you might need another procedure down the road to restore any additional hair that has been lost. In many ways, it's best to wait to have the surgery until after you've lost a significant amount of hair.
Do You Have Donor Hair?
Another important consideration when deciding whether or not hair restoration surgery is right for you is whether or not you have hair to transplant to the recipient area. Usually, hair is transferred from the sides or back of the head to the top of the head during the procedure. If the hair on the back or sides of your head is sparse or you are also losing hair in those areas, the surgery may not be a good option for you.
The transplanted hair needs to come from your own scalp, too. Dr. Clevens won't transplant hair from another person's head, as your body is likely to reject the hair as a foreign invader. When you have a hair restoration treatment using your own hair from a donor site, your own hair grows naturally and can be colored and styled just like your own hair, because it IS your OWN hair.
The Type of Hair Loss
The type of hair loss you are experiencing also plays a part in determining whether a hair transplant will benefit you. Usually, the procedure is performed on people who are experiencing male or female pattern baldness. People with male or female pattern baldness lose their hair because the follicles shrink, or become miniaturized, thanks to Dihydrotestosterone (DHT), a type of male hormone. While not every strand of hair is sensitive to DHT, those that are will shrink and become finer and finer, until they stop growing entirely. People who have lost their hair because of a severe burn or another injury can also benefit from a hair restoration procedure.
Some types of hair loss won't benefit from the surgery, though. For example, people with alopecia areata, a type of hair loss caused by an overactive immune system, are usually not candidates for a hair transplant. People who are experiencing telogen effluvium, which occurs when a person has a shock to his or her system and usually results in the sudden shedding of a lot of hair at once are also not candidates for hair restoration surgery. Usually, people with telogen effluvium regrow the lost hair after a few months.
Things That Don't Affect Candidacy
There are a number of factors that don't affect a person's candidacy for hair loss. For example, the surgery can be performed on both male and female patients. Age is also not usually a factor when it comes to deciding if a person is a candidate for the surgery. A young person, in his 30s or late 20s, might have lost a considerable amount of hair already, making him a good candidate. What's more important than age is the person's health and the amount of hair lost. For example, a very bald 70-year-old male might not be a good candidate for surgery if he is dealing with a number of health problems, not because of the state of his hair.
Ross A. Clevens, MD, FACS is the only practicing board-certified facial plastic surgeon offering hair restoration in Central Florida. Trained at Yale, Harvard, and the University of Michigan, Dr. Clevens is a hair restoration expert and has been in practice for 20 years. To learn more about the procedure, including if you're a good candidate, call (321) 727-3223 to schedule your consultation today.