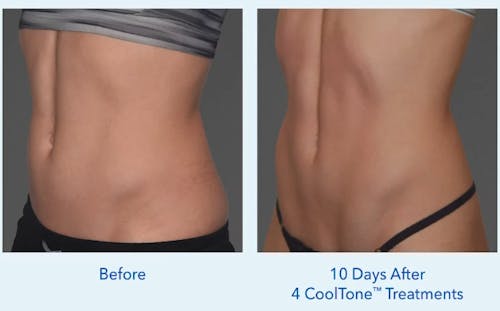 You love the way your body looks in the mirror, but you dream of sculpting the perfect washboard abs you've always wanted. If only there was a treatment that could contour your body to perfection without the need for surgery, little to no downtime, and spending countless hours weight training at the gym, right?
We're here to tell you that there is—and no, it's not too good to be true! In this article, we'll share all the details about CoolTone, an exciting new nonsurgical procedure that can tone and strengthen your muscles on your lunch break.
What is CoolTone and how does it work?
CoolTone is a new nonsurgical muscle-toning procedure that was recently cleared by the U.S. Food and Drug Administration (FDA) to firm, smooth, and contour treated areas of the body. The technology is brought to us by Allergan, the makers of Botox and CoolSculpting, the world's number one nonsurgical fat reduction treatment.
Bypassing skin and fat, the CoolTone device induces involuntary muscle contractions in your abdomen, buttocks, or thighs, which are the three areas cleared by the FDA for treatments. It's a unique technology that uses magnetic energy to stimulate the muscle, which is equivalent to doing 1,000 crunches in a row. Your body's natural response to these contractions is to strengthen the muscle fibers, resulting in a more toned look.
What are the benefits of CoolTone?
CoolTone is a highly effective way to achieve the last bit of definition that diet and exercise cannot deliver, without the need for surgery and little to no downtime. It can help you get the washboard abs or six-pack that you've always wanted by targeting hard-to-sculpt areas, resulting in stronger, tighter abs, buttocks, and thighs. When used to treat the buttocks, CoolTone also has a "lifting" effect. This is extremely popular with our patients, especially with summer right around the corner!
And that's not all; CoolTone has the benefit of not only improving the body's appearance, but also strengthening muscles. That's why after your CoolTone treatment you may feel like you've been through a vigorous strength-training workout. In fact, clinical studies revealed that patients gained an estimated 16 percent in muscle mass after a series of CoolTone treatments. We've even heard from our more active patients, such as cyclists and swimmers, that they were able to improve their athletic performance following their CoolTone treatment.
The procedure itself is fast and convenient, which means you can tighten, firm, smooth, lift, and strengthen your body and get back to your normal routine—all before your lunch break ends. Here's how Ross A. Clevens, MD, FACS, describes the CoolTone advantages:
"A toned look can be difficult to achieve, even with exercise and training. The advantages of CoolTone are twofold: treatments can help achieve a firmer, more sculpted look cosmetically, as well as the functional benefit for patients who want to increase strength in their abdomen, thighs, and glutes."
Who is an ideal candidate for CoolTone?
The ideal candidate for CoolTone is someone who has very little fat in the abdomen, perhaps a pinch, and wants to see their muscles toned and refined. Those with a healthy body mass index (BMI) are considered prime candidates for CoolTone treatments, as the results are better when you can see the muscles you're looking to strengthen and refine.
Many of our patients opt to have CoolTone treatments after CoolSculpting, liposuction, or another fat reduction procedure to achieve the best aesthetic results possible. CoolTone complements CoolSculpting's noninvasive approach to body contouring and fat reduction, helping many people create a toned, defined look that would otherwise require endless hours at the gym.
What do the procedure and recovery involve?
CoolTone is an in-office procedure that uses a special device to induce involuntary muscle contractions in your abs, buttocks, and thighs. A typical CoolTone treatment package includes a series of four sessions, each lasting about 30 minutes, performed within a two-week period. We also recommend that patients follow up their treatments later in the year with a maintenance plan to ensure results are long-lasting.
Fortunately, there is little to no downtime — meaning little discomfort, bruising, or swelling. In fact, after the procedure most people get dressed and return to work or their ordinary activities right away.
Does CoolTone have any side effects?
One of the strongest benefits to CoolTone is that there are really no side effects. At most, following your CoolTone treatment you may feel the way you do after an intense strength-training workout.
Women may find that CoolTone increases or intensifies their cramping if they have a treatment in the week prior to their period. To avoid this side effect, we recommend that women close to menstruation wait to have the procedure.
How soon do you see results and how long will they last?
Some people see results after one treatment, with results improving each session and during the following weeks. Over time, muscle mass begins to increase and targeted muscle fibers strengthen. When patients follow a healthy diet and exercise routine, results can last up to six months with follow-up treatments for maintenance every few months.
What's the difference between CoolSculpting and CoolTone?
While CoolSculpting works by freezing away fat cells, CoolTone uses magnetic stimulation to strengthen and tone muscles. We recommend combining CoolSculpting with CoolTone to decrease fat and then build muscle, because together they will enhance the level of definition you see after treatment. This is a great way to achieve full-body contouring without the need for surgery.
Contour Your Body To Perfection With CoolTone
If you're looking for a safe, nonsurgical way to get the toned, firm body you've always dreamed of, then CoolTone may be the perfect option for you. Clevens Face and Body Specialists is one of the first practices in the U.S. (and the first in Central Florida) to bring this exciting new technology to our patients—and we're excited to help you look and feel your very best!
Are you eager to tone, firm, and strengthen those muscles to get the beach body you want this summer? Schedule your consultation to meet with our nonsurgical body contouring experts to discuss your desired results and whether CoolTone is a fit for you. Or if you're interested in learning more, don't miss our informative Nonsurgical Body Contouring webinar, which focuses on CoolTone, CoolSculpting, and Sculpsure treatments.
CoolTone® is FDA-cleared to strengthen, tone, and firm the abdomen, buttocks, and thighs. Common side effects include muscle, joint, or tendon pain, muscle spasm, and skin redness.