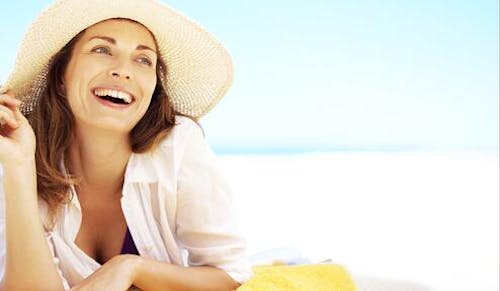 Facial rejuvenation is one of the hottest areas in plastic surgery today. Thanks to emerging innovative techniques and technologies, now patients have more surgical and nonsurgical options for facial rejuvenation than ever.
However, with so many options available, it can be tricky to choose the optimal facial procedure for you. Here's what you need to know about choosing a facelift versus our exclusive Express Lift™ procedure.
Facelifts
A facelift, or rhytidectomy, is the third most common cosmetic surgery procedure in the U.S., and it is considered the gold standard in facial rejuvenation. Facelifts are designed to correct deep folds and loose skin in the face and neck.
Benefits
There are two key reasons why a facelift is a popular procedure:
Substantial coverage: A rhytidectomy addresses three main areas in one procedure: the cheek and midface, jowl and jawline, and neck and chin. By resculpting these areas, the result is a more toned and youthful appearance across the lower portion of the face and neck.
Dramatic results: A facelift addresses many common signs of aging. This procedure lifts the cheek and midface, reduces deep creases and wrinkles, smooths nasolabial folds, removes loose and excess skin, and tightens the neck and jowls. In fact, a facelift can take around 10-15 years off your appearance! Many patients opt to have other cosmetic procedures performed at the same time as facelift such as eyelid surgery, brow lift, lip lift, or laser skin resurfacing for full-face rejuvenation and optimal results.
Procedure
A facelift is a surgical procedure we perform in a fully accredited outpatient surgery center that involves making incisions along the sides of the face, sculpting the facial tissue, and repositioning the skin. Facial plastic surgeons employ various facelift techniques to achieve different outcomes. This includes the deep plane facelift, superficial muscular aponeurotic system (SMAS) facelift, and skin-only facelift. The best option for you depends on your target areas, the degree of correction needed, and desired results.
Recovery
Patients should plan for some recovery time to heal after facelift surgery. Most patients return to normal activities within two weeks of a facelift after initial bruising and fullness subside. However, the whole healing process typically takes around 2-3 months to complete.
Express Lift™
Some patients are interested in minimizing signs of aging on the face and neck but would prefer to avoid surgery. In this case, our signature Express Lift™ is an excellent option to consider. This procedure is minimally invasive, falling in between typical non-surgical and surgical facial rejuvenation solutions.
Benefits
Our Express Lift™ offers some distinct advantages compared to a traditional facelift procedure:
Minimally invasive: Many of our patients are interested in achieving results without undergoing surgery. An Express Lift™ can do just that, helping you experience facial rejuvenation with an easier recovery and little-to-no downtime.
Comprehensive coverage: Like a facelift, the Express Lift™ helps to tighten loose and sagging skin on the jowls, chin, and neck, as well as to reduce unwanted fat and add definition to the chin and jawline for a more toned look overall. Our Express Lift™can be customized to additionally address the upper part of the face, tightening and lifting skin around the eyes, brows, and temples.
What should you be doing NOW to ensure you age gracefully? Check out our guide, Cosmetic Procedures For Every Decade Of Your Life."
Procedure
During the Express Lift™ procedure, Ross A. Clevens, MD, FACS, or Renata Khelemsky, MD, utilize radio-frequency assisted lipolysis (RFAL), which works by delivering heat both above and under the skin to melt away unwanted fat and tighten skin.
The procedure takes about 45-90 minutes to perform in-office, depending on the areas treated. Your surgeon may also recommend a resurfacing treatment using RF microneedling or laser skin resurfacing to improve the quality and texture of your skin.
Recovery
Because the procedure is minimally invasive, it comes with a short recovery period, with most patients returning to work and other regular activities in just a few days. Bruising and fullness in treated areas is normal for about a week following your Express Lift™.
How to Determine the Best Treatment for You
Both a facelift and an Express Lift™ are great options to consider if you want to rejuvenate your face and neck. The right treatment for you depends on your goals and priorities.
Generally, a rhytidectomy is the best choice for a patient who wants to see a substantial improvement in their facial appearance and is prepared to take the necessary time to recover. The ideal facelift candidate has visible signs of aging in the face, such as wrinkles, deep creases, jowls, sagging skin, and neck laxity.
An Express Lift™ is optimal for men and women with milder to moderate signs of aging on the face and neck, especially for patients who would prefer not to undergo surgery. Some patients have previously had a facelift and want to refresh their appearance without undergoing a second surgical procedure.
There are other factors to consider, as well, such as long-term results and the cost of each procedure. The best way to determine the ideal procedure for you is to discuss your goals and receive a recommendation from a facial plastic surgery specialist like Dr. Clevens or Dr. Khelemsky.
What we call the "specialist advantage" is significant when it comes to facial procedures, which require deep knowledge of facial anatomy and a commitment to ongoing artistry and innovation to achieve exceptionally natural-looking, symmetrical results.
Ready to take the next step toward becoming a more refreshed, energized you? Schedule your consultation to meet with Dr. Clevens or Dr. Khelemsky at one of our locations in Brevard County, Florida (or virtually), to discuss your options and make a plan to get started.