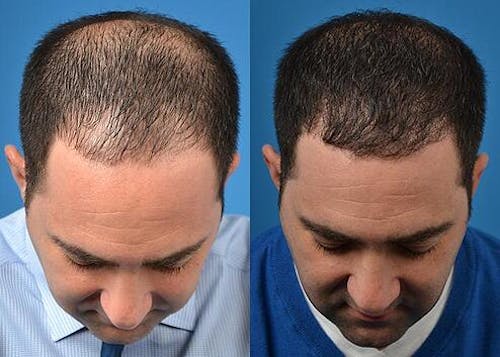 Millions of people, both men and women alike, struggle with hair loss as they age. As a result, many seek out hair transplant treatments to help restore and replenish lost hair; however, traditional hair transplant techniques, such as the "strip method," have a high potential for scarring, are infamous for long recovery periods, and can even cause long-lasting scalp numbness.
With that said, the good news is that there are now minimally invasive transplant techniques available that present minimal risks and achieve natural-looking results. This article provides an overview of the NeoGraft "MaxGraft" Hair Restoration procedure and what makes someone a good candidate to have it done.
NeoGraft 'MaxGraft': What It Is & What It Treats
At Clevens Face and Body Specialists, we utilize NeoGraft "MaxGraft" hair restoration technology and follicular unit extraction technique to remove individual hair follicles and transplant them to other areas of the scalp. During the procedure, an automated system is used to remove hair follicles individually—as opposed to traditional transplant techniques that involve the removal of a strip of tissue from the scalp.
NeoGraft "MaxGraft" is minimally invasive and removes follicles from the scalp evenly, without needing to make incisions, avoiding the chance of scarring altogether. Hair follicles are typically removed from a donor site on the back of the scalp and transplanted to the front and top of the head, or whichever area the patient would like to restore growth, where hair is ultimately restored over time.
Who Is a Good Candidate for Hair Restoration?
Hair restoration is not only a treatment for men—both men and women with hair loss make excellent candidates for our NeoGraft "MaxGraft" procedure. We customize the procedure to each individual patient's needs to obtain the maximum number of ideal grafts and achieve the most natural appearance and greatest density of hair possible.
Even patients with shorter hairstyles are ideal candidates for NeoGraft hair restoration, because there will be no visible incision mark following the procedure. So, you can wear your hair at any length and style it however you choose. Hair restoration also is a great option for individuals who lead active lifestyles because the recovery period is minimal and requires little to no downtime. The NeoGraft "MaxGraft" procedure is performed in-office with oral sedation, so patients are not required to go to a surgical center or have general anesthesia. Generally speaking, patients should be in good health when they undergo the procedure.
How to Set Realistic Expectations
Of course, it's important that patients have realistic expectations prior to their procedure. Reviewing before and after photos is a great way patients can better learn what to expect for results. Grafts are intended to be permanent, but there may still be future hair loss depending on differences in hair loss patterns. Because grafts don't stop all hair loss in other areas , some patients may require maintenance of further transplantation procedures to continue seeing good results. Keep in mind, results take about 3-4 months to see new hair emerging where the follicles were transplanted.
To achieve natural, lasting results, it's important that patients who are interested in hair restoration choose a specialist in hair transplant techniques, as well as other possible treatments such as nonsurgical injectable treatments or other procedures that may lead to a more optimal result, such as a hairline lowering procedure. An experienced facial plastic surgeon can discuss all the possibilities for each patient and help to manage expectations for the end result.