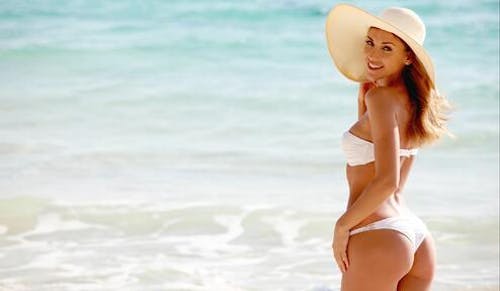 Baby got back—or nah? These days, full, round backsides are all the rage. More and more, people come to us looking to enhance their fanny for a more voluptuous figure that makes them feel comfortable and sexy in their own skin.
If that sounds like you, here's what you need to know about fixing a flat butt.
What Are the Most Common Causes Of a Flat Butt?
First things first: What exactly causes a flat butt? Why are some blessed with natural curves, while others are not? Genetics are primarily responsible for the shape and size of your tush; however, other factors can also contribute to a flat, droopy backside.
For example, sitting for long periods, which weakens the gluteal muscles and reduces their volume over time. Along with a sedentary lifestyle, poor posture and sleeping on your side can also stretch out and weaken your glutes. (Fortunately, CoolTone—one of the treatments that's included in our nonsurgical butt lift—is a great solution for strengthening muscles and building a toned, voluminous booty!)
Surgical vs. Nonsurgical Ways To Enhance Your Booty
Don't worry—the derriere of your dreams is still possible with the right procedure!
Both surgical and nonsurgical procedures are available to enhance and even augment the appearance of a flat butt. Surgical procedures such as the traditional Brazilian Butt Lift and butt augmentation using gluteal fat transfer are highly effective, achieving excellent cosmetic results. However, butt augmentation surgery has a downside. It requires incisions, downtime, and a longer recovery process of around 2-6 weeks—not to mention the increased risk of potential side effects and complications.
On the other hand, our nonsurgical Brazilian Butt Lift—or what we call the "Beach Booty Lift" at our Brevard County, Florida, practice—is the perfect way to improve the shape and size of your flat butt without surgery or the need for time away from work and play.
Before you choose your plastic surgeon, read this guide to understand your quote and exactly what you're paying for.
Beach Booty Lift: Why It's the Optimal Treatment For Your Tush
Wondering what separates our Beach Booty Lift from other surgical and nonsurgical butt enhancement and augmentation procedures? Our Beach Booty Lift uses a combination of non-invasive treatments to achieve optimal results, including:
CoolSculpting ELITE to reduce fat on the banana roll
CoolTone to strengthen, firm, lift, and tone gluteal muscles
Qwo to minimize any unwanted cellulite on your tushy
Many of our Beach Booty Lift patients also opt to add Sculptra for nonsurgical butt augmentation as an added benefit. CoolSculpting ELITE, CoolTone, Qwo, and Sculptra achieve highly effective results over a series of short treatments. Most of our Beach Booty Lift patients have 1-2 CoolSculpting ELITE treatments, six CoolTone treatments over a three-week period, and three Qwo treatments performed three weeks apart.
While surgery requires general anesthesia and is performed in an accredited surgical center, our Beach Booty Lift treatments are performed in-office in under an hour. The results are nothing short of bootylicious! You can be in, out, and on your way to a smoother, firmer, perkier, and rounder butt over your lunch break.
After your treatments are complete, there's no downtime or recovery process. It's really that easy! Better yet, results are both natural-looking and long-lasting. You can enjoy a more attractive, contoured tush for up to two years following your Beach Booty Lift, with occasional refresher treatments to help maintain your results over time.
Boost Your Confidence With Our Nonsurgical Beach Booty Lift
If you're interested in moving forward with a nonsurgical Beach Booty Lift, the best way to learn more and determine whether or not you're a good candidate is to schedule your consultation with one of our specialists. We'll discuss your goals, address any concerns, and make a recommendation—so you'll be well on your way to a rounder, more contoured backside that looks incredible in swimwear, lingerie, and fitted clothing.