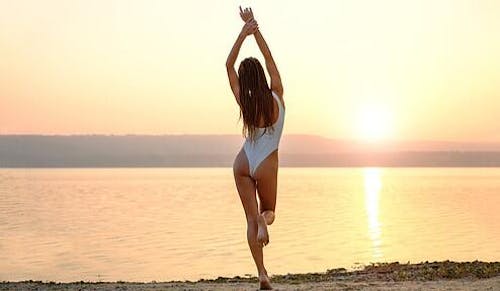 Do you daydream about having a fuller, rounder tushy that looks incredible in swimwear, lingerie, and fitted clothing?
Even with beach season right around the corner, there's still time to get your body (and more specifically, your booty) ready to rock a swimsuit. If this sounds like you, and you're on the hunt for a fast, effective procedure to help you achieve your #bodygoals and look as fabulous as you feel, a nonsurgical Brazilian Butt Lift (BBL) may be the perfect solution.
In this article, we'll compare surgical with nonsurgical BBLs and talk about the benefits of our exciting, new Beach Booty Lift procedure.
Breaking Down the Common Causes Of a Flat Butt
Before we dive into comparing surgical and nonsurgical Brazilian Butt Lifts, let's talk about the common causes of a booty that's flatter than you'd like. First and foremost, genetics are primarily responsible for the shape and size of your fanny. However, certain lifestyle factors can also contribute to the appearance of a flat, drooping behind.
For example, a sedentary lifestyle is a common cause, because sitting for long periods of time weakens the gluteal muscles, ultimately reducing their volume and flattening your backside. Poor posture and sleeping on your side can also stretch and further weaken your glutes. The good news is, as normal as a flattening behind can be, surgical and nonsurgical treatments are available to help you enhance the look of your natural curves.
Comparing a Surgical vs. Nonsurgical Brazilian Butt Lift
A surgical BBL, or surgical butt augmentation, is a popular cosmetic procedure that involves removing fat from other areas of the body—think the thighs, hips, and abdomen—via liposuction, and then transferring the fat to your butt to make it appear rounder and fuller.
However, despite the surgical BBL's popularity in recent years, many of our plastic surgery patients would prefer to avoid the incisions, general anesthesia, and downtime that are associated with the procedure and recovery. Plus, contrary to the name, a surgical Brazilian Butt Lift does not actually lift your butt. With these considerations in mind, many look for BBL alternatives that can achieve a similar result without surgery.
Enter the nonsurgical Brazilian Butt Lift, or what we call the Beach Booty Lift at Clevens Face and Body Specialists.
Our nonsurgical BBL, or what we call the Beach Booty Lift, is a cosmetic procedure that can enhance your tushy for a more voluptuous, youthful figure—without requiring any incisions, general anesthesia, or downtime. A nonsurgical BBL can achieve exceptional, long-lasting results for a smoother, firmer, perkier, rounder booty that helps highlight your body's own natural figure.
During our Beach Booty Lift procedure, we perform a combination of nonsurgical treatments to achieve your desired results.
Request a consultation to speak with our expert team
CoolSculpting Elite
CoolSculpting ELITE, a nonsurgical fat reduction procedure designed to minimize pockets of persistent fat almost anywhere on the face and body, helps reduce unwanted fat on the banana roll as part of our BBL. Our procedure includes one or two CoolSculpting ELITE treatment sessions, depending on the amount of stubborn fat accumulation, your body type, and your unique goals for your appearance.
Our new and improved CoolSculpting ELITE system can achieve up to a 25 percent fat reduction in the treated area, helping you get rid of stubborn fat and say goodbye to your banana rolls—those pesky, banana-shaped bulges of fat that show up just underneath your tuchus—just in time for the summer season!
CoolTone
CoolTone, a nonsurgical muscle tightening treatment, helps to strengthen, lift, and tone your gluteal muscles for a firmer-looking fanny. Our patients love CoolTone treatments because they add definition to stubborn areas that even the most dedicated workout regimen can't achieve. Our BBL patients typically receive four CoolTone treatments over a two-week period, with each session lasting just 30 minutes or less.
Qwo
Qwo, a nonsurgical treatment that uses injectables to reduce unwanted cellulite, is included with our Beach Booty Lift to minimize moderate to severe cellulite on your backside. (Yes, please!) BBL patients receive three Qwo treatments, performed approximately three weeks apart, with each session completed in just 10 minutes or less.
Sculptra
Sculptra, a nonsurgical procedure designed to restore lost volume in treated areas, is an optional treatment for BBL patients that involves using injectable fillers to add volume to your booty without surgical augmentation.
Choosing the Brazilian Butt Lift Procedure That's Right For You
Unsure whether a surgical or nonsurgical BBL is the right option for you? There are a few important factors to consider when choosing between a surgical and nonsurgical Brazilian Butt Lift.
Surgical vs. Nonsurgical
While both procedures can effectively improve the shape, size, and contour of your bum, there are inherent differences between them. A surgical Brazilian Butt Lift involves incisions, requires anesthesia, and is performed in an accredited surgical center rather than in our office. On the other hand, our nonsurgical Beach Booty Lift achieves similar, lasting results without surgery—meaning no incisions or anesthesia are required.
Recovery and Downtime
Recovery and downtime also play a role in determining which procedure best suits you. Surgical BBLs have a 2-6 week recovery period, and typically require patients to spend approximately 10-14 days at home, off work, and away from other daily activities. A nonsurgical Beach Booty Lift achieves natural, long-lasting results without any unwanted activity restrictions or time away from work and play.
Potential Side Effects
Risk of side effects and complications is also an important consideration when choosing between a surgical and nonsurgical butt lift. In the hands of a skilled, experienced board-certified plastic surgeon, surgical butt augmentation using gluteal fat transfer can safely and effectively help you achieve your cosmetic goals. With that said, a nonsurgical Beach Booty Lift has fewer potential side effects and less risk of complications.
Preparing for Your Nonsurgical Beach Booty Lift
Whether you've always wanted a rounder, more contoured derriere, or you've only recently noticed your butt flattening and drooping more than you'd prefer, our nonsurgical Beach Booty Lift may be the perfect solution to accentuate the contour and shape of your behind without surgery, incisions, or a lengthy recovery.
Interested in a Beach Booty Lift, our version of a nonsurgical Brazilian Butt Lift? Schedule your consultation to meet with one of our specialists to learn more about the procedure and whether it's a good match for you.