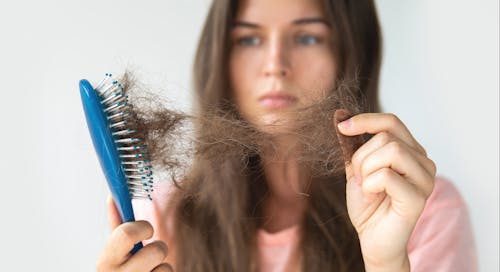 Losing your hair can be extremely nerve-wracking, whether you notice patches of thinning hair when you look in the mirror or see more lost hair on your brush or in the shower. But if you're experiencing it, you're not alone.
Female hair loss is more common than you think. Despite the misconception that hair loss is restricted to men, according to the American Hair Loss Association, 40 percent of hair loss sufferers are women. Hair loss is disheartening for anyone experiencing it, but it can be especially upsetting for women. As a society, no one thinks twice about seeing a bald guy, but for women who are experiencing hair loss, it can feel devastating. It often impacts their emotional well-being and even overall quality of life—but that doesn't mean it has to be permanent.
Thanks to advances in medical techniques and technology, certain treatment options effectively restore lost hair without the need for surgery. This article provides an overview of the common causes and symptoms of hair loss in women, as well as the most effective treatment options available today.
Women's Hair Loss: Common Causes and Symptoms
Some amount of hair loss is a normal part of life. According to the American Academy of Dermatology, most people shed from 50-100 single hairs on a daily basis. However, excessive hair loss can occur for a number of reasons. The following are a few of the most common causes of hair loss in women.
Androgenetic alopecia
Androgenetic alopecia, or female-pattern baldness, is the leading cause of hair loss in women. It's a genetic condition that can be inherited from either side of the family. Typically, the hair thinning caused by androgenetic alopecia begins between the ages of 12-40 years old.
Hormonal fluctuations
Hormonal fluctuations are another reason for hair loss in women. Pregnancy, menopause, birth control, and certain conditions can cause hair to thin as a result of fluctuating estrogen and progesterone levels. For example, both during and after menopause, hair can become thinner due to shrinking hair follicles.
Medical conditions
There are a number of medical conditions that are known to cause hair loss, such as polycystic ovarian syndrome (PCOS), anemia, thyroid disease, and autoimmune diseases like lupus.
Certain medications
Female hair loss can also be a side effect of certain medications. For example, medications that are used for treating cancer, arthritis, heart problems, gout, high blood pressure, acne, epilepsy, and depression can all cause hair loss in women.
Diet and malnutrition
Unhealthy diets, vitamin deficiencies, or rapid, significant weight loss can also play a role in hair loss in women. When you're not getting the vitamins and nutrients that your body needs, such as protein, iron, or vitamin D, it can result in thinning or damaged hair.
Extreme stress
Extreme stress can also cause thinning of the hair; however, this type of hair loss is often temporary. For instance, sudden and traumatic events like going through a divorce or losing your job can cause stress-induced hair loss.
Several risk factors can increase the risk of hair loss in women, such as a family history of balding, age, stress, medical conditions, and poor nutrition. The primary symptoms of hair loss in women include:
Gradual thinning of hair on top of the head, which often results in broadening of the part in women. In some cases, older women can also experience a receding hairline, though this is much less common than gradual thinning.
Sudden loosening of hair due to physical and/or emotional shock, which usually causes overall thinning temporarily.
Full-body hair loss, which is usually caused by medical conditions and treatments like chemotherapy and radiation for cancer patients.
Patchy or circular bald spots, which often occur due to autoimmune skin diseases such as alopecia areata.
Are you a canidate for hair restoration? Take this simple quiz to fiind out!
Preventing and Treating Hair Loss In Women
Although not all types of hair loss are preventable, there are certain steps you can take to help you avoid the types that are. Here are some of the best ways to prevent hair loss:
Protect your hair from the sun and ultraviolet (UV) light, because prolonged sun exposure can cause damage, discoloration, and ultimately thinning.
Quit (or cut back on) smoking, because some studies have shown a correlation between smoking cigarettes and hair loss.
Consult with your doctor about any medications or supplements you're on that have the potential to cause hair loss.
Maintain a healthy diet that's rich in essential vitamins, protein, and iron.
Be gentle brushing and styling your hair, especially when using heat styling tools like curling irons, blow dryers, flat irons, or rollers.
Avoid hairstyles that pull on the hair such as tight ponytails and braids.
Use a heat protectant on your hair when you do use styling tools, and avoid products made with harsh chemicals, such as box hair dyes.
NeoGraft "MaxGraft" Hair Restoration
If your efforts to prevent hair loss are unsuccessful, there are still treatment options to consider—and fortunately, they prove very effective at hair restoration. NeoGraft "MaxGraft" is a minimally invasive hair restoration procedure that effectively treats hair loss and corrects the hairline without surgery.
The procedure involves using follicular unit extraction (FUE), a technique for removing individual hair follicles from the back of the scalp and transplanting them one at a time to thinning and balding areas with visible hair loss. Once the follicles are transplanted to other areas of the scalp, they get to work stimulating growth and restoring hair over time.
The NeoGraft "MaxGraft" procedure is completely customizable, with each patient receiving the ideal number of grafts required to achieve natural, lasting results. Any individual who is in good overall health and experiencing hair loss is a likely candidate for NeoGraft "MaxGraft" hair restoration. Those with shorter hairstyles are particularly good candidates because the procedure will not cause visible scarring like traditional transplants.
Unlike traditional hair restoration techniques that require removal of an entire strip of skin and result in significant scars, NeoGraft "MaxGraft" is an incisionless procedure that doesn't cause long-lasting marks. Also, because the hair is transplanted one strand at a time, the results are often imperceptible, as opposed to the unnatural appearance that comes with traditional surgical options.
Because it's minimally invasive and does not require general anesthesia, most hair restoration patients return home the same day and are back to work the day after their procedure. While there may be certain activity restrictions for the first few weeks to allow for adequate healing, most patients return to a normal exercise routine around two weeks following hair restoration.
Following your NeoGraft "MaxGraft" procedure, our hair restoration specialists can recommend steps you can take to optimize your results with supplements and hair products to protect and maintain your investment. Results from our NeoGraft "MaxGraft" are long-lasting, and once your transplanted follicles regrow fully and naturally in about 3-4 months, you can cut and style your hair any way you want!
Treat Unwelcome Hair Loss With NeoGraft "MaxGraft"
Hair loss can be scary and frustrating, but with the right treatment it doesn't have to be a problem you have to deal with forever. If you're a woman experiencing visible hair loss, NeoGraft "MaxGraft" may be an ideal option for restoring your full head of hair and your confidence. Take a quick quiz to find out if you're a good candidate for hair restoration.