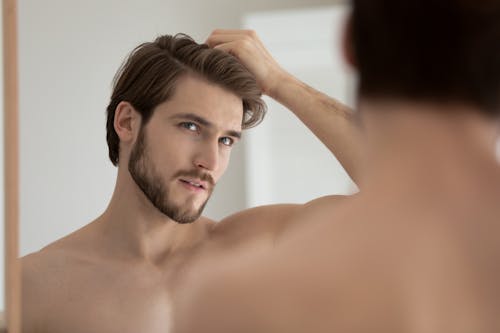 Working in the field of aesthetic medicine, one of the most common questions I'm asked is about the best ways to restore hair. There are several various modalities that currently exist, ranging from non-surgical treatments such as topical medications and supplements to surgical procedures like Follicular Unit Extraction (FUE) or Scalp Micro Pigmentation (SMP).
Non-surgical modalities are a popular choice for those looking to restore hair without going under the knife. These treatments rely on products or supplements that aim to strengthen existing follicles and promote new growth of healthy strands. Common non-surgical treatments include medications such as Propecia, Minoxidil, and Nizoral Shampoo; various laser therapies; supplements such as biotin and saw palmetto; and topical solutions such as minoxidil foam or lotion.
These treatments work by targeting DHT (dihydrotestosterone)—a hormone responsible for male pattern baldness—and decreasing its production within the follicle. This can help slow down or even reverse hair loss, allowing for more natural regrowth of healthy strands over time. They also help keep existing hairs healthier by increasing their growth rate and preventing further damage caused by DHT. While these treatments are relatively affordable, it's important to note that they do take some time before any noticeable effects can be seen.
Surgical modalities on the other hand involve transplants of follicles from one area of your scalp to another. The most common type of surgery is called Follicular Unit Extraction (FUE). We refer to this at our office as NeoGraft "MaxGraft" to describe our signature approach to achieving optimal results for patients seeking to treat hair loss with FUE. During this procedure, individual follicles are extracted from the donor site—typically at the back of your head where there is more density—and implanted into the recipient site—usually on top or near the front of your scalp where there is less density. This procedure can provide results that are natural-looking and long-lasting but it comes with a short downtime.
Another surgical option is Scalp Micro Pigmentation (SMP), which involves implanting tiny dots of pigment into bald or thinning areas on your scalp in order to give a fuller look. SMP is basically like a tattoo and can be used alone or combined with traditional transplant procedures for even better results and added convenience if you're not comfortable with having a full head transplant due to costs or other reasons.
Ultimately, deciding which treatment option is best for you will depend on a few factors including your budget, convenience level, desired outcome, and overall health condition. If you're looking for an affordable yet effective way of restoring your hair then non-surgical treatments may be a good choice for you while surgical options with faster results may appeal more to those who have specific needs in mind or require more dramatic changes quickly! No matter what route you choose, however, it's important that you consult with a trusted hair restoration expert first in order to ensure optimal results with minimal risks!