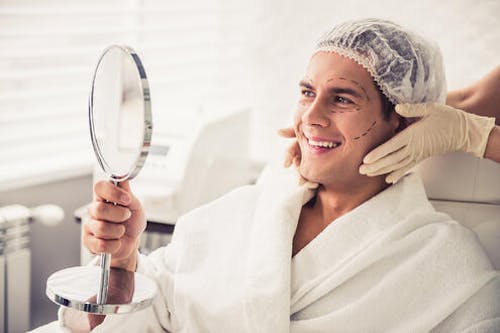 Thanks to modern techniques and technologies, plastic surgery is now safer than ever. An increasing number of men and women seek out cosmetic face and body procedures each year to revitalize and refresh their appearance.
That said, for patients with high blood pressure (or "hypertension"), the health risks associated with having plastic surgery may be greater. Patients with high blood pressure who are considering plastic surgery must be fully informed about the potential complications and side effects, as well as how to manage them, before moving forward with a cosmetic procedure.
However, in the right hands, patients with high blood pressure can still have a safe and successful plastic surgery procedure—especially patients whose high blood pressure is properly managed and controlled by their regular doctors. Are you considering plastic surgery but feeling concerned about the risks associated with hypertension? This article covers all you need to know about high blood pressure and plastic surgery:
Hypertension 101: What Are the Causes and Complications?
The Mayo Clinic defines high blood pressure as "a common condition in which the long-term force of the blood against your artery walls is high enough that it may eventually cause health problems, such as heart disease." Nearly half of US adults have been diagnosed and/or are taking medication for hypertension.
Blood pressure is measured using two numbers: systolic blood pressure (the higher number), which measures the pressure in your arteries when your heart beats; and diastolic blood pressure (the lower number), which measures the pressure in your arteries when your heart rests between beats.
A normal blood pressure reading is anything less than 120 systolic and 80 diastolic, which would read as "120/80 mmHg." The American College of Cardiology and the American Heart Association both define high hypertension as at or above 130/80 mmHg. More advanced (or stage 2) hypertension is defined as a blood pressure reading of 140/90 or higher. Certain health conditions and unhealthy lifestyle choices increase the risk of high blood pressure developing over time, such as:
Diabetes
Obesity
Smoking
Poor diet
Inactivity
High blood pressure can also occur for women during pregnancy and will often resolve itself afterwards. Hypertension can damage important organs like the heart, brain, and kidneys. For example, damage to arteries decreases blood flow and oxygen and leads to heart disease; blocked arteries cause stroke, brain problems, and poor cognitive function; and diabetic adults with high blood pressure have a higher risk of developing chronic kidney disease.
Many people with high blood pressure can lower their numbers to a healthy range by making healthy lifestyle choices, such as not smoking, eating a healthy, low-sodium diet, maintaining a healthy weight, managing stress, and/or getting about 30 minutes of exercise a day, five days a week. In addition to making healthy decisions on a daily basis, some people take medication to manage their chronic high blood pressure.
Get the most our of your consultation. Come prepared with this comprehensive checklist to help you ask all the right questions.
Plastic Surgery Risks For Patients With High Blood Pressure
While patients with high blood pressure do have increased risks, most can be prevented with the right medical care. If you have high blood pressure and you're considering plastic surgery, expect your plastic surgeon to work with a Joint Commission on Accreditation of Healthcare Organizations (JCAHO) or Accreditation Association for Ambulatory Health Care (AAAHC) accredited ambulatory surgery center (ASC) and physician anesthesiologist who can ensure your safety and comfort even with hypertension.
Additionally, your plastic surgeon and/or the physician anesthesiologist and surgical center may request medical clearance from your family doctor or heart doctor in advance to ensure it's safe for you to undergo a cosmetic procedure.
The biggest surgical risk to patients with high blood pressure comes from heart fluctuations that may occur during surgery due to general anesthesia. For certain individuals with high blood pressure, a knowledgeable plastic surgeon might instead recommend local anesthesia and/or a nonsurgical or minimally invasive alternative to your procedure of choice to minimize any potential health risks.
If you have high blood pressure and you're planning to have a plastic surgery procedure, it's important to make your surgeon aware of your condition in advance. You should also make your plastic surgeon aware of any prescription medications you're taking before having surgery. It's especially important to make them aware if you're prescribed to blood thinners that prevent clotting, such as Coumadin (warfarin), because this can cause abnormal bleeding during surgery.
In most cases, for people while chronic hypertension, continuing high blood pressure medications (also referred to as antihypertensives) is generally safe. In fact, stopping them suddenly can even cause patients to have a rebound effect when their blood pressure rises as a result. On the other hand, some high blood pressure medications, such as ACE inhibitors or angiotensin receptor blockers, are held for a specific period of time prior to surgery.
That's why it's so critical to confirm with your plastic surgeon well in advance which medications you should (and should not) take before surgery. Keep in mind that you should not stop your blood pressure medications on your own, rather you should consult with your doctor before doing so.
Plastic Surgery With High Blood Pressure and Anesthesia
If you do end up having plastic surgery with anesthesia, an attentive anesthesiologist will actively monitor both your respiratory and cardiac functions during the procedure. While monitoring your vital signs, the anesthesiologist may administer medication to ensure that your blood pressure and heart rate remain in an ideal range during your procedure.
Alternatively, some patients with hypertension actually experience a drop in blood pressure after plastic surgery. This drop can be due to medication administered by the anesthesiologist (such as pain medicine), as a side effect of the procedure, or even a post-surgical infection. To prevent or treat a potential infection, your plastic surgeon may instruct you to take antibiotics before or following surgery.
Putting Yourself and Your Health In Expert Hands For Plastic Surgery
Having high blood pressure is certainly a risk factor to consider when evaluating whether or not to have plastic surgery, but it doesn't have to be a dealbreaker. In the hands of an attentive, experienced plastic surgeon—and after being open and honest with them about your condition—you may still be a good candidate for a surgical or nonsurgical plastic surgery procedure.
If you're looking for more information on high blood pressure and plastic surgery, the next step is to meet with a qualified expert who can break down the risks, analyze your concerns, and make a recommendation. Schedule your consultation with a board-certified plastic surgeon or facial plastic surgeon who specializes in your procedure of choice to learn whether plastic surgery is a good (and safe) option for you.