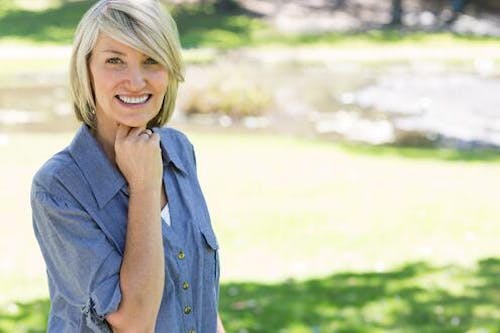 Do you ever wish you had a stronger, more prominent chin and jawline, or that you had more balanced, symmetrical facial features? If so, a chin implant may be the perfect way to meet your goals for your appearance. Chin implant surgery is a safe, fast, and effective way to add definition to your face, enhance facial highlights, and improve facial balance and harmony to achieve a look you love.
Here's all you need to know about chin implant surgery, including the benefits, recovery process, and who makes a good candidate for the procedure.
All About Chin Implants: The Procedure and Benefits
Chin implant surgery, or chin augmentation, is a popular procedure designed to achieve facial balance and harmony, enhance facial highlights, improve facial definition, and correct asymmetry. People decide to move forward with chin implant surgery to:
Address a short chin that makes the nose appear larger
Reduce the appearance of pronounced overbite or double chin
Improve facial balance and definition when a chin is undersized
There are three different types of chin implants: a short or "button" chin implant, an anatomical chin implant, and a pre-jowl chin implant. Short implants are rarely used because they don't recreate the proper chin shape. On the other hand, anatomical and jowl implants are most commonly used because they provide more natural results. Anatomical implants recreate the ideal shape and position of the chin. Jowl implants are ideal for patients with both a weak chin and some jowling (sagging skin below the chin or jawline), and are often partnered with facelift surgery to diminish the appearance of jowls.
Chin implants are most commonly combined with facelift or rhinoplasty, and the surgeries can be performed at the same time. With that said, it's important to note that while chin implants can be very beneficial, the procedure is not a substitute for a facelift or neck lift. Instead, chin augmentation enhances the results of other facial cosmetic procedures to achieve a patient's desired results. Some patients also opt to combine chin implants with the Laser-Assisted Weekend Neck Lift™ to see dramatic improvements in facial harmony.
Chin implant surgery takes about 20-30 minutes to perform. If performed as a standalone surgery (without a facelift, rhinoplasty, or similar procedure), a chin implant may be placed in the office under local anesthesia. During the chin implant procedure, incisions are carefully made on either inside of the mouth or under the chin, so they are not visible. Today's chin implants are made of a solid silicone material that can be perfectly contoured to fit over the bone.
Before you choose your plastic surgeon, read this guide to understand your quote and exactly what you're paying for.
What To Expect From Chin Implant Recovery and Results
Recovery from chin implant surgery is usually a very smooth process, because complications from chin implants are relatively uncommon. Most patients return to their everyday routine within a week after the chin implant procedure; however, we recommend holding off on more strenuous work and exercise until around two weeks following chin augmentation surgery.
After the chin implant procedure, you'll need to sleep with your head elevated for 3-5 days to allow for adequate healing and avoid potential complications. Patients typically see their long-term results after any fullness subsides, usually within a month or two following chin implant surgery.
Patients are thrilled with their results after having a chin implant placed by one of our experienced facial plastic surgeons like Ross A. Clevens, MD, FACS. For example, here's how one of our chin implant patients described his results:
"I have been told throughout my life, by many doctors, that a chin implant would fix what I hated most about my looks. I never felt quite ready or prepared to go through the surgery until I met Dr. Clevens. He laid all my worries to rest the first time we met. He also has done many procedures for men before and has great results and reviews. I felt very comfortable having him as my doctor and moving forward with something I've looked forward to for years. I have never felt or looked better." –RealSelf Review
You can look at before and after photo galleries and read online reviews to get a better sense of what you can expect from chin implant surgery. After the initial recovery period, a solid silicone chin implant is designed to last a lifetime, with no concerns about leaking or reabsorption. With that said, rest assured a chin implant can be easily removed in 10-15 minutes under local anesthesia should you change your mind down the road.
Who Makes a Good Candidate For Chin Implant Surgery?
The ideal candidate for a chin implant is usually a non-smoker in good overall health who is seeking a more defined chin and jawline. Patients who have a weak chin profile but normally functioning jaw are typically good candidates for chin implant surgery. Also, any patient with significant asymmetry may also be a good candidate for chin augmentation.
During your consultation, Dr. Clevens will evaluate the shape of your chin, as well as your teeth and overall facial structure, to determine whether you're a good chin implant candidate. It's a good idea to bring examples of photos that showcase the results you're looking for to help your facial plastic surgeon determine the best approach for you.
It's important to choose a specialist in facial plastic surgery to achieve optimal, natural-looking results. Look for a facial plastic surgeon who's board-certified by the American Board of Facial Plastic and Reconstructive Surgery (ABFPRS), which is the world's largest specialty association for facial plastic surgeons. Choosing an ABFPRS-certified plastic surgeon ensures the physician you select is an expert in facial procedures like chin implants.