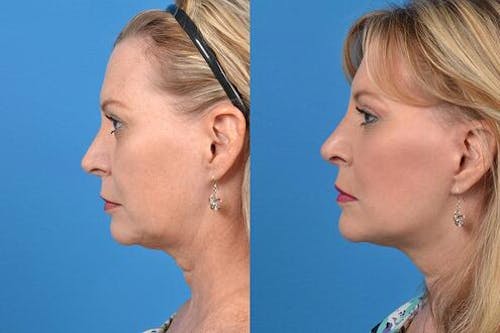 If you're considering cosmetic surgery, chances are you've already spent a fair amount of time perusing before and after photos. Reviewing these photos is a great way to determine whether cosmetic surgery is a good option for you and to help with selecting the best surgeon for the job.
In fact, cosmetic surgery before and after photos can be much more telling than any testimonial or promised results. With that said, careful review is very important when choosing a surgeon for your procedure—but what factors should you take into consideration to make a fair comparison?
Here are the key things to look for in cosmetic surgery before and after photos.
Patients That Look Like You
When possible, look for cosmetic surgery before and after photos that feature patients who look similar to you. When patients in before and after photos have characteristics that are similar to your own, you're much more likely to get an accurate idea of your own potential results. For example, keep an eye out for those with a similar body type and/or facial features based on your procedure of choice. It's also wise to look for before photos with patients who have problem areas that mirror yours.
This will help you paint the clearest picture possible of the results you can expect. For example, a woman who is 5'9" and 180 pounds may not achieve the same results as a woman who is 5'4" and 105 pounds. The same volume breast implant would most likely look completely different on these two ladies.
Even the techniques a doctor uses might change, such as where to place the incision. That's why it's wise to look for patients who resemble you in terms of weight, height, and body type to get the best idea of what results you can expect from your procedure.
The Surgeon's Artistic Abilities
Cosmetic surgery is an art, and before and after photos should clearly reflect a surgeon's artistic abilities. However, before and after photos should be clear, not re-touched and should be taken with similar lighting, patient positioning, hair and makeup. The before photo should not be a frowning photo with harsh lighting while the after photo is a glamour shot.
Every cosmetic surgeon has his or her own surgical style. That's why you should look for before and after photos that align with your own aesthetic vision and goals. If a surgeon's artistic abilities don't line up with your aesthetic, they're likely not a good fit for you.
Think of it this way: If you were purchasing art for your home, would you visit a gallery with garish artists that didn't meet your aesthetic ideals. Just like you wouldn't seek out an artist if you didn't like their portfolio, you also shouldn't choose a cosmetic surgeon if you don't like their previous work. It's ultimately ideal to find results that consistently demonstrate that the "after" pictures complement each patient's unique anatomy—the signature of a true artist!
Visible Scarring or Redness
The most experienced cosmetic surgeons know how to properly hide incisions to reduce any visible scarring or redness after surgery. If you notice unsightly scars or redness in after photos, look for a surgeon with more experience in your area of interest. Seeking out an experienced cosmetic surgeon who specializes in your procedure of choice is the best way to get the results you want.
For example, some cosmetic surgeons specialize in breast and body procedures, while others, including Dr. Ross Clevens, focus solely on the face. That's the specialist advantage, and the results are certain to speak for themselves.
Asymmetry or an Unnatural Look
There's a well-known saying in the cosmetic surgery industry: Everyone will notice, but no one will know. When studying cosmetic surgery before and after photos, look for asymmetric or unnatural results. Symmetrical results will appear much more natural and be less obvious to the observer's eye.
While every patient has some level of natural asymmetry, this can be addressed during cosmetic surgery to help a person's face or body appear as symmetrical and as beautiful as possible. Skilled plastic surgeons know how to achieve natural-looking results that enhance (instead of dramatically change) the appearance. Patients so often tell us that they want to look better, but not different or 'operated-upon.'
What should you be doing NOW to ensure you age gracefully? Check out our guide, Cosmetic Procedures For Every Decade Of Your Life."
Natural Placement and Appearance
Certain procedures require very careful placement of the incision and surgical materials to achieve a natural appearance. In facelift and in eyelid surgery, the incisions should be so well hidden that they are not noticeable and there is no alteration in hair patterns. For example, during his Laser Assisted Weekend Neck Lift procedure, Dr. Clevens creates a small, hidden incision in the natural fold under the chin.
During breast augmentation, lift, and revision procedures, it's extremely important that the cosmetic surgeon places the implant in a way that looks natural. Breast implant size, shape, and type all play into the aesthetic outcome. Round silicone implants look like teardrops from the side when a patient is standing up, and when they are lying down the implant goes flat like a natural breast. On the other hand, breast implants that are premade in a teardrop shape can end up rotating and looking less natural.
Technique plays a factor as well. An example is our surgeon's approach to breast augmentation, in which an incision is made in the underarm area to place the implant, allowing the breasts to remain scar-free with a very natural appearance!
Lighting and Background
Pay close attention to the lighting and background in before and after photos. Just like any other type of photography, they both play a role in how the photos look. Dim, poorly lit photos will not paint a true picture of the results you can expect. Before and after photos should be well lit without dark shadows to distract from the end result.
In addition, distracting backdrops can also change the outcome of cosmetic surgery before and after photos. The backdrop should be unobtrusive, most commonly solid blue or black without extraneous items in the background. Both the lighting and background should be consistent. If the before photo is a front view and the after photo is taken from the side, this may be an attempt to hide something unflattering or make certain results less visible.
Patient Poses
Patient poses are incredibly important when reviewing cosmetic surgery results in before and after photos. Patients should be photographed in a variety of poses to get a truly accurate idea of a surgeon's artistic abilities. This is essential because certain poses can be used to hide unflattering things like scarring and redness. In facial before and after photos, watch the chin position. Is the chin tucked in the before and raised in the after creating a misleading look to the result.
Pay attention to not only the pose itself, but also the focal distance, or the distance between the camera and subject (in other words, how close up is the photo?). Some cosmetic surgery groups will even take a "closer" shot in the before photo and a picture that's farther away in the after to make a body contouring result appear more dramatic or exaggerated when actual results are likely much more subtle.
Results You Love or Hate
This might go without saying, but be sure to make note of results you love or hate when reviewing before and after photos. Then you can bring along before and after photos (of cases performed by the surgeon you're consulting with, or even those of other cosmetic surgeons) that help to best illustrate your goals. This is helpful to create a dialogue and discussion with your surgeon.
Specifically note patients whose results you don't like and bring those to your consultation to share with your cosmetic surgeon. It's as helpful for a surgeon to understand what you do not want, as it is for them to know what you do desire. However, be careful not to insult the doctor's work just because you don't love a particular aesthetic outcome. Keep in mind that cosmetic surgeons typically perform surgery to achieve a result based on the patient's goals, not their own.
How Extensive is the Surgeon's Before and After Gallery?
An experienced surgeon should have accumulated a vast before and after gallery. The before and after gallery should be varied with patients bearing all sorts of characteristics, appearances, shapes and sizes. This allows you to see and to judge the surgeon's skill level with multiple types of patients. If the surgeon can only produce a handful of before and after photos, you may wonder whether the surgeon has experience and expertise in those procedures.
What's Next? Scheduling Your Consultation
Now that you have a better understanding of what to keep an eye out for when reviewing cosmetic surgery before and after photos, consultation is the next step. Schedule your consultation to meet with one of our cosmetic surgery specialists to learn more about your procedure of choice and express any concerns you have about recovery and results.
In the meantime, check out our own before and after photo gallery for an idea of what to expect, especially now that you know exactly what you should look for when you review them!