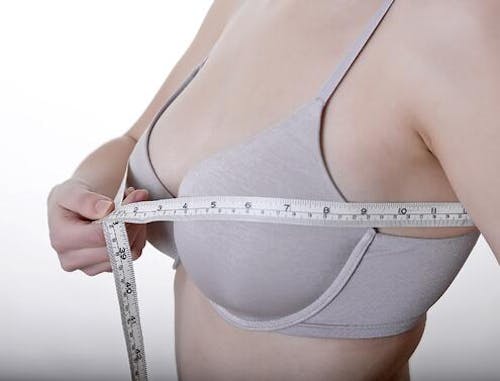 Each year, an increasing number of women opt to have breast augmentation, or a "boob job," to enhance the size, shape, and symmetry of their breasts. Breast augmentation is actually the leading cosmetic surgery for women, with more than 280,000 procedures performed in 2019 alone—and for very good reason.
Whether you're looking to increase the size of naturally smaller breasts or to correct sagging resulting from pregnancy or weight loss, breast augmentation can be a significant confidence booster. With that said, it's essential you choose the right breast augmentation size to ensure you're comfortable and satisfied with your results. One study found that 71 percent of women who had breast implant exchange or revision surgery were dissatisfied with their initial implant size.
When reviewing your options, it's important to consider proportion and shape over your bra cup size. Breast implants are measured in cubic centimeters (ccs) as opposed to cup size. Plus, all bras are designed a little differently, so simply indicating the final cup size you hope to be doesn't definitively help you and your surgeon get on the same page about the final result you want to achieve.
So, how can you determine the right implant size for your breast augmentation? Here are some key factors to consider.
Desired Results
The results you have in mind play a big part in the implant size you choose: Are you looking for a natural or obviously augmented appearance? How much bigger do you want to go in comparison to your current breast size? Are you looking to simply enhance the volume of your breasts, or do you want to correct asymmetry as well? Use your desired aesthetic outcome as a starting point and then consider other important factors before making your decision.
Body Type
Your body type is another important factor to consider when choosing your breast augmentation size. Is the size you're thinking of realistic given your natural body frame, shape, and measurements? The current size and anatomy of your breasts, as well as the proportion of your chest, shoulders, and hip width, all impact your end result. Breast augmentation can also correct asymmetry, so it's common for women to get two different-sized implants to address this issue.
One thing to note is that it's not a good idea to ask for the same size or type of implant as your friends. You want an implant that's the right fit for your frame—not to mention the right type of implant as well. All implants have different profiles, which are essentially "heights." Wider implants are typically used for women with a larger chest wall. Your surgeon will measure for you during your consultation to recommend an implant that's right for you to best fit your frame.
Skin quality and breast tissue are important, as well. For example, if you've lost a lot of weight, your skin may not be able to support a larger implant. Women with sagging breasts often have a breast lift performed alongside augmentation. Having both procedures at the same time may affect the implant size, because the lift will reshape the breast. In other words, you may think you want big implants, but your surgeon may recommend smaller implants with a breast lift to achieve ideal results.
Wardrobe and Style
It's important to consider how you want your breasts to look in clothing based on your wardrobe and style preferences. How much cleavage are you looking to show on a regular basis? Do you tend to wear more revealing or concealing clothing?
Keep in mind that you can still choose clothing that enhances your breasts. Many women opt for moderately sized implants that they can essentially "dress up" or "dress down," depending on the occasion in question.
Get the most out of your consultation. Come prepared with this comprehensive checklist to help you ask all the right questions.
Personality and Lifestyle
Your personality and lifestyle should factor into your decision as well. Some women are likely to embrace the very large, augmented look, whereas others may be more comfortable with a more natural-looking outcome.
Are you shy or outgoing? What kind of work do you do? Asking these questions can help you narrow down your options when it comes to breast implant size. Align your decision with your personality and lifestyle to ensure an ideal end result that you'll likely love for years to come.
Fitness and Exercise
Whether you live an active or sedentary lifestyle also plays a role in the implant size you choose for your breast augmentation. Consider whether the size you have in mind will suit your lifestyle and fitness routine, especially if you work out regularly and prefer high-impact exercise.
Many of our breast augmentation patients go with smaller or more moderately sized implants so they're still able to comfortably do all the activities they love, while also enjoying larger breasts that are more proportionate to their natural frame. For example, it's very common for runners to choose a small- to moderate-sized implant to minimize impact while running. This is true for patients who enjoy yoga, swimming, and many other forms of exercise as well.
Future Plans
Consider your future plans: Do you expect to be satisfied with your implant size for years to come, including when you're older? While you can certainly have a breast implant exchange or removal procedure if you feel differently down the road, it's wise to consider the future when deciding the right breast implant size for your augmentation.
Preparing For Your Breast Augmentation Consultation
Along with considering each of these factors, there are a few ways you can get a better idea of what you can expect from different implant sizes. Review before and after photos with patients who have a similar size and shape. (Here's what to look for when you're reviewing a before and after photo gallery.) Bringing in pictures of the aesthetic you want to achieve can also help you and your breast and body surgeon align on what you're looking for in an end result.
Then it's time for the most fun part of your breast augmentation consult: trying on sizers! During your consultation with a specialist in breast and body procedures, you can try on different implant sizers with shirts and bras in sizes you're considering. We advise our breast augmentation patients to bring a few different shirts in various styles to their augmentation. This way, you can get a true idea of what you can expect from how each implant size you're considering looks on your frame.
If you're considering breast augmentation, it's completely understandable that you have concerns regarding the size and type of implant that best meets your frame, lifestyle, and goals for your appearance. Schedule your consultation with one of our specialists in breast and body cosmetic procedures to express any concerns you have and determine the right breast augmentation size for you.
Get the most out of your consultation. Come prepared with this comprehensive checklist to help you ask all the right questions.