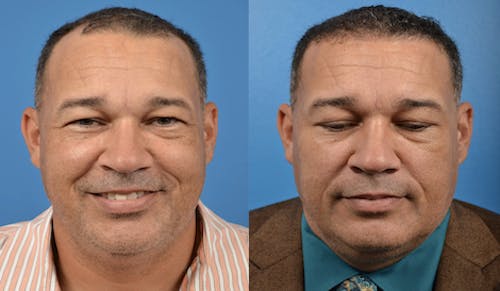 If you've started balding, you might feel like you're losing a lot more than just your hair. Hair loss can feel like a major, unexpected change, hurting your confidence when you look in the mirror and even when you go to work.
Sound all too familiar? If so, you're not alone. According to the American Hair Loss Association, by the age of 50, up to 85 percent of men have significantly thinning hair. Male pattern baldness is a common struggle for older men, and some younger men also deal with this issue. Regardless of how common it is, most men who suffer from male pattern baldness are unhappy with their situation and wish they could find a permanent solution to help reverse it and get their confidence back.
The good news is that there are a few options to help fight thinning hair. This blog post will focus on the different stages of male hair loss and the options available for hair restoration—including how much those treatments cost, how long they last, and who is a good candidate for the procedure.
Understanding Male Pattern Baldness
Before we discuss the different treatment options for male pattern baldness, let's go over the different stages of the process. This is important because for those in the later stages of balding, even with treatment options, the chance of recovering hair might be slim. According to what's known as the Norwood scale, there are seven stages of male pattern baldness:
Stages 1 and 2: Light hair loss; hairline begins to recede slightly
Stage 3: Baldness becomes more visible; temple recession continues
Stage 4: Hair on crown begins to thin out; noticeable bald spots develop
Stage 5: Early signs of horseshoe-shaped hairline
Stage 6: Little hair remains on the crown; most hair is gone by this stage
Stage 7: The head is completely bald; chances of recovery are slim
Treatment Options to Fight Thinning Hair
There are a few different options available to fight thinning hair, such as those outlined below.
Hair Restoration Injections
Nonsurgical injections is a hair loss treatment option that involves applying a natural gel made from a patient's own red blood cells into areas of the scalp to stimulate hair growth. In most cases, this treatment requires applications over a 4-6 week period of time. The cost of injections for hair restoration typically ranges from $1950-$3950 depending on location.
Although the risk is low, injections to treat hair loss have the potential for side effects such as infection, injury to the blood vessels or nerves, development of scar tissue, and a negative reaction to the local anesthetic that's used. Most men struggling with early hair loss are good candidates for this treatment option; however, anyone who is on blood thinners, a heavy smoker, or suffering from certain diseases might not be a good candidate.
Are you a candidate for hair restoration? Take this simple quiz to find out!
NeoGraft MaxGraft
NeoGraft MaxGraft is an incisionless hair restoration treatment that helps patients achieve natural-looking results with minimal risks involved. During the procedure, a local anesthetic is used to numb the scalp. Then, using the follicular unit extraction (FUE) technique, individual hair follicles are removed one by one and transplanted to other areas of the scalp.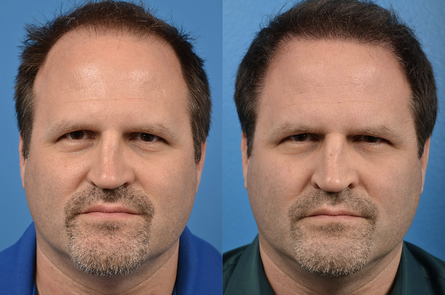 The FUE technique is precise and painless, allowing for easy, even removal of hair follicles with no incisions. This results in minimal scarring and a significantly easier recovery process than with traditional transplant surgery, which requires a large incision for graft extraction. In fact, recovery is such a breeze that most men are back to work within a couple days!
NeoGraft MaxGraft treatment takes approximately 4-6 hours to complete. Although the grafts are considered permanent, they won't protect against additional hair loss in other areas. However, your hair specialist can recommend medications and treatments to minimize further hair loss. Because hair grows in cycles, results will begin to appear about 3-4 months following the procedure. At that point, new hair will begin to emerge in the transplanted follicles and grow normally. Pricing can range from $4000-$15,000 depending on the number of grafts needed and whether you choose to enhance your result with our natural healing gel. Since each patient is different, we recommend a consultation to get a custom quote based on your needs.
Nearly every individual in good health who is struggling with hair loss is a good candidate for incisionless hair restoration. With that said, certain diseases and risk factors might rule out some prospective patients. An experienced hair restoration specialist can assess your medical history to determine whether or not you're a candidate and to help manage your expectations for the results.
Dealing with male pattern baldness is far from easy—but with the right treatment options, fighting it can be. A hair restoration specialist can work with you to discuss your goals for the procedure and help you achieve natural results that you'll love.