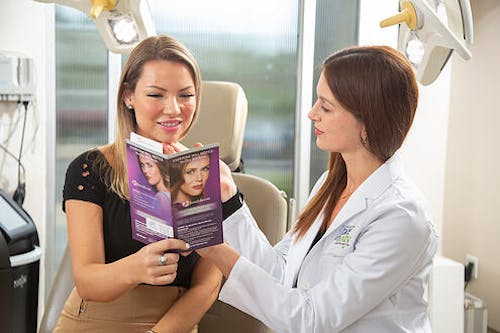 Does it seem like everywhere you look, there is a catchy reminder to sign up for the latest "must have" neuromodulator (e.g., Botox or Jeuveau) and dermal filler treatment? Do you find yourself reading through impressive plastic surgery websites? Maybe you've connected with the beautiful faces and sculpted cheekbones of beauty ads or your favorite celebrity? Or, perhaps it's none of the above. Perhaps you are feeling overwhelmed by the constant stream of information because your simplest questions are still unanswered. That's OK. You're definitely not alone.
My Philosophy
As a facial plastic surgeon and a provider of nonsurgical cosmetic services such as dermal fillers, wrinkle relaxers, and lasers, I admit that my access to vast medical information such as journals and key publications is not the same as that of my
prospective patients, who must filter facts from internet fiction. But more than this, I've noticed that in the growing frenzy of options, trends, and testimonials, patients seem to be craving the long-lost concept of simplicity. From my perspective, I believe that dermal fillers, such as Juvederm, Restylane, and all injectable treatments, should in fact be simple, in addition to safe and enjoyable. After all, how else can we expect to go through the upkeep and maintenance if they're anything but this!
However, the fuss and anxiety related to these services is real and is mostly derived from misinformation and negative experiences. So you may be asking, what questions are there left to answer? Haven't they all been answered online? Here is my response: they have not!
My inspiration to write this article comes entirely from my patients. I have thought long and hard about the last 100 patients I saw and the last 100 questions I answered. What I came upon is an amazing trend of its own. I hope that by summarizing the highlights of these wonderful consultations, I will answer your lingering questions, too. For all my current and future patients, let me revisit some common ground, and let's keep it simple.
The Goal of Treatment
The goal is to feel better about the way you look! I do not advise my patients to get filler because they "need" filler! Instead, I try my best to uncover your thoughts and ideas about your personal appearance. If you're contemplating a consultation for injectables, my advice is for you to take a glance in the mirror, scan some recent and not-so-recent photos of yourself, and spend a few moments in thought. I promise, it will be worth it.
You may find some features that you absolutely love and are trying to emphasize a bit more, or you may find something that you've been thinking about for years, only to find that you're finally ready to make a change! When discussing your likes, dislikes, concerns, and questions, remember that the goal of treatment is to provide YOU with a sense of confidence and a fresh and improved look.
What should you be doing NOW to ensure you age gracefully? Check out our guide, Cosmetic Procedures For Every Decade Of Your Life."
The Right Provider
Trust someone with experience and training. You will be best served by a provider who has the appropriate training in facial anatomy, such as a board-certified facial plastic and cosmetic surgeon. Trust someone who performs the treatments you seek regularly! And, finally, trust someone with whom you feel comfortable and at your best.
Your result is likely to mirror the consultation process. Someone who listens to your facial aesthetic goals, understands your vision, invites your questions, and provides you with professional feedback is likely to achieve your wishes. I always stress the consultation process because I believe this is the key to a successful path.
Start Low, Go Slow
This is one of my favorite concerns to address. I am often asked by patients: "Do I need to do everything you recommended today?" Simply put, injectables are not all-or-nothing! You have the right to set the pace of your treatment and address as many, or as few, areas as you would like. Remember: you can always add more.
But, I will add that your provider must be honest about your expectations. Helping you understand the types and amounts of product needed to achieve your goal is the purpose of the consultation. During this process, I strive to make dialogue rather than set rules. After all, you are in search of a solution that you can feel good about!
Depending on your experience with dermal fillers and relaxer injections such as Botox or Xeomin, you may have different reasons for using less (or more) during any given session. That's OK. If you are new to injectables, willing to try them, and have reservations about drastically changing your look, speak to your provider. Rest assured that starting low and going slow is a perfectly acceptable (and simple!) approach.
Trending, Trending, Gone
Trends are everywhere. My best advice is to listen to your intuition on this. Certain trends come with coupons, and oftentimes these are meant to lure the patient to a bargain treatment, not necessarily a quality treatment. Other trends may look fantastic on your friend, but perhaps with better understanding of your own facial features, they may not translate into the same result for you.
It is key to remember that not everyone is looking for the same thing out of their treatment, and thus not everyone should get the same "recipe" either. If you are considering a trending type of dermal filler, a new technique, or even a sultry new look, remember to ask your provider for the facts about the product to be used, and its credibility and track record with the Food and Drug Administration (FDA). When it comes to putting your best face forward, look no further than credible products and a well-trained, board-certified provider.
Before-and-After Photos Will Help You
If you are not sure about a particular treatment, or even your provider's recommendations, ask to see before-and-after photos. A picture is worth a thousand words or more. Photos will not only help you find key talking points with your provider, but they will also give you a sense of confidence about how to approach your treatment plan.
Another piece of advice I will share is to ask your provider to review photos of none other than YOU. Your photos will also speak a thousand words during your consultation. I have observed that some patients feel distracted after removing their makeup and looking into a mirror. Don't be shy to use your own photos, taken either during that visit or a previous visit, to guide your thought process. We have evolved our visual senses through the increasing trend of social media, so let's put them to good use!
Speak Up—Seriously
Lastly, this is the most important piece of advice I have for all my patients: speak up. It's as simple as that. Your face will be your brand anywhere you go. During the consultation, you may discover new elements of your skin type, facial shape, and degree of aging. You may be delighted at the prospect of making subtle changes or even dramatic ones, if you so choose. However, if you need more time to consider your treatments, then let your provider know exactly how you feel. If you are excited and are ready to begin treatment, then voice your decision and proceed to discuss a treatment timeline. Participate and share your thoughts. Consider any personal events for which you may be planning. There is no such thing as a bad question.
Remember this: it is essential to contribute as much as possible to your journey of rejuvenation and to trust your chosen provider. If at any moment you find yourself feeling overwhelmed, just remember that "simple" can be a beautiful thing.

About the Author:
Renata Khelemsky, MD is a board certified facial plastic surgeon practicing in Melbourne, Florida. Dr. Khelemsky specializes in cosmetic surgery of the face, neck, eyes, and nose including rhinoplasty, blepharoplasty (eyelid surgery), facelift, and necklift. Additionally, she is an expert in nonsurgical cosmetic treatments using Botox and dermal fillers, and she has a strong interest in skin cancer care and MOHS surgery.