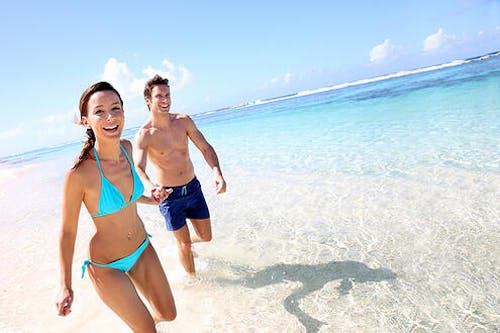 Summer is in full swing, and you know what that means: swimsuit season and plenty of fun in the sun. Of course you want to look and feel your best before sporting a swimsuit poolside, and you may be on the hunt for fast, effective options to help you get there.
Here are nonsurgical treatments to keep you looking fabulous all summer long:
CoolSculpting
Everyone wants to look fabulous during swimsuit season, but it's difficult when stubborn areas of fat won't go away—even despite extensive diet and exercise. Enter CoolSculpting, the world's number one non-invasive treatment for fat reduction without the need for surgery.
CoolSculpting is designed to reduce stubborn pockets of diet- and exercise-resistant fat in several areas of the face and body, without requiring surgery or a lengthy recovery. It's able to improve problem areas such as muffin top, bra rolls, love handles, and double chin. CoolSculpting decreases fat cells for long-lasting improvement, typically resulting in a 20-25 percent unwanted fat reduction.
Treatments are relatively quick with little to no downtime, meaning you can be in and out on your lunch break. The treated areas then begin to show signs of improvement as the body metabolizes and reduces fat cells. Some begin to see results in as little as a few weeks; however, in most cases, the full results will show up over the course of one to three months.
Here's how one of our CoolSculpting patients described the procedure and results:
"I am very pleased with the results of my CoolSculpting procedure. I can see and feel the difference in my appearance and also the way clothes fit. I have more of a waistline and am able to wear clothes that were previously tight. I am very happy with the results and plan to have additional treatments since the last result was so good."
CoolTone
Imagine lying by the pool with a sculpted six-pack; sounds like a dream, right? With CoolTone it can be a reality—and not just after countless hours spent at the gym. CoolTone is a safe, nonsurgical treatment that uses magnetic muscle stimulation to strengthen and tone muscles for a firmer look. The magnetic energy is comparable to doing 1,000 crunches in a row!
The CoolTone device bypasses skin and fat, inducing involuntary muscle contractions to evoke the body's natural response to strengthen muscle fibers. CoolTone treatments add definition to stubborn areas, including the abdomen, thighs, and/or buttocks by toning, firming, and strengthening muscles over time.
Many people opt to have CoolTone treatments in order to achieve the last bit of muscle definition that even strict diet and exercise can't achieve. Most patients have a series of four CoolTone treatments over the course of a two-week period, though the number and frequency vary by person. Results are typically seen within four to eight treatments, depending on the desired outcome.
Some patients feel stronger after just a single treatment, whereas others may determine that a series of treatments would best meet their needs. Patients can start to see changes as soon as three weeks following CoolTone treatments, with the most dramatic results occurring over two to four months. Athletes particularly love CoolTone because the treatments can help to strengthen muscles and improve their performance.
Many patients also love the "lifting" effect they get with the buttocks treatment—it's like a nonsurgical butt lift without the need for downtime and anesthesia!
What should you be doing NOW to ensure you age gracefully? Check out our guide, Cosmetic Procedures For Every Decade Of Your Life."
SculpSure™
Tired of working your hardest at the gym and cutting calories in the kitchen and still not seeing the results you want? There's where SculpSure™ comes in, a nonsurgical body contouring treatment that's designed to reduce unwanted fat using state-of-the-art laser technology.
SculpSure™ is FDA-approved to address problem areas like flanks, abdomen, back, and thighs. Fat cells are destroyed and gradually reduced over time, melting up to 25 percent of body fat in 25 minutes without surgery or downtime. While the treatment itself can also be done over your lunch break, patients can expect to see fat reduction in treated areas in six to 12 weeks.
Healthy men and women who are struggling to get rid of isolated pockets of stubborn fat are ideal candidates for SculpSure™. However, it's important to note that SculpSure™ is not a tool for weight loss, so most patients need to have a body mass index (BMI) of 30 or less to be eligible for treatment. A specialist in nonsurgical cosmetic treatments can help advise you on whether or not SculpSure™ is a good fit for you.
Here's how one of our SculpSure™ patients spoke about her experience:
"I've been gaining weight pretty consistently. To be honest I do not feel like working out. SculpSure™ zapped away my fat in no time at all. I can go to the beach no problem. It was quick for me to "return to my routine" as Dr. Clevens kept saying. He was right. Very easy procedure with huge upside. Would do it again. The cost is so much less than the reward."
Laser Hair Removal
You want to have silky smooth skin when you're donning swimsuits and shorts, but shaving and waxing are time-consuming and temporary. On top of that, frequent shaving often results in painful, unsightly razor burn, cuts, ingrown hairs, redness, and itchy skin. Fortunately, laser hair removal is an easy and effective way to remove hair and decrease growth for good.
The treatment works by delivering laser energy to hair follicles in order to remove hair and prevent growth. It can be used to treat many areas, including the arms, legs, face, neck, back, buttocks, and bikini line. Though these areas are the most commonly treated, it's also safe for treating delicate facial tissues such as the upper lip, chin, cheeks, and sideburns. Laser hair removal is also safe for almost all skin types and ethnicities, and it does not damage surrounding tissues.
Treatment involves a series of short, painless sessions designed to reduce unwanted hair growth. Although the number varies by person, optimal results often require around six treatments and two maintenance sessions. Repeating the laser hair removal treatment sessions, which are typically spaced around four weeks apart, helps ensure that each and every hair follicle is treated to result in smooth skin and long-term benefits.
To avoid lasting pigmentation changes, laser hair removal patients must avoid sun exposure and be diligent about consistently using sunblock for several weeks after treatment. Because laser hair removal is a nonsurgical treatment that achieves lasting results with no downtime or recovery, it's an excellent option for getting rid of unwanted hair—just in time for swimsuit season!
Combined Treatments
Many patients opt to combine nonsurgical procedures to achieve optimal aesthetic results. For example, CoolSculpting and CoolTone are often combined to reduce unwanted fat and sculpt, strengthen, and tone the muscles underneath. Any of these procedures can be performed in tandem with laser hair removal to get rid of unwanted hair and stubborn fat while also sculpting the body.
A specialist in nonsurgical cosmetic treatments will work with you to develop a customized approach that achieves the aesthetic you're looking for this summer. During your consultation, you can discuss and determine the best combination of nonsurgical cosmetic treatments to get the beach body of your dreams.
Look Amazing All Summer With Nonsurgical Cosmetic Treatments
Pool and beach season is here, and soon enough you'll be soaking up the sun—with SPF protection of course! The right nonsurgical treatments will help you achieve the body you've always dreamed of just in time for summer, minus the downtime that comes with having cosmetic surgery.
If you're looking for ways to get into great shape and feel confident all summer long, any of these nonsurgical treatments—or a combination of them—can help you get there. Schedule your consultation to learn more about the cosmetic treatment options available to help you achieve and rock your ideal beach body for this whole summer and beyond.