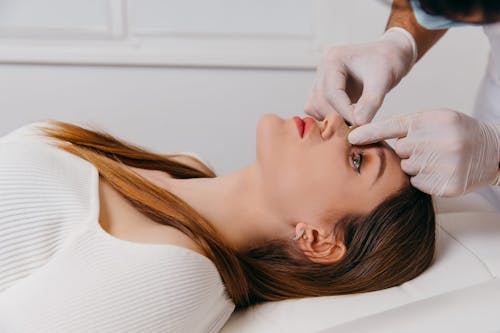 You're having rhinoplasty and you know that you'll need to devote some time to healing and recovery afterwards. It's a good idea to think of your recovery period after surgery as a long distance run, not a sprint. You'll want to make some adjustments to your habits and activities for a month after your procedure. Take a look at the timeline below to get a sense of what to expect immediately after your rhinoplasty and in the weeks and months to come.
Right After Rhinoplasty
How you feel right after your surgery depends on the type of anesthesia the doctor used. In some cases, people undergoing rhinoplasty are given general anesthesia, so that they are completely out of it and need to "wake up" after surgery. You might receive local anesthesia and sedation, though, if that is what you and your doctor prefer.
As the anesthesia wears off, you might feel a bit out of it or groggy, and you might have a scratchy, sore throat from not having any liquids overnight. It's also possible for you to feel a bit nauseous right after surgery. You'll most likely be in an upright position, to help keep swelling down. Cold compresses and ice packs can be placed near the eyes to further reduce swelling.
Breathing through the nose can be a bit of a challenge right after surgery, as the nose is often stuffy after surgery. Fortunately, our facial plastic surgery specialist, Dr. Clevens, generally does not pack the nose. There will also be a splint over the outside of the nose, to hold it in place as it heals.
Most likely, you'll get to go home the same day as your procedure. It's important that you have someone to drive you home from the surgical center, as you'll be too weak and groggy to do it yourself.
1-3 Days Post-Rhinoplasty
You'll want to take it very easy during the first few days after your rhinoplasty. Keep your head upright at all times, both to keep swelling and bruising to a minimum and to reduce the risk of sudden changes in blood pressure, which can affect the healing of your nose.
Try to keep movement to a minimum during those first few days. You can sit in bed with several pillows behind your head or in a recliner, reading books or watching TV. If you feel restless, it's OK to take short, leisurely walks. Avoid talking for too long as such movement can alter the way the nose heals.
Swelling and bruising will get worse before they get better and you might see the swelling at its worst around the third day after surgery. Cold compresses and ice packs will continue to help.
You'll want to avoid anything that might bump or knock your nose during those first few days. Stick with foods that don't require a lot of vigorous chewing, wear button front shirts, and avoid blowing your nose.
After One Week
Things will start looking up about a week after your surgery. In most cases, you'll return to our office to have your splint removed five to seven days after surgery. Depending on how you heal, you might even be ready to go back to work.
You'll still want to be cautious with your nose, though. If your job requires a lot of bending or lifting, it's a good idea to wait to go back to it. Exercise is still off limits, as is wearing pull-over tops and eyeglasses, and blowing your nose.
After Two Weeks
You can add more of your usual activities back to your list about two weeks after your surgery. Dr. Clevens might let you know that it's OK to start taking certain medications or supplements again, for one thing. You might able to start using concealer or other cosmetics around the area, too. You can technically start smoking again about two weeks after surgery, but since you've already spent about a month off of tobacco, it's in your best interests to continue not to smoke at this point.
One Month Post-Surgery Rhinoplasty Recovery
A month after your rhinoplasty, things will be almost completely back to normal. If you have a more physically demanding job, you can head back to work or resume your normal responsibilities again. You can also start working out or playing sports once again, though you may want to continue to avoid certain sports, such as swimming or those that involve objects flying through the air, which could potentially hit your nose.
If you've been wearing contacts instead of glasses or taping your glasses just above your nose, you can go back to wearing them in the normal way again. You will still want to be cautious about sun exposure. Avoid spending a lot of time in the sun and always wear sunscreen.
If you have any other questions about what to expect after rhinoplasty or about your recovery timeline, our team is here to answer them! Our Facial Plastic Surgeon Ross A. Clevens, MD, FACS specializes in nasal contouring procedures. To learn more about rhinoplasty, schedule your consultation today with one of our experts and find out if rhinoplasty is right for you.