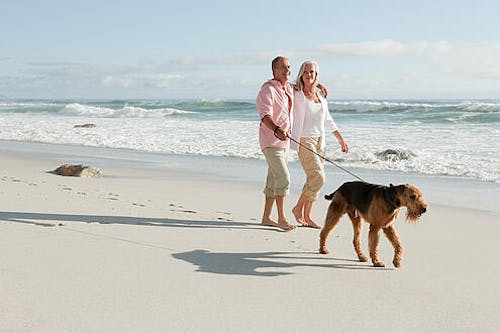 Those of us in our fabulous 50s are looking and feeling better than ever before. Of course, our 50s are also a time when new signs of aging start to reveal themselves. The good news is, there are surgical and nonsurgical cosmetic procedures that combat problem areas and help you look and feel your best in your 50s and beyond!
Let's explore some of the common issues people face in their 50s, as well as the surgical and nonsurgical options to address those areas of concern.
Common Signs Of Aging To Expect In Your 50s
In our 50s, it's natural to see collagen levels decline and skin laxity develop in the face and neck as we age. You might find dark spots and volume loss on your face and hands. In fact, while the focus of cosmetic treatments is often the face, our hands can be even more age-telling because they tend to lose firmness and plumpness over time.
Both men and women can begin to experience thinning hair in their 50s. This is also a time when many people have breast and body concerns, such as sagging breasts and stubborn areas where fat has accumulated.
Best Cosmetic Procedures To Have In Your 50s
Here are the best surgical and nonsurgical cosmetic procedures to explore in your 50s:
Eyelid Lift (Blepharoplasty)
An eyelid lift, or blepharoplasty, is a popular procedure for smoothing out the excess skin above the eye and lower bags below. If you notice that your eyelids are drooping and make you appear tired, no matter how rested you feel, an eyelid lift helps restore a refreshed, youthful look.
Brow Lift
A brow lift helps address the issue of a stern facial expression that doesn't reflect your true feelings. A brow lift corrects sagging brows, so your face looks refreshed and happy by reducing lines and wrinkles for a youthful appearance. For optimal results, a brow lift may be combined with eyelid surgery.
Facelift
To correct jowls, wrinkles, and sagging skin due to loss of bone density, a facelift is the gold standard option. Dr. Clevens specializes in the deep plane facelift to restore your youthful appearance. This advanced technique ensures a long-lasting facelift and its results are the most natural in appearance. Both men and women who want to look their best choose a facelift procedure for facial rejuvenation. Facelifts are often combined with brow lifts and blepharoplasty to achieve favorable results, setting the clock back decades.
What should you be doing NOW to ensure you age gracefully? Check out our guide, Cosmetic Procedures For Every Decade Of Your Life."
Laser Skin Resurfacing
Laser skin resurfacing is a cosmetic procedure that erases lines and wrinkles to rejuvenate your appearance. It significantly improves skin quality by reducing wrinkles, reversing sun damage, and correcting issues like discoloration, scarring, and uneven texture. It also tightens skin and stimulates collagen growth, achieving dramatic results with little to no downtime.
Nonsurgical Hand Lift
A nonsurgical hand lift combines filler treatment with laser skin resurfacing to restore volume and diminish dark spots on your hands. The procedure offers complete hand rejuvenation, replenishing volume and removing brown spots to leave your hands looking years younger.
Permanent Hair Restoration
Losing your hair can feel like losing your identity—but we've got a solution for that too! NeoGraft "MaxGraft" is a hair restoration treatment for men and women that permanently restores hair with minimal downtime and no visible scarring. The procedure is much less invasive than traditional hair transplant procedures, which typically involve a larger incision and a longer recovery period.
Breast Implant Exchange
If you're having issues with implants from a previous breast augmentation, a breast implant exchange might be exactly what you need when your implants become firm or no longer look natural. It's also a great choice for women who want to change the size of their implants or replace saline with silicone gel. Breast implant exchange is commonly combined with a breast lift to address sagging, improve your shape, and restore a more youthful look.
Breast Implant Removal
Not as happy with your implants as you once were? It's common for women to have breast implant removal surgery in their 50s, often due to a change in aesthetic preferences or larger implants causing back pain. Breast implant removal can be combined with related procedures, such as a breast lift or smaller implants, to achieve ideal results.
Thrive In Each Decade Of Your Life
It's true that you're only as old as you feel—but when it comes to taking care of yourself and aging gracefully, the age group you're in matters. Each decade comes with its own challenges, as well as different solutions to address them as effectively as possible.
By making every effort to take care of yourself and choosing the right cosmetic procedures for you, you can reverse the signs of aging and look and feel your best—in your fabulous 50s and beyond!