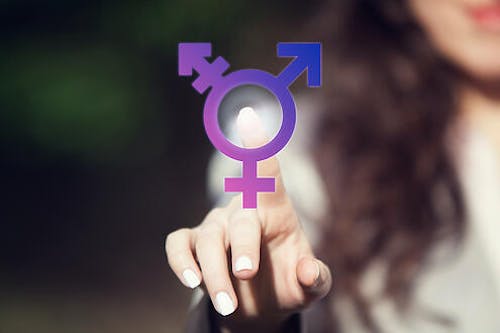 Making the decision to transition from male to female (MTF) is a monumental moment for a transgender woman. It is an exciting opportunity to align how you feel on the inside with the reflection you see in the mirror.
Of course, to say that transitioning is a big deal is an understatement. It is a complete transformation inside and out, and the process can undoubtedly seem daunting at first. However, the end result—feeling completely confident and secure in your own skin—is life-changing and profound.
If you're considering transition surgery, you likely have a number of questions about everything from the surgical procedures involved and how to prepare to what you can expect in terms of results. And that's a great thing! The more informed you are, the more comfortable you'll be moving forward on your journey.
This article will highlight common cosmetic procedures for transitioning from a masculine to a feminine appearance, with tips on how to prepare for the transition and how to choose the best surgeon for you.
Common Procedures For a Male-To-Female Transition
Each transgender person's transition experience is completely unique—transitioning is very personal and looks very different for everyone. Some choose to undergo multiple procedures, whereas others stick to hormone therapy.
There's no one-size-fits-all approach, but certain cosmetic procedures are commonly performed when transitioning from a masculine to a feminine appearance, such as:
Breast augmentation
Male-to-female breast augmentation is a surgical procedure for adding breast implants to contribute to one's feminine appearance. This procedure is commonly referred to as "top surgery" in the transgender community.
Facial feminization surgery
Facial feminization surgery (FFS) involves a combination of procedures designed to feminize facial features. Those procedures can include:
Feminization rhinoplasty, or a nose job, to soften and feminize the nose
Brow/forehead lift to refine the contours of the brows and reduce the prominence of the brow bone
Jawline contouring to create a more round (rather than square) jaw shape that appears more feminine than an angular jaw
Lip augmentation to plump and reshape the lips, helping to create a pouty, youthful, more feminine look
Cheek implants to refine the contours of the cheeks for a fuller, more feminine facial appearance
Feminization Facelift to completely reshape the facial tissue and achieve a more feminine appearance overall
Feminization Neck lift to feminize the face by removing excess skin and creating a sleek, feminine profile
Blepharoplasty, or eyelid surgery, to tighten and refresh the skin around the eyes
Hair restoration, such as our NeoGraft "MaxGraft" procedure, to avoid the masculinizing effect of a receding hairline
Tracheal shave
A tracheal shave is a surgical procedure to reduce the Adam's apple during facial feminization surgery. During the procedure, cartilage is shaved down until there is a smooth appearance along the neck. This greatly contributes to achieving a natural-looking feminine appearance and is often performed in conjunction with a feminization necklift for optimal results.
Laser hair removal
Laser hair removal is a nonsurgical cosmetic procedure for removing unwanted hair and decreasing future hair growth. Through a series of short, painless sessions, unwanted hair can be reduced almost anywhere on the body. The most commonly treated areas include the face, neck, back, arms, legs, buttocks, and bikini area.
In many cases, these procedures are safely combined to help transgender women fully realize their femininity and achieve ideal, natural results. Your plastic surgeon can work with you to develop a treatment plan tailored to your personal goals for your appearance.
Get the most out of your consultation. Come prepared with this comprehensive checklist to help you ask all the right questions.
Preparing For Your Male-To-Female Transition
The medical transition is only one part of the process—social transitioning is also an important step to navigate. There are a number of resources available to help you prepare for the surgery, recovery, and results you can expect.
RealSelf is a great resource for before-and-after photos and testimonials, which can help you connect with real patients who have successfully completed their transition. There are also several trans-specific resources available to help with navigating the transition process.
Hear from one of our trans patients, who shared her own personal experience when preparing to transition from male to female:
"Being transgender, I was very nervous and worried I would be judged and ridiculed but that was not the case at all. I was treated with respect and dignity, and Clevens Face and Body Specialists was kind and explained everything very clearly. They were always open to any and all questions I had and gave me honest expectations. Recovery was another highlight, virtually pain-free and quite easy. I am very happy with the outcome of my breasts, and of course, I would recommend Clevens Face and Body Specialists and staff to anyone"
After mentally preparing yourself, you can begin educating your trusted support network of friends and family on your transition. You can then fill them in on what they can expect and talk about how they might aid in your recovery process.
Choosing a Surgeon For Male-To-Female Transition Surgery
Because gender confirmation surgery is so deeply personal and often the culmination of your transition journey, it's important that you feel comfortable with your surgeon of choice. Choosing a surgeon you're comfortable with will enhance both your experience and your outcome.
A plastic surgeon who specializes in gender confirmation procedures can help manage your expectations and prepare you for what's to come. Working with a surgeon who has extensive experience performing male-to-female transition surgeries is the key to achieving results you love.
At Clevens Face and Body Specialists, each of our providers is a specialist in their area of focus. Our surgeons and care team have experience working with transgender patients and recognize your unique needs.
Our facial plastic surgeon, Ross A. Clevens, MD, FACS, has decades of experience performing facial feminization surgeries. Dr. Clevens recognizes that transgender patients have unique needs and require facial plastic surgery techniques that accentuate femininity, rather than techniques that simply make features appear less masculine. He works closely with each patient to create a customized treatment plan to achieve their desired feminine look.
Our surgeons specializing in breast and body procedures, are renowned for natural-looking breast augmentations. Our specialists often partners with Dr. Clevens to perform top surgery alongside facial feminization surgery, allowing trans patients to receive treatments from the best of the best in face and body procedures for a male-to-female transition.
Whether you're looking to feminize your face, body, or both, our specialists can help ensure natural-looking results that dramatically improve your quality of life. If you're looking to transition from a masculine to a feminine appearance that best reflects the real you, we would love to be part of that journey.
Schedule your consultation with our team to talk about your goals and learn more about the procedures that interest you—so we can help get you well on your way to becoming the truest version of yourself. We look forward to celebrating your transition journey with you!