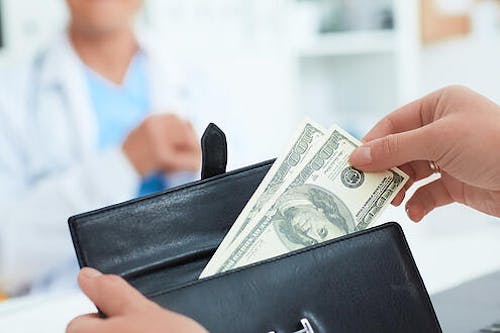 Plastic surgery can be a truly transformative experience, both inside and out—and not only for the rich and famous.
Thanks to the rise of affordable, minimally invasive procedures, an increasing number of people now have the opportunity to explore plastic surgery. Contrary to the myth that only wealthy people have plastic surgery, men and women from all walks of life seek it out each year to address problem areas and become the best versions of themselves.
From small business owners and bus drivers to nurses and corporate executives, a wide range of people choose cosmetic surgery for many different reasons. Plastic surgery patients come from all income levels, with more than 70 percent reporting a household income between $30,000-$60,000.
However, despite the driving forces that make the cost of plastic surgery more affordable, the price tag may still be a deterrent. If you're interested in having plastic surgery, it makes total sense to evaluate the cost of different surgeons and procedures. The cost of plastic surgery is certainly a major factor—it's just not the only factor. There are other questions you should ask and more important considerations that cannot be overlooked.
This article breaks down why the cost of plastic surgery shouldn't be the first question you ask and details other important factors that should be your primary focus when making your decision.
Why Quality Should Outweigh the Cost Of Plastic Surgery
Ever heard the saying, "You get what you pay for"?
The Cost of Plastic Surgery
Surgeon's fee: $6,000
Anesthesiologist: $2,500
Medical supplies: $500
Results you love: Priceless
Although there are certainly scenarios in which it pays to sacrifice quality in order to save a few bucks, plastic surgery definitely isn't one of them. Plastic surgery is an investment in yourself and your future happiness, and although a lower quote may seem ideal, it can also be a red flag to look out for when comparing surgeons.
For example, lower quotes may be an indication that a surgeon is less qualified or their facility isn't accredited—especially if the cost is significantly lower than competitors in the area. Be wary of vague pricing because it could mean surprise costs for you later or, more importantly, put you and your health at risk.
In addition, the high price of revision surgery that's to correct the results of your previous procedure isn't just expensive, it could also lead to possible complications, and having to live with a mediocre result. Saving a little money now by going with a cheaper surgeon may cost you a lot more in the long run.
5 Essential Questions to Ask About Plastic Surgery
There are several questions to ask if you're thinking about having plastic surgery. The answers to these questions should ultimately drive your decision when choosing a surgeon for your procedure. Compiling a list in advance will help you make the most of your consultation and ensure all your most critical concerns are addressed.
Here are a few key questions to help you get started.
1. How qualified is the plastic surgeon?
When you choose a plastic surgeon to perform a cosmetic procedure, you're literally putting yourself (and your health) in their hands. That's why it is important to learn about the surgeon's education and experience—particularly when it comes to the specific procedure that interests you. To gauge how qualified the surgeon is, look at important details such as their years of experience, training and education, and the number of similar cases they have completed.
You should also make sure they are a board-certified plastic surgeon within the appropriate specialty area. For example, a facial plastic surgeon should be certified by the American Board of Facial Plastic and Reconstructive Surgery, and a breast and body specialist should be certified by the American Board of Plastic Surgery. To become certified, surgeons must successfully pass written and oral exams focused on their specialty knowledge and experience.
Choosing a specialist in your category and procedure of choice (e.g., face, body, skin, hair) will help guarantee optimal results and minimize the risk of complications. A specialist only performs procedures within their specialty area of focus. This means they will have a good deal of experience with the type of surgery you're interested in, which increases the likelihood of the procedure resulting in a final outcome that you'll love.
2. What does the facility do to ensure patient safety?
Your safety is of the utmost importance when undergoing any type of surgery—which is why it's essential you learn about the facility and steps they take to ensure patient safety. Will the procedure take place in an ambulatory surgical center (ASC) or an office-based procedure room?
ASCs have strict licensing requirements and must pass difficult inspections by state accrediting organizations. As a result, ASCs often have higher safety ratings, and procedures performed in ASCs have a lower risk of infection than office-based procedures. Surgical centers also typically require medical clearance before surgery is performed in their facility, which ensures that only qualified candidates can move forward with an operation.
Office-based operating rooms don't require accreditation or have to meet the same standards of care as ASCs. Because of this, an ASC is often the best facility choice for ensuring your safety—even if you could save a few bucks going with a surgeon who performs office-based procedures.
3. Do you trust the plastic surgeon and staff?
Choosing a surgeon for a cosmetic procedure is a big deal—which is why it is important that you pay attention to how the surgeon you're considering makes you feel. Do you trust them to perform your surgery? Are you comfortable with them and their staff?
Trust is the building block of the relationship you form with your surgeon and should weigh heavily on your decision. You should choose a surgeon with whom you feel completely comfortable and whom you trust with your personal safety. Remember, from the initial consultation to the follow-up appointments, you'll be meeting with your plastic surgeon and their team for at least one year. It is essential that you be able to put your trust in them and feel confident enough to move forward with the process.
Before you choose your plastic surgeon, read this guide to understand your quote and exactly what you're paying for.
4. What do other patients say about their experience?
Something many people don't know is that you can ask to speak with other patients to learn about their experience with the surgeon and procedure you're considering. If you're considering a particular plastic surgeon to perform your procedure of choice, ask to talk to a former patient as a reference check.
Online reviews are another great way to learn more about a surgeon's track record and to assess whether a certain procedure is a good fit. You can also check out websites such as RealSelf for genuine, unbiased feedback on any cosmetic procedures that interest you.
5. What do before and after photos look like?
It is important that you choose a surgeon whose aesthetic is appealing to you. Ask to see before and after photos and assess whether their aesthetic is similar to what you're looking for in terms of results. Before and after photos and videos provide a real-life glimpse at what you can expect, which can be a big help with managing expectations and ensuring an outcome you love. An experienced surgeon should have a multitude of before and after images for you to review. You want to choose a doctor who clearly performs your procedure all the time -- not just a couple times each year.
Most plastic surgeons have before and after photos available on their website and/or in their office. Along with testimonials, RealSelf also has great before and after visuals uploaded directly by actual patients. In many cases, you can even find photos taken throughout the entire recovery process—meaning you can gain a true understanding of what to expect from start to finish.
Making the Best Decision For You
Of course we're not saying that cost isn't an important consideration for those thinking about having cosmetic surgery—only that it is not the only or the most important one. A little goes a long way when you're paying for something that matters so much.
Rather than choosing a plastic surgeon who cuts corners to charge overly discounted prices, consider building up a personal savings account dedicated to your plastic surgery or using a credit card to finance your procedure. Alternative financing options are also available to help ease the financial burden. Remember you should never be charged more based on how you decide to pay for your procedure.
Above all, it is important to do your research and learn as much as possible about your options—this will empower you to make the best choice for yourself regarding your decision. After all, plastic surgery is a life-changing event and its considerations go beyond just what's best for your wallet.
Interested in a plastic surgery consultation? Be sure to use this helpful consultation prep checklist that's packed with tips, so you can make the most out of your meeting with your surgeon.