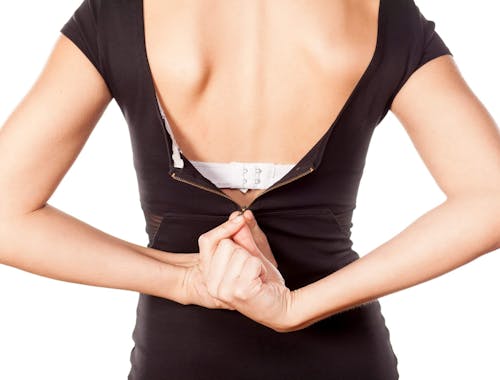 Each day, you want to feel your best and be your best, mentally and physically. And let's be honest: Feeling confident often traces back to how you look, whether you're wearing a cocktail dress or a comfy tee.
Maybe you have a few areas you want to improve, like bra rolls. Don't let them hold you back from holding your head high. After all, there are surgical and nonsurgical cosmetic treatments available to improve or even get rid of them.
Let's take a look at five treatments to reduce bra bulge.
1. Liponique
Do you want the best surgical liposuction treatment? Liponique combines surgical techniques with laser technology to deliver maximum results. It's customized to target your specific needs and problem areas, so you get results exactly where you want them. Reduce fatty areas in your abdomen, hips, waist, thighs, buttocks, or arms that resist diet and exercise.
Benefits/Results
Surgical intervention helps you achieve results that would otherwise be out of reach, because the fatty tissue is completely removed. Liponique is meant to be a long-term solution. That said, it's still important to maintain a stable weight before and after the procedure to ensure lasting benefits. Get your confidence back and feel better in your own skin with Liponique.
Recovery
With Liponique, recovery is easier than you might think. Go back to work as early as the next day—or within a week, depending on your procedure. We recommend that patients wear compression garments for up to four weeks to support their recovery and avoid strenuous activities for six weeks, but feel free to return to normal daily activities ASAP.
Cost
When you choose Liponique, you're investing in your healthy future. Treatments start at $6,000 and vary depending on your goals. Clevens Face and Body Specialists offers
flexible financing options, like zero percent interest for up to 18 months.
2. CoolSculpting ELITE
For some candidates, their ideal results are achievable without surgery. CoolSculpting ELITE is a non-invasive FDA-approved treatment to reduce pockets of persistent fat on the face and body. During the procedure, we use cryolipolysis to target and freeze fat cells in one or more of nine areas—abdomen, sides or flanks, bra rolls, upper arms, back fat, thighs, buttocks, double chin, and jawline—without surgery or anesthesia.
Benefits/Results
What's unique about CoolSculpting ELITE is that the applicators have been completely re-engineered to maximize results! The newly redesigned applicators are 18% larger than the old system's and are now curved to better fit your body's natural contours. With the bigger coverage area and better contact, you get outcomes that are 33 percent better than traditional CoolSculpting. Plus, our patients start noticing a difference in as few as 30 days, with continued improvement for 12 weeks. Lose inches and feel better with CoolSculpting ELITE.
Recovery
Speaking of feeling better, physical recovery is a nonissue. With CoolSculpting ELITE, there's no recovery and no downtime after treatments—and zero activity restrictions. Though rare, some patients experience side effects like redness, tingling, itching, or temporary numbness at the treated area(s) that typically resolves within days.
Cost
Is CoolSculpting ELITE right for treating your pesky bra rolls? Treatments range from $3,000-$4,000, depending on your desired results and the number of sessions required.
3. AccuTite
If you'd like to turn back the clock in addition to zapping those nagging bra rolls, InMode AccuTite is another treatment to consider. Accutite relies on radiofrequency-assisted lipolysis (RFAL) to tighten small areas of the face, neck, and body and reveal a youthful look. The procedure works best for mild to moderate skin sagging and only takes 30 minutes.
Benefits/Results
Our patients love AccuTite because it's so easy. AccuTite is a minimally invasive nonsurgical procedure that only requires a bit of local anesthesia to numb treatment areas. If you're looking for a contouring treatment with minimal downtime and recovery, yet long-term results, this might be for you. By maintaining a stable weight after the procedure, patients enjoy results for years.
Recovery
How long does it take to recover from AccuTite? Most patients are free to return to their routines within 2-5 days. You may, however, notice mild bruising in treated areas for up to 10 days. Take it easy and avoid strenuous activity for one week following the procedure, then enjoy your results!
Cost
Treatments with the AccuTite system can be customized, so your investment will vary depending on your goals and the experience of your provider. Prices range between $4,950-$8,950, averaging at about $6,950.
4. SculpSure
Let the lasers do the work. SculpSure™ is FDA-approved to reduce unwanted fat strictly with non-invasive laser technology. We use a light-based device to heat troublesome fat cells, while simultaneously cooling the surface of the skin. SculpSure is ideal for use on your flanks, abdomen, bra rolls, back, and thighs, but this treatment requires a little patience. The procedure melts fat cells, and then your body works to gradually reduce them over time.
Benefits/Results
Patients enjoy how quick and easy SculpSure can be. The procedure is completely non-invasive—no anesthesia, needles, surgery, or downtime—and in just one 25-minute session, you can melt away up to 25 percent of your fat.
SculpSure is perfect for on-the-go patients who want a convenient and nondisruptive treatment. But remember: the results are gradual, and most patients see results in 6-12 weeks. The plus side? The procedure has a 90 percent satisfaction rate. We know you'll love your new figure. Enjoy your newly-trimmed frame, plus tighter skin, with SculpSure.
Recovery
The best part about SculpSure? Zero downtime. Most patients feel well enough to
return to work immediately after treatment. You may feel some mild tenderness in the treated areas for a few days, which should quickly pass.
Cost
If you're looking for a mid-range treatment option, SculpSure does the trick. Prices range between $1,000-$4,000, and usually average at $2,000. Your overall cost depends on the size of the treated areas, as well as the number of applicators required.
5. Kybella
If surgery isn't your cup of tea, and neither are freezing or laser treatments, consider a medicinal approach. Kybella is an injectable medicine that dissolves fat, helping you get rid of problem areas at your neck, thighs, flanks, and bra rolls. It's FDA-approved and only takes a few minutes to administer.
Benefits/Results
Kybella is injected into areas of unwanted fat cells. From here, it goes to work, breaking those fat cells down over several weeks. But it's not a one-and-done procedure. Kybella requires multiple treatments—two or three, usually—depending on the extent of your treatment.
Recovery
Patients can usually return to regular work and play soon after each treatment, with minimal downtime. Bruising and fullness are common side effects, but generally dissipate in a few weeks.
Cost
As with other procedures, the cost for Kybella treatment varies depending on your needs and the number of sessions. On average, each vial of Kybella is $700, which averages $1400 to $2800 when you finish treatment.
Banish Bra Rolls With the Best Body Sculpting Procedure For You
You want to get rid of your bra rolls and maybe even improve a few other sensitive areas. Start by considering your priorities. Do you prefer surgical or nonsurgical treatment? Is recovery time an issue for your lifestyle? And given the investment, do you want long-term results or a quick fix?
Everybody's needs are different. Figure out yours, then talk to a professional. From here, a plastic surgeon specializing in breast and body procedures can recommend which procedure is the best fit for you. Don't wait—schedule your consultation today. Get in touch with our team of specialists to develop your customized treatment plan.