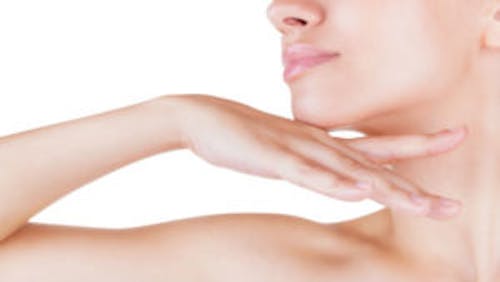 Until recently, the only option you had if you wanted to greatly reduce the appearance of a double chin was surgery, usually involving liposuction. Although liposuction is an effective way to get rid of a double chin, it involves a bit of downtime and leaves you with a small scar underneath your chin, which you might not want.
Fortunately, the FDA recently approved an injectable product, known as Kybella, for use in treating a double chin with no surgery and no downtime. Dr. Clevens is a nationally acclaimed Kybella trainer, teaching other physicians proper injection techniques. The active ingredient in Kybella is deoxycholic acid. Your body naturally produces this acid; it's what breaks down fat cells. When injected into the area beneath your chin, the substance works in a similar way. It reduces the double chin by destroying the fat cells that created it. Your body safely absorbs then flushes away the destroyed cells.
If you are tired of looking in the mirror and grimacing at your double chin or are tired of having to take photos from a certain angle, Kybella can be worth looking into. If you're still on the fence about the injectable, there are a number of reasons to try it.
Sessions are Quick
Although you might need multiple sessions, it's worth knowing that each treatment can be done quickly in our office. You can expect a series of injections to take only about two to three minutes each visit. Depending on how much fat you have under the chin, you might need as many as three or four treatment sessions, each spaced about a month apart.
Results are Long Lasting
The results you get from a series of Kybella treatments are long-lasting. Fat destroyed by deoxycholic acid doesn't return; it's gone for good. That means that you won't need any additional treatments after your sessions, and you won't be waiting for the results of the injections to wear off.
While your results are long-lasting, it's worth noting that the treatment doesn't necessarily provide instant results. You can expect the shape of your chin to improve over time. Many patients notice some changes in their chin after the first two treatment sessions. You should expect to see your final results a few weeks after your last session.
Less Invasive Than Surgery
Although many procedures designed to tighten and tone the neck area, such as the laser-assisted weekend neck lift developed by Dr. Clevens, are also minimally invasive, Kybella is even less invasive. Many people don't need any type of anesthesia before treatment and most are able to walk out of the medical practice and get right back to their daily lives. There's no need for any incisions nor will be there any scars.
Your surgeon will use a very fine needle to inject the substance, so any discomfort you feel is minimal. You can ask for a topical anesthetic if you are worried about the discomfort caused by the needle stick.
No Recovery Time
After many surgical procedures, you have the initial recovery period, during which you need to take it easy and avoid a long list of activities. Once you are able to resume certain activities, such as going to work, you still need to avoid exercising or anything that is physically draining. Some activities need to be avoided even after you receive certain other types of treatment, such as Botox injections.
That's not the case with Kybella. You're able to head back to work right after treatment. You also don't have to worry about avoiding working out, playing a sport, or raising or lowering your head immediately afterward.
Can Be Combined with Other Treatments
You might be completely happy with the results you get from a course of Kybella injections on their own. It's also possible to combine your Kybella treatment with a number of other procedures to further improve your results. For example, you can decide to receive Botox, Xeomin, or Dysport to smooth lines between your brows at the same time you have your Kybella treatment. You could also combine Kybella treatment with dermal fillers to smooth smile lines, enhance your lips, or restore volume loss in your cheeks.
Ross A. Clevens, MD, FACS is one of the first surgeons in Central Florida to make Kybella available to patients. Dr. Clevens trained at Yale, Harvard, and the University of Michigan, and he has 20 years of experience as a Facial Plastic Surgery Specialist. To find out more about this revolutionary injectable and to see if it's right for you, call (321) 727-3223 to schedule your consultation with Dr. Clevens today.