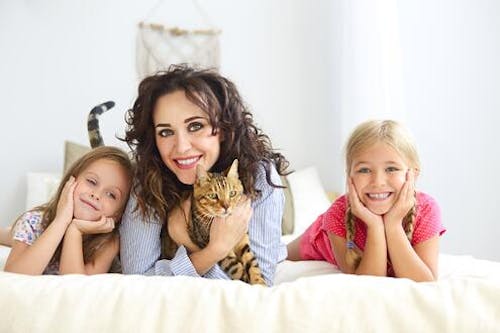 If you're a mother, your children have no doubt been your number one priority since the minute they were born. Now it's time to focus on yourself, feeling great about your post-pregnancy body when you look in the mirror, and enjoying going shopping for clothes again.
Many women find that while diet and exercise can help with losing post-pregnancy weight, cosmetic surgery is often the best option to fully restore a shapely figure. A "Mommy Makeover" is an excellent way to get your pre-baby body back by restoring its shape and appearance.
Here are key things you need to know before having Mommy Makeover surgery:
1. Why do women have Mommy Makeovers?
Having a baby is wonderful, but it can take a serious toll on a woman's body, with many noticing substantial changes in their bodies after pregnancy. That's why an increasing number of women pursue Mommy Makeovers to restore their shape and regain their confidence after having children.
2. What are the benefits of a Mommy Makeover?
With Mommy Makeover surgery, you actually get the benefits of multiple procedures all at once. Since your Mommy Makeover is completely customizable based on your needs and goals, you can address all of your areas of concern at the same time, allowing you to minimize downtime and achieve optimal results.
While the benefits depend on your procedures of choice, for many patients it's lifting and restoring volume with a breast augmentation and breast lift, as well as tightening the abdomen and firming up the stomach muscles. Although the benefits of a Mommy Makeover are long-lasting, continuing to live a healthy lifestyle and maintain a consistent exercise routine is essential for preserving your results over time.
3. When should I have Mommy Makeover surgery?
There's no right or wrong time to pursue Mommy Makeover surgery; however, most women prefer to wait until years down the road when their children are school-aged or grown. Although you can still have children after having a Mommy Makeover, waiting until you're finished may maximize the benefits of surgery. Plus, if a woman is breastfeeding, she may want to wait because the shape of her breasts may change when she's done, and she can address that during her surgery.
4. What procedures are involved in a Mommy Makeover?
Because Mommy Makeovers are 100 percent customizable, they often involve multiple procedures to best meet each patient's unique goals. There's no one-size-fits-all approach because every woman's body responds to pregnancy differently. That said, the most popular Mommy Makeover procedures include:
Breast Augmentation
During pregnancy, breasts tend to lose volume and develop loose skin. Breast augmentation can address these problem areas to restore volume, improve symmetry, and add fullness and firmness after labor and breastfeeding.
Breast Lift
Many women also decide to have a breast lift along with breast augmentation. A breast lift can help raise breast tissue higher on the chest, reshaping them and restoring their original fullness. Plus, a breast lift is an opportunity to tighten the tissue and remove any excess skin resulting from pregnancy.
Tummy Tuck
It goes without saying that pregnancy changes the shape and look of the abdomen. A tummy tuck, or abdominoplasty, involves removing unwanted fat and resculpting muscles to create a smoother, flatter appearance and improve the shape of the waist.
Liposuction/Liponique
When diet and exercise are unsuccessful at getting rid of stubborn post-pregnancy fat, liposuction is often the best solution. While liposuction can be performed anywhere on the body with excess fat, most women opt to have it in the waist and hip area. Liposuction is a highly effective way to sculpt the midsection and contour the body by removing extra fat tissue.
Liponique Body Contouring, a technique exclusively available at Clevens Face and Body Specialists, allows patients to customize their liposuction procedure to meet their needs. To accomplish this, our breast and body specialists combine different liposuction and body sculpting technologies to achieve the optimal results for you.
Some patients also choose to add an arm lift or thigh lift to help them further tighten up their body and remove loose, sagging skin. The beauty of a Mommy Makeover is that the selection of procedures is up to you and your goals for the end result.
Get the most out of your consultation. Come prepared with this comprehensive checklist to help you ask all the right questions.
5. Who is a good candidate for a Mommy Makeover?
Any woman who experienced childbirth, noticed her figure changing with age, or has undergone a dramatic weight loss is typically an excellent candidate for a Mommy Makeover. Ideal patients are those in good health overall who understand the cosmetic procedures and have realistic expectations for their results.
6. How can I best prepare for my Mommy Makeover?
The best way to prepare for your Mommy Makeover is to ask your breast and body plastic surgeon any questions you have about your procedures of choice, as well as what you can expect in terms of recovery and results. Together, you can determine which combination of procedures will achieve the results you're looking for and develop a treatment plan that's custom-tailored to meet your needs.
Before your Mommy Makeover, you may also be asked to get lab testing, be medically cleared for surgery, adjust your current medications, and/or quit smoking. Your cosmetic surgeon will let you know how best to prepare during your consultation.
7. What is the Mommy Makeover recovery process like?
The recovery process after a Mommy Makeover can take anywhere from 10 days to six weeks, depending on the procedures you choose to include. Most women are back at home recovering on the same day of their surgery and are able to return to work after around 10-14 days.
To aid in your recovery and maximize your results, it's important to avoid resuming strenuous exercise for six weeks while your body is still healing. While you'll notice the benefits of your Mommy Makeover and begin to appreciate your new shape immediately following your surgery, healing takes time and your outcome will continue to improve as swelling resolves completely and your breasts settle.
8. How should I discuss my decision with loved ones?
Sharing your motivation for getting the Mommy Makeover and being honest about your feelings is the best way to gain support from your loved ones. You can educate your friends and family members on each of the procedures you've selected, as well as the risks and recovery to ease and address their concerns.
Another great way to gain support from those who care about you is to consider including them in the process by bringing them to your consultation. This will allow them a chance to hear from the cosmetic surgeon firsthand and ask any questions they may have about your Mommy Makeover. Hearing straight from a specialist can be very reassuring for loved ones who are concerned about your decision.
9. What results can I expect from Mommy Makeover surgery?
The great thing about your Mommy Makeover is that you can customize it to your liking—meaning the results will be whatever you'd like them to be. Here's how one of our Mommy Makeover patients described her results:
"I just overall feel so much more confident in myself, and I feel OK to be in a shirt without a sweater on and I feel OK to wear a skirt without tights. I feel just overall like a huge weight has been lifted off of me, literally, and I feel so much more confident since having this procedure done."
Before and after photos and informative websites like RealSelf can also help manage your expectations for Mommy Makeover surgery results.
A Mommy Makeover can be a transformative experience for any woman struggling to get back to the body she had before pregnancy. If you're considering a Mommy Makeover to restore the shape and appearance of your body, consult with a board-certified plastic surgeon specializing in cosmetic procedures for the breast and body. A specialist can help you determine whether you're a candidate, which procedures to consider, and how to maximize your results.
Interested in a Mommy Makeover in the Orlando, Florida, area? Schedule your consultation to get all your Mommy Makeover questions answered by one of our specialists in breast and body cosmetic procedures.
Get the most out of your consultation. Come prepared with this comprehensive checklist to help you ask all the right questions.