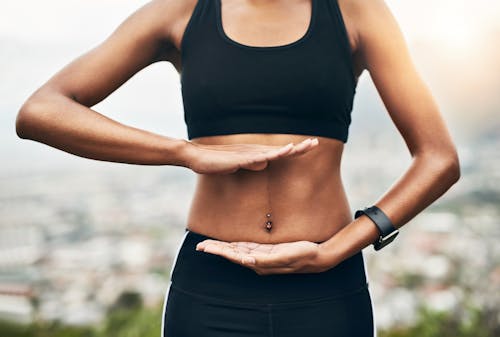 Navel or "belly button" piercings have become a popular adornment, with around 19 percent of U.S. adults sporting one in recent years. Hit any of the beautiful beaches here in the Sunshine State, and you'll spot countless belly button piercings shown off by bikini-clad ladies soaking up the sun—and even the occasional guy in swim trunks!
Of course, much like tattoos, fashion trends, and hair styles, sometimes we outgrow piercings we once loved. Others may pursue a belly button hole repair procedure after rejecting a new piercing due to an allergic reaction or infection, or experiencing an injury that alters the cosmetic appearance at the piercing site.
Think you're stuck with a belly button piercing that no longer suits you or enhances your appearance? Think again! Regardless of your reasoning for exploring the procedure, a belly button piercing revision is the optimal solution to reduce scarring, close piercing holes, and ultimately help you love the way your tummy looks again.
What Happens During a Belly Button Piercing Revision?
Wondering what the procedure actually entails? Most belly button piercing revision procedures involve excising the holes or "scars" left behind from the piercing with very small incisions. The belly button hole repair procedure is minimally invasive, takes under an hour, and is usually performed in our office under local anesthesia.
In some cases, our patients who are having a tummy tuck or pursuing a full Mommy Makeover may opt to include a belly button piercing revision procedure to repair the hole at the same time. This is especially common in women who have had children, because belly button piercings are often stretched out during pregnancy as the abdomen expands.
How Can I Minimize Scarring After My Piercing Revision?
The best way to minimize scarring following your belly button piercing revision is to see a board-certified plastic surgeon specializing in breast and body procedures. A specialist in body procedures will have an expert understanding of how to best address your belly button piercing revision based on your specific needs.
Before you choose your plastic surgeon, read this guide to understand your quote and exactly what you're paying for.
Seeing a specialist plastic surgeon will also ensure you're in safe hands during the procedure—that's the specialist advantage in full effect! Additionally, you can minimize post-surgical scars following your belly button hole repair procedure with:
Sun protection: Use sunscreen with a minimum of SPF 35 to protect your skin from sun damage and avoid unprotected scars becoming hyperpigmented.
Silicone products: Utilize silicone-based products such as gels, creams, and sheets, which often contain ingredients like vitamins A and E that work in conjunction with silicone to reduce the appearance of scars.
Laser treatments: Laser treatments, such as fractional CO2 laser skin resurfacing, can improve the look of your skin by making scars appear less prominent.
Dermabrasion: Mechanical sanding and various dermabrasion techniques can help treat scarring after plastic surgery by smoothing the surface of any scars and the superficial layers of your skin.
Next Steps: Pursuing Your Belly Button Hole Repair Procedure
Unwanted, infected, or rejected belly button piercings may be frustrating and even unsightly, but the good news is that they don't need to be permanent. Belly button piercing holes and any associated scarring can be reversed with the right procedure performed by a specialist plastic surgeon with experience performing belly button revisions.
If you're ready to say farewell to your navel piercing once and for all, the best next step is to consult with a plastic surgeon to share your concerns, discuss your goals, address any concerns you may have, and move forward with a recommended procedure.
From there, you'll be back to loving the way your abdomen looks again—with no remaining scars left behind to give you away. Schedule your consultation at one of our Brevard County, Florida, locations to get started today.