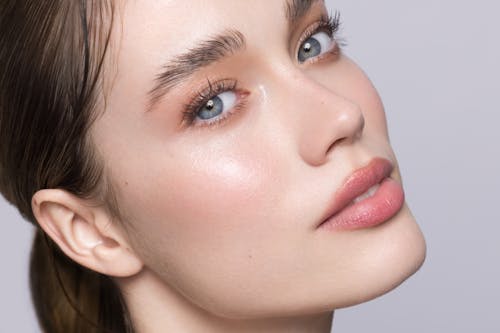 What is lip filler?
Lip filler is a nonsurgical injectable procedure, performed in the office with minimal to no downtime, in which hyaluronic acid fillers are used to augment the lips, add definition, correct asymmetry, and provide lip hydration and rejuvenation.
How does lip filler contribute to facial balancing?
Your lips are a key facial feature, and lip enhancement should provide optimal facial balance from both frontal and profile views. Injectors should evaluate the "E plane" and the proportions of the face prior to your lip filler procedure. The E plane is a line drawn from the tip of the nose to the top of the chin. For an aesthetically pleasing profile in the average face, the tip of your nose, upper lip, lower lip, and chin should all meet. Facial proportions should also be taken into account for facial balancing. The face is generally divided into thirds:
The upper third extends from the hairline to the glabella (level between eyebrows)
The middle third from the glabella to below the nose
And the lower third extending from below the nose to the chin
Ideally, all three-thirds of the face should be equal to one another. Lip filler should enhance your overall facial appearance.
What fillers are used for lip enhancement?
Hyaluronic acid fillers are preferred for nonsurgical lip enhancement. Hyaluronic acid fillers are safe and effective and do not affect the normal function of the lip. Lip filler procedures should be performed by a licensed medical provider such as an MD, DO, APRN, or PA.
What are my preferred fillers for lip enhancement?
In general, almost all hyaluronic acid fillers are safe to use on the lips. It is injector and patient preference when deciding which filler is right for you and your goals.
From the Juvederm line, my favorite filler for lip enhancement is ULTRA XC
From the Restylane line, my favorite filler for lip enhancement is KYSSE
How long does lip filler last?
Lip filler can last 9-12 months, longevity varies between patients and is also dependent on which filler is used. Hyaluronic acid fillers in other areas of the face will generally last longer than in the lips because our lips are constantly in motion while areas such as our cheeks or under the eyes are not. I recommend touch-ups every six months to maintain the lip volume.
How much does lip filler cost?
Generally, 1-3 syringes of filler are suggested for lip enhancement. The number of syringes varies per patient and is customized to achieve your lip goals. Syringe costs can range between $650- $900, depending on provider experience, practice location, and patient goals.
Who is a good candidate for lip filler?
Both men and women looking to enhance, define or augment their lips are good lip filler candidates. For patients with excess skin length between the bottom of the nose and the upper lip, a surgical lip lift procedure to decrease the length combined with lip filler for volume would be ideal. For patients who simply need more volume or projection in the lip body (pink part of lip), injectable lip filler alone can achieve this.
What other procedures can be performed for lip enhancement?
Surgical procedures are often combined with filler to achieve the patient's desired results. Procedures such as a corner of the lip lift, sub-nasal lip lift, and lower lip lift are procedures commonly used to enhance the lip shape. Facial balancing may often require the placement of a chin implant and/or rhinoplasty to achieve a patient's goals, as they both contribute to the perioral region in some way. We can discuss complementary facial procedures when we are in consultation with patients considering lip enhancement.
Is there any downtime after lip filler?
Lip filler is a nonsurgical procedure done in the office with little to no downtime. After lip filler treatment, you may experience temporary swelling and/or bruising. However, there are no restrictions on wearing makeup, kissing, or eating. You may resume all of your daily activities after a lip filler treatment. To ensure your comfort at the time of your lip filler procedure, we use topical numbing prior to injection and our fillers contain lidocaine as well which takes effect during the injection.
What can you do to prevent bruising before and after lip filler?
Here's a tip! At least 48 hours before your lip filler appointment, avoid NSAIDS (Ibuprofen, Advil, Motrin, Aleve, aspirin, Toradol, etc), avoid alcohol, and avoid vitamins such as omegas. After your lip filler procedure, you can apply ice, use vitamin K cream, and take arnica. Keeping your lips hydrated by drinking water, and applying moisturizers such as Vaseline after treatment will enhance your results.
What do I say to anyone considering lip filler?
Find a reputable practice with experienced providers, have a full facial assessment, and GO FOR IT! Luscious lips done right will make you feel sexier and more confident.
To learn more or to find out if you are a candidate for lip filler, schedule your consultation with our Master Injectors today.