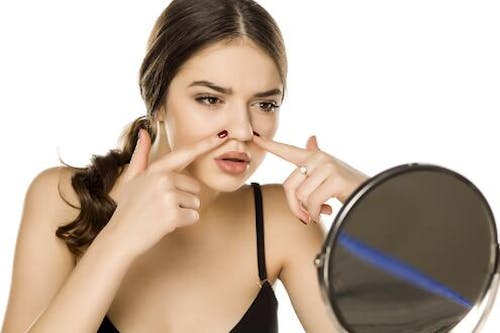 Do you ever look in the mirror and wish your nose was smaller, straighter, or a different shape? Do you struggle with severe congestion that makes it difficult to breathe and impacts your quality of life?
If so, you're not alone. Each year, thousands of people seek out rhinoplasty, septorhinoplasty, or a "nose job", for one of two reasons: either to improve nasal function or to improve the appearance of your nose—or in many cases, both! That's why it's not surprising that rhinoplasty is consistently recognized as one of the most popular plastic surgery procedures, with more than 207,000 performed in 2019 alone.
Whether you're struggling with a functional issue such as sinusitis, a deviated septum, or difficulty breathing, or you've always wanted to improve the appearance of your nose, rhinoplasty may be the perfect solution. Here's a breakdown of functional versus cosmetic rhinoplasty, with tips for determining which (if either) is the right fit for you.
Comparing Functional Vs. Cosmetic Rhinoplasty
What exactly is the difference between functional and cosmetic rhinoplasty? While both are plastic surgery of the nose, there are inherent differences in the goals, reason for getting the procedure, and what it involves.
Functional Rhinoplasty
Some people struggle with a nasal structure that makes it difficult to breathe. Nasal passages are either too narrow, the septum is deviated, or both. A deviated septum either occurs due to natural development or as a result of a traumatic injury pushing it out of alignment.
Functional rhinoplasty is a medically necessary surgery in which a facial plastic surgeon permanently reshapes the nasal structure to improve breathing and reduce congestion. It corrects issues related to prior nasal trauma, a deviated septum, nasal deformities, sleep apnea and snoring, and enlarged turbinates (structures in the nasal passageway made of bones, vessels, and tissues).
During a functional rhinoplasty procedure, one of our facial plastic surgeons, Ross A. Clevens, MD, FACS or Renata Khelemsky, MD, may straighten the septum (septoplasty) or perform turbinate reduction to improve function. Septoplasty involves positioning the cartilage so it sits in the proper vertical position instead of at an angle to improve function.
Turbinate reduction involves removing tissue to allow more space for air to flow through the nasal passages. When turbinates become swollen or enlarged, it causes an obstruction and congestion that makes it very difficult to breathe. Fortunately, turbinate reduction is very effective and significantly reduces congestion to improve breathing.
Cosmetic Rhinoplasty
On the other hand, cosmetic rhinoplasty is typically performed to reshape, resize, and improve the appearance of the nose. Patients frequently seek out cosmetic rhinoplasty for a number of aesthetic reasons, including the following:
Shorten the length of the nose
Straighten a crooked septum
Conceal a pronounced nasal hump
Improve an asymmetrical nasal tip
Reduce a bulbous nasal tip
Correct a pinched nasal tip
Minimize the width of the nose
Resize a nose that's too large
Because septorhinoplasty requires the expertise of an established facial plastic surgeon, it can sometimes have poor results if performed by a non-specialist who is not experienced. That's why it's important to choose an experienced facial plastic surgeon to ensure you get the aesthetic outcome you're expecting—the first time around.
At our practice, we see many patients seeking a secondary (or "revision") rhinoplasty to revise poor results from a previous nose job. Revision rhinoplasty is a second surgery designed to address problems resulting from the initial procedure, whether they're cosmetic, functional, or both. Revision rhinoplasty is known to be more difficult to perform in some cases due to increased scar tissue, lack of cartilage for grafts, or weakened nasal structures.
During both types of rhinoplasty, an incision is made either externally between the nostrils ("open" rhinoplasty) or internally within the nose ("closed" rhinoplasty). Because open rhinoplasty is more predictable and reliable than closed rhinoplasty, many facial plastic surgeons prefer the open approach to ensure they're able to deliver the results patients want. Once the incision is made, your surgeon will reshape cartilage, carve and reset bones as needed, and use cartilage grafts to change and improve the bone structure.
Functional And Cosmetic Rhinoplasty: Recovery And Results
Recovery for functional and cosmetic rhinoplasty is similar; however, there are slight differences, such as bruising resulting from a cosmetic procedure. Most patients return to their day-to-day activities within 7-10 days after surgery. By the second week, most fullness should begin to subside and continue to decline for several months. The final results will reveal themselves about a year after the procedure, when the last of the fullness subsides.
Achieving Both Functional And Cosmetic Rhinoplasty Results
Many patients opt to combine functional and cosmetic rhinoplasty to improve both the function and appearance of their nose. Form and function of the nose are closely related, which means correcting internal problems often leads to a more aesthetically pleasing result as well. In many cases, a visible asymmetry indicates that nasal structures are deviated or misaligned on the inside.
If you have difficulty breathing or trouble with your sinuses, and you're also unhappy with the appearance of your nose, you may want to have a septorhinoplasty, combining functional and cosmetic rhinoplasty to address both at once. Combining procedures means only a single recovery period and less downtime away from work and your other day-to-day activities—not to mention that it's also more cost-effective to have multiple procedures done at the same time.
Deciding If Rhinoplasty Is the Right Procedure For You
Before and after photo galleries and websites like RealSelf are a great way to learn what you can expect from rhinoplasty and whether it's a fit for you. Patient reviews and testimonials are a great way to learn more about others' experiences with both functional and cosmetic rhinoplasty.
If you're considering functional or cosmetic rhinoplasty (or both) and looking for more information, a specialist in facial plastic surgery can address your concerns and discuss your goals to help you make an informed decision. It's important to select a facial plastic surgeon who specializes in performing rhinoplasty and is certified by the American Board of Facial Plastic and Reconstructive Surgery (ABFPRS), which examines professional expertise in facial procedures.
Choosing a facial plastic surgeon with an ABFPRS certification and experience performing both functional and cosmetic rhinoplasty increases the likelihood of a good surgical outcome. In the right hands, either functional or cosmetic rhinoplasty—or a combination of the two—can improve your comfort, your confidence, and your overall quality of life.