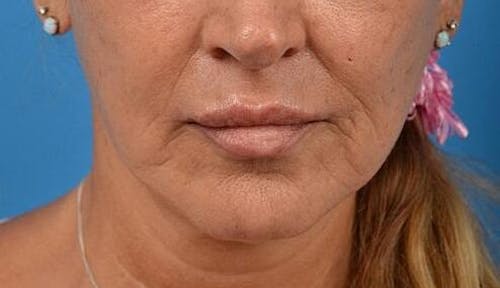 You have probably heard the phrase "turn that frown upside down." As you mature, you may start noticing that you seem to be frowning more and more just because of the natural shape of your lips is changing. Lips fold in, turn down at the corners of the mouth, and become less full. The pink outline of your lips slowly diminishes over time. Fortunately, lip lifts and lip fillers can help improve the appearance of your lips to create a more youthful
look, and the best fit is completely dependent on each patient's unique anatomy and goals for results.
If you're unhappy with the appearance of your lips and looking for a lasting solution, a lip lift might be exactly what you're looking for. Learn what a lip lift is and how it compares to a lip filler treatment to decide which is the best choice for you.
Lip Lifts: What They Are and How They Help
A lip lift is a surgical anti-aging procedure that creates the appearance of fuller, more youthful lips, or reverses the aging signs of the lip such as the downturned corners of the mouth. During the procedure, the corners of the mouth that have become downturned are corrected so that your mouth no longer conveys a sad or angry appearance that may not be indicative of how you actually feel. Three common lip lift techniques are:
Direct Lip Lift which creates fuller, more voluptuous lips.
Corner of the Lip Lift addresses the angry appearing downturned corners of the lip, creating a more pleasant and youthful appearance.
SubNasal or Bullhorn Lip Lift makes a fuller and more pouty appearance to the lips.
During your consultation, your facial plastic surgeon can make a recommendation on the best type of lip lift for you based on your unique anatomy and needs.
Before you choose your plastic surgeon, read this guide to understand your quote and exactly what you're paying for.
Lip Injections: Breaking Down Different Product Options
Lip augmentation injections involve filling the lip with a soft substance to enhance the appearance of the lips, making them look fuller and more youthful. The following lip injectable substances are the most widely used for lip injections.
Dermal fillers are cosmetic fillers that help to rebuild your skin's natural support layer. They help to reduce the appearance of laugh lines, smile lines, facial folds, and some scarring.
Restylane is a cosmetic filler made of hyaluronic acid, a natural substance found in the body. It is intended for wrinkle correction and lip enhancements and is ideal for correcting thin, superficial lines around the mouth. This filler lasts for around 6-12 months.
Juvederm is a hyaluronic acid that is used to enhance the lips, reduce wrinkle lines around the mouth, and add plumpness to the lips. This filler option lasts for approximately 12 months. A longer lasting option is Juvederm Voluma XC, which is a cross-linked hyaluronic acid, making it more viscous and lasts 24 months. It is intended for correction of volume loss in the cheeks.
Radiesse is a cosmetic filler that although is not used in the lips, it helps smooth deeper facial folds and wrinkles that extend from the nose to the mouth area, providing lasting correction for 18 months to 3 years.
Fat injections can be placed in various regions of the face as well lips with small needles after fat is harvested from another area of the body, such as the abdomen or thighs. A major advantage of this filler option is that, for those wanting a natural alternative, there is a low rate of an allergic reaction because it's taken straight from the patient's own body and is a permanent option.
Another, less common option Belotero, a thin gel made from hyaluronic acid, which can last for up to five years. Each lip injectable option has its own advantages and disadvantages. When deciding between cosmetic fillers, you should discuss the different options in detail with your facial plastic surgeon to determine the best fit for you.
Lip Lifts vs. Lip Injections: Which Is Right for You?
There are pros and cons to both lip augmentation procedures, and the best fit for you depends on everything from your budget to your unique challenges and goals. We'll share a few of those pros and cons to help with your decision.
Lip Lifts
Surgical enhancement is a long-lasting option that doesn't require additional treatments in order to maintain results. Lip lifts permanently change the shape of the lip and can correct downturned lips, which may not always be corrected with fillers to the same degree. A lip lift can also help achieve permanently fuller lips, whereas injections are temporary and have a limit to the amount of fullness achievable when severe aging is present. Lip lifts may be performed alone or combined with other procedures such as facelifts and laser skin resurfacing.
A lip lift is an investment that may cost between $3K - $5K. Although they are rare, as with any surgical procedure, there are potential risks associated with having a lip lift performed, such as scarring and infection. To minimize potential risks, it's important to choose a board-certified facial plastic surgery specialist who has experience performing lip lifts.
(And don't be afraid to ask questions in your surgical consultation about your surgeon's background and expertise, should you choose to go that route!)
Lip Injections
For those who want fuller lips but are concerned about the cost and/or the potential side effects of surgery, or simply don't have the downtime to undergo surgery, lip injections are a good alternative. There are several different filler options to choose from, each offering unique benefits and a different result. Fillers also have a quicker recovery period and are a great way to test out the results before committing to a longterm solution.
However, the results of lip injections are not permanent, and you may end up spending more in maintenance treatments down the road. Injections also don't offer the same benefits as surgical enhancement because they can't solve for more severe issues like advanced aging and drooping lips.
Lip lifts and lip injections are both great ways to counteract aging and achieve the voluptuous lips you want. Schedule your consultation at Clevens Face and Body Specialists to learn more about the different lip enhancement procedures that are available to restore the full, youthful lips you love.