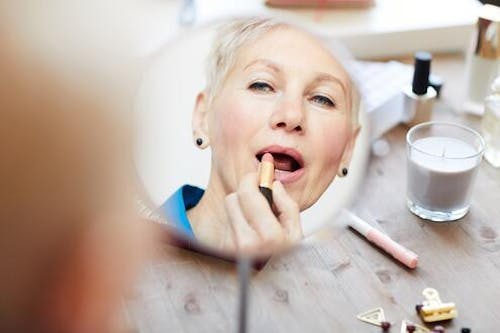 Do you ever wish you had fuller lips, or wish you could get rid of a few wrinkles around your mouth?
Our lips are one of the most prominent facial features, so it's natural to want them to maintain a full, youthful appearance. That said, the lips and mouth naturally change with time. It's common to start noticing your lips losing volume, corners of the mouth drooping, and wrinkles forming around your lips and mouth.
Good news: There are both surgical and nonsurgical cosmetic treatment options available that can help you achieve natural-looking, rejuvenated lips and a more youthful look. We'll break down the key differences between lip lifts and lip fillers to help you weigh your options and determine which is best for you.
Lip Lift: Achieve Long-Lasting Results
A lip lift is a surgical procedure that creates the appearance of fuller, more youthful lips, or reverses signs of aging like downturned corners of the mouth. Since lip lifts permanently alter the shape of the lip, they're a longer-lasting alternative to lip fillers.
One of the biggest benefits to having a lip lift is the procedure is completely customizable to each patient's needs. There are multiple lip lift techniques, and the best option for you depends on the results you're looking to achieve.
The three most common lip lift techniques are:
Direct Lip Lift
A direct lip lift can be performed on the upper lip, lower lip, or both. It's best for patients who desire a plump pout and more voluptuous lips. During the procedure, an incision is carefully placed along the outer border of the lip to create a fuller appearance. A thin strip of skin is removed and the skin is gently lifted to expose more of the top and/or bottom lip. A direct lip lift is a great, lasting alternative to fillers.
Subnasal or Bullhorn Lip Lift
A subnasal or "bullhorn" lip lift adds fullness to the lips and a more youthful show of the upper teeth. Some patients are born with a larger space from the base of their nose to the top of their lip. Lip lift surgery can reduce this area by lifting up the top lip, creating a more youthful appearance. During the procedure, an incision is carefully placed and hidden underneath the shadows of the nose to be virtually imperceptible. A subnasal bullhorn lip lift essentially lifts the upper lip to address excess distance between the nose and lip and deliver a more youthful pout.
Corner Of the Lip Lift
Sometimes as we mature, our mouth can appear angry while at rest. A corner of the lip lift addresses the angry, bitter frown that can occur with aging. During the procedure, a small incision is made along the corners of the upper lip to gently lift the corners and create a more rested, youthful appearance.
Each lip lift procedure is performed in-office under local anesthesia or at the same time as another procedure at an accredited facility. Most patients recover within just a few days, though recovery may take up to a week. Lip lifts are often combined with other popular procedures, such as a facelift or laser skin resurfacing, to achieve ideal results.
Lip Fillers: See Results Without Committing
Lip fillers are a nonsurgical treatment that achieves temporary results using various injectable materials such as Restylane, Juvederm, Belotero, and fat. Like the different lip lift procedures, each filler option is slightly different:
Restylane Kysse is a new cosmetic filler made with XpressHAn Technology™ that achieves flexible movement and natural-looking results that last up to one year. It's best for patients looking to enhance the color and texture of their lips while maintaining a range of facial expressions.
Juvederm Volbella is an FDA-approved hyaluronic acid filler for lip augmentation that lasts for around 12 months. It's a good option for those who wish to reduce wrinkle lines around the mouth and add plumpness to the lips.
Belotero is a thin gel filler made from hyaluronic acid that can last for around six months in lips. It's a good fit for patients who want to restore volume in the lips.
Fat injections can also be placed in the lips after being harvested from another area of the body, such as the thighs or abdomen. The benefit to choosing a fat injection is that it's a natural alternative with a very low rate of allergic reaction because it's taken straight from your own body.
Lip fillers require very minimal downtime. Most people return to work and other normal daily activities within a few days after a treatment. For some, bruising and fullness can last up to a week after a procedure. Our team performs lip filler treatments using a cannula applicator to minimize discomfort during the procedure, as well as any bruising afterwards.
Lip Lift Versus Lip Filler: Choosing the Best Treatment For You
Both a lip lift and fillers can improve the appearance of your lips, but deciding which is the best fit for you can be tricky. There are pros and cons to both options, and choosing the best treatment for you depends on a variety of important factors, such as:
Surgical versus nonsurgical approach
Length of recovery and downtime
Your goals for your appearance
Lasting versus temporary results
Cost of surgery versus injections
A lip lift is an excellent option for a patient who's looking for a permanent result and isn't overly concerned about the cost, recovery, or downtime associated with having surgery. On the other hand, lip fillers are a great alternative for anyone who wants to test out the results before committing to a more lasting solution. While lip fillers are a more affordable option with a quicker recovery, it's possible you may end up spending more on maintenance treatments over time because the results aren't permanent.
To pick the treatment that will achieve the results you're looking for, you can view before and after photo galleries and read verified reviews from patients on websites like RealSelf. When you're choosing a facial plastic surgery specialist, you can also review patient testimonials to learn about their results.
For example, here's what one of our own patients had to say after having a lip lift at our specialty plastic surgery group:
"I am writing to say thank you for the excellent surgical work you did on my lips. I have received numerous compliments since my lips have healed. This surgery has had a very positive effect on my self-confidence and has given me a brighter outlook for the future. I would like to extend my gratitude to you for all of your help, patience, and encouragement throughout the process." –MY, Palm Beach, FL
Choosing an Expert For Results That Make You Smile
When having facial plastic surgery, choosing a specialist in lip augmentation procedures is essential for achieving natural-looking results. You want to know you're in good hands when you're having any procedure done—especially when it's a facial procedure in a delicate area like the mouth!
Facial Plastic Surgeon Ross A. Clevens, MD, FACS, our practice founder, is an expert in lip surgery who has pioneered several procedures. He's a lecturer and teacher of lip rejuvenation procedures who was even asked to create a teaching video for the American Academy of Facial Plastic and Reconstructive Surgery (AAFPRS) demonstrating his lip surgery techniques.
The best way to determine which option is right for you is to meet with a lip rejuvenation specialist like Dr. Clevens to explore your options. Schedule your consultation to discuss your concerns, talk about your goals for your lips and mouth, and choose the lip procedure that will best achieve your desired results—full, youthful lips that you love!