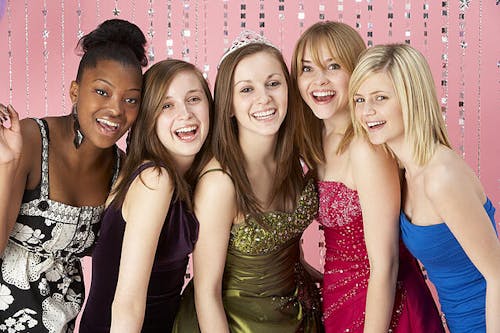 Prom Tips for everyone:
You've spent hours selecting your dress and scouring magazines for the perfect hair tips and accessories. Fortunately, getting clear, smooth, glowing skin doesn't have to be so difficult. Here are some tips for skin care and make-up from Christina Smith, our skin care specialist and make-up expert:
Keep it simple. Too many products can irritate and too many steps may tempt you to skip.
Keep it up. If you want great skin, care for it each day. Sporadic care won't do it.
Keep it gentle. Scrubbing and over-drying leaves skin rough and red. Don't fight with your face!
Skin care tips to get ready for prom:
1. Continue cleansing and moisturizing your face morning and night. Healthy, clear skin provides the best foundation for prom night beauty.
2. Get a facial or peel at least 1 week before prom. Facials can stir up changes in the skin. Give your skin time to heal after a service.
3. Avoid adding any new skincare or makeup products to your routine immediately before prom to minimize the risk of an allergic reaction, redness, flaking or dry skin.
Makeup for prom night:
FACE: If your skin is on the oily side and you're worried that your makeup might melt by midnight, use makeup primer on your face and eyelids before applying any color to lock pigments in place. For a fresh, shine-free complexion, opt for a lightweight, sheer formula to even skin tone and minimize imperfections.
EYES & LIPS: Prom night is the perfect time to experiment with bold, smoky eyes or a vivid and dramatic pout — but not both. Accentuating just one feature creates a beautiful, modern look without appearing over-done, or worse, clown-like. Sweep dramatic shadows like royal blue, deep purple, onyx or silver onto the eyes and apply a thin layer of black liner. Complete the look by adding just a touch of nude lipstick, and top with pink gloss to keep lips soft and romantic. If you prefer to keep eyes simple, opt for a vibrant red or mauve pout. Choose neutral eye shadow colors such as gold, pink and brown.
CHEEKS: Give cheeks a healthy flush by applying an oil-free, cream-based blush or cheek stain that won't streak or fade throughout the night like ordinary powder blushes. For a sun-kissed look, sweep bronzer over your cheekbones to leave skin naturally radiant and glowing.
Need some help? Call 321.727.3223 or email jodieh@drclevens.com to schedule a skin care analysis with Christina and find out how to get your skin ready for prom.
Enjoy 25% off all facials, peels, and make-up application now through May 31!