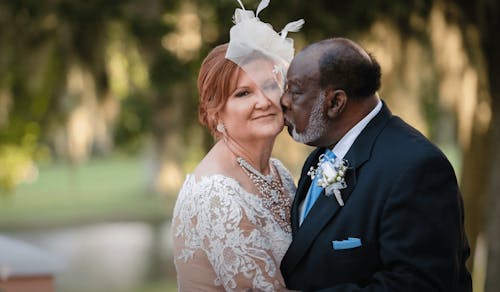 Meet Ruth Gary, a 62-year-old wife, mother, and retired teacher from Brevard County, Florida. After years of putting everyone else in her family first, Ruth made the decision to move forward with cosmetic surgery at Clevens Face and Body Specialists, where she pursued body sculpting and facial contouring treatments that have been completely transformative. This is her story.
Before Ruth's Glow-Up: Why She Pursued Cosmetic Surgery
Ruth has been no stranger to difficult times. Her late husband suffered from multiple sclerosis for 28 years before he passed away. Along with caring for her husband before his passing, Ruth also cared for her parents as they battled Alzheimer's, while also raising her daughter, Tori.
After her husband and her father both passed away, Ruth continued to work full-time while also caring for her mom and teenage daughter. During this time, Ruth was under a lot of pressure, which caused her to gain a significant amount of weight and eventually reach 260 pounds. "You put everyone first in your family—or I did," Ruth explained.
Years later, Ruth's daughter encouraged her to start dating and helped her set up a profile online. That's how she met Bill, a retired NASA electrical engineer, who changed everything. As Ruth's relationship with Bill grew, so did her happiness and her sense of self. "We were married, and life has been the journey that I never expected. I am just absolutely living the dream.
Around this time, Ruth began noticing marionette lines developing around the corners of her mouth. "I was so self-conscious because I saw the marionette lines. I saw my mother and my grandmother and I was not their age, and I looked tired even though I was the happiest I'd ever been in my life. I looked frumpy even though I had lost a massive amount of weight. You look in the mirror and you look at a picture and think there's something not right here."
Bill encouraged Ruth to move forward with cosmetic surgery, helping her see that she deserved it after years of putting everyone first but herself. "He fell in love with me the way I was, but I knew that I felt so different internally, I wanted that to show externally. And so I would talk about it to him like, 'Someday, I want ...' and then someday came."
Before you choose your plastic surgeon, read this guide to understand your quote and exactly what you're paying for.
With a little reassurance from her new husband, Ruth finally made the decision to pursue her dream of body contouring and facial rejuvenation cosmetic procedures—and it completely changed her life for the better. "He said, 'well you know, if you're really serious about that there's no reason why you shouldn't do it. You deserve it. Look at what you've done in your life. Look at what you've experienced'. And he was the first one who said to me, 'you've put everyone first but yourself'."
Ruth's Transformation: Body Sculpting and Facial Contouring Changed Her Life For Good
Ruth opted to have a tummy tuck, thigh lift, and facelift at Clevens Face and Body Specialists. Her results have been nothing short of transformative. The specialist plastic surgeons and care team at Clevens Face and Body Specialists wanted the same thing Ruth wanted: what she felt on the inside to be reflected on the outside.
That's what they set out to do, and that's exactly what they accomplished.
"I felt like they were seeing the real Ruthie. They want what's on the inside to be reflected on the outside, and they want to help you get there. And I've told all the doctors that I've had the privilege of getting to know here at Clevens, 'you've given me something that I've never had. And after every procedure I feel like I'm the Ruthie now that I've felt inward'."
When asked about how she feels after her cosmetic surgery results, Ruth exclaimed: "How do I feel now when I look in the mirror? I feel so incredibly blessed that I was able to have this done. I'm not self-conscious right now of anything. I look at being 62 now as being a better version of any time."
For Ruth, the journey to becoming her best self has been a "highlight of her life"—and she's only getting started. Schedule your consultation to begin your own journey to becoming the best possible version of you.