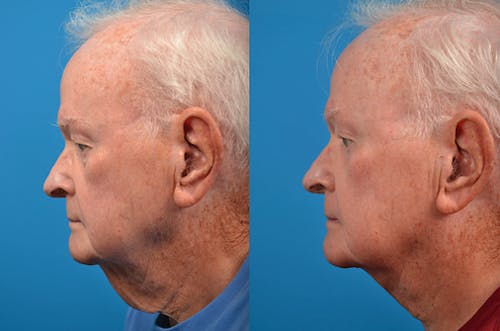 There are more perks to getting older than you ever anticipated. You're happy, healthy, self-assured, and feeling more and more comfortable in your own skin. And while you still look and feel young, you've noticed in photos and the mirror that your neck is starting to tell a different story.
Sagging skin beneath the chin, or "turkey neck," is a telltale sign of aging, but it's not one you have to live with if it's keeping you from feeling your best. Fortunately, there are cosmetic procedures available that can give you back the youthful neck and jawline you deserve. That's why our facial plastic surgeon, Ross A. Clevens, MD, FACS, designed his Signature Profile Neck Lift™ to help people say goodbye to the turkey neck and muscle banding that come with age.
We'll tell you all about Dr. Clevens' Signature Profile Neck Lift™, with details on everything from what happens during the procedure to results you can expect.
What is Dr. Clevens' Signature Profile Neck Lift™?
According to the American Society for Dermatologic Surgery, 73 percent of those exploring cosmetic procedures are concerned with excess fat under the chin and neck. As we get older, three signs of aging occur in the neck: skin loses elasticity and becomes lax, unwanted fat accumulates, and the platysma muscles (located under the chin and down the neck) weaken and become visible, resulting in vertical lines or "banding."
The Profile Neck Lift™ is a unique procedure designed by Dr. Clevens, one of America's leading facial plastic surgeons, to address these areas of concern. Dr. Clevens and our other facial plastic surgeons perform the Profile Neck Lift™ often. It's popular among our patients because it helps to restore a youthful profile and recontour the neck with minimal downtime and quick results.
What happens during the Profile Neck Lift™ surgery?
The procedure is most often performed in-office under local anesthesia. When performing the Profile Neck Lift™, a zigzag-shaped incision is made under the chin and expertly placed to look like a natural line or crease in the neck.
Dr. Clevens customizes the incision based on your anatomy and physique to ensure it's barely noticeable once it heals. Then they address the skin laxity and unwanted fat, tighten the muscles in the neck, and suture the incision closed.

Can any procedures be combined with the Signature Profile Neck Lift™?
Absolutely—because the Profile Neck Lift™ is minimally invasive, it can be safely combined with other procedures to achieve ideal results. It's often combined with other facial and eyelid rejuvenative procedures, such as upper and/or lower eyelid blepharoplasty, and dermal fillers, like Botox. Dr. Clevens is available to make customized recommendations based on the procedures that will best meet your unique goals for your appearance.
Who is a good candidate for the Profile Neck Lift™?
Nearly anyone in good overall health who wants a more youthful neckline is a candidate for Dr. Clevens' Signature Profile Neck Lift™ surgery. Both men and women in multiple age groups seek out the procedure—in fact, it's one of the procedures most highly sought after by men!
It's also common for people who have lost a significant amount of weight to consider the Profile Neck Lift™ to remove the resulting excess skin. We typically recommend that you wait until you're within 20 pounds of your ideal weight before pursuing cosmetic procedures, as additional weight loss can impact your results.
You might also be a good candidate for the Profile Neck Lift™ if you have health risks that prevent you from pursuing a facelift. Signature Profile Neck Lift™ surgery offers a lot of the same benefits that a facelift does, with less downtime and lower cost, and is often performed in the office under local anesthesia.
What is recovery like following the Signature Profile Neck Lift™?
One of the biggest benefits to the Profile Neck Lift™ is how simple the recovery process is following the procedure. Many patients only experience minimal bruising, fullness, and discomfort. After a Signature Profile Neck Lift™, it's important to restrict normal activities and get more rest than usual to speed up your recovery.
You should avoid aspirin, ibuprofen, Vitamin E, and any medicines that thin the blood for 10-14 days prior to and subsequent to your neck lift surgery. Most people can resume normal activities in about 3-5 days after the procedure. Make it a point to keep your head elevated with at least two pillows during sleep for the first week after your surgery to facilitate recovery.
What results can you expect from the Profile Neck Lift™?
Patients who move forward with a Signature Profile Neck Lift™ are thrilled with the results, which are fast and long lasting. In fact, many of them say they're so happy with the results that they wish they had the procedure done sooner!
But don't just take it from us––hear from a few of our patients who loved their results after coming to Clevens Face and Body Specialists for our Signature Profile Neck Lift™:
"I am very pleased with the results from my procedure. I am happy that I have had the excess skin removed from my neck. I hated the skin that hung from my neck. I called the excess skin my chicken neck, and after 15 years I finally had the procedure to fix it. I wish I had done it sooner." -B.C.
"I recently lost 100 pounds and feel better than ever! The downside of losing a lot of weight is the extra skin that hangs around afterward. That's why I came to see Dr. Clevens—the best plastic surgeon ever! I plan to have some work done on my body to remove the extra skin eventually; however, I cannot do anything to hide my turkey neck for the time being and that is exactly why I came to see Dr. Clevens for a neck lift. It was all of the research I did that led me to Dr. Clevens and my decision to go through with the surgery." –G.H.
"I am 3 months post-surgery from having a Neck Lift by Dr. Clevens. I feel (and look) great, and have had a very easy recovery, despite my worries. Dr. Clevens was great in the appointments leading up to my surgery and he was great afterward. He checked in regularly and was very attentive. I am very pleased with my experience with Dr. Clevens." –V.M.
Trust your face to the specialists.
You deserve to invest in yourself and your appearance. If you're displeased with the way your loose neck skin and fat looks in photos and the mirror, and want to restore your youthful appearance, it might be a good time to consider Dr. Clevens' Signature Profile Neck Lift™.
Come and see why so many of our patients rave about this procedure! Schedule your consultation, and an expert specialty surgeon and care team will address your areas of concern and help you achieve a rejuvenated neck and jawline that you love.

About Dr. Clevens:
Dr. Clevens is a nationally recognized, double board-certified facial plastic surgeon with more than 20 years of experience in his specialty area of the face, neck, eyes, and nose. He is frequently recognized by former patients and colleagues for meticulous attention to detail, innovative contributions to the field, and artistry with facial plastic surgery.