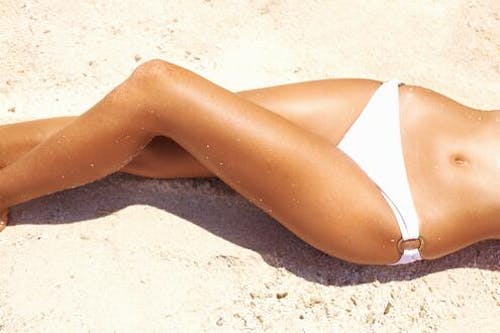 Do you love your body but hate your thighs? If so, you're far from alone; even the most confident individuals have one or two things they'd like to improve about their appearance, and for many people, "flabby" thighs is one of them.
Whether due to gravity, genetics, dramatic weight loss, or the normal aging process, our thighs can be prone to loose excess skin that leaves us feeling self-conscious in shorts and frustrated at our lack of results in the gym. That said, we'll let you in on a little secret: Although exercise will enhance the leg muscles, unfortunately no amount of weight loss can reduce drooping skin on the inner and outer thighs.
Instead, plastic surgery is the best option for sculpting the thighs and addressing sagging tissue. A thigh lift (which is sometimes referred to as a "thighplasty") helps reshape the thighs and results in smoother, firmer skin—not to mention better contours for the thighs and lower body. After having a thigh lift, patients are thrilled with tighter, more youthful legs and excited to show them off during the warmer months.
Are you considering a thigh lift to tighten and improve the appearance of your thighs? Here's all you need to know about the thigh lift procedure, recovery, and results.
What Is a Thigh Lift?
A thigh lift is a surgical procedure designed to reduce unwanted tissue along the inner thigh, outer thigh, or both. The thigh lift procedure sculpts the legs and addresses loose, sagging skin and fat on the thighs to create a firmer, tighter appearance. There are two types of thigh lifts: the inner thigh lift and outer thigh lift:
Inner Thigh Lift
An inner (medial) thigh lift focuses on tissues along the inside of the thighs. It's the most common upper leg corrective surgery performed as a standalone procedure. An inner thigh lift begins with an incision along the groin crease in the inner thigh to minimize the prominence of post-surgical scarring. Then, the plastic surgeon excises unwanted tissue and pulls skin taut before placing sutures along the incision line.
Outer Thigh Lift
An outer (lateral) thigh lift concentrates on the outside of the thighs. During the outer thigh lift procedure, a plastic surgeon removes excess sagging skin below the hip area, carefully placing the surgical incision along the hipbone to minimize scarring, and closes the incision with sutures.
Patients are placed under general anesthesia before the procedure, and most patients are able to return home the same day as surgery. With that said, the details depend on the type of thigh lift performed, as well as the extent of correction required and whether other cosmetic surgery procedures are combined with thigh lift at the same time.
What should you be doing NOW to ensure you age gracefully? Check out our guide, Cosmetic Procedures For Every Decade Of Your Life."
What Can I Expect From Recovery and Results?
Most patients return to work one week after their thigh lift procedure, as long as no strenuous physical activity or heavy lifting is involved. No exercise or heavy lifting is permitted for six weeks after surgery, though normal daily activities are possible right away. A special compression wrap is placed following the procedure, which should be worn for at least 4-6 weeks after surgery, or as directed by your surgeon.
Our breast and body specialist, nurse, and clinical team also see thigh lift patients for post-operative visits to remove and change dressings, monitor healing progression, and drain the incision if needed. You'll see some immediate results, with final results appearing after any fullness and minor bruising subsides. Keep in mind that although results are long-lasting, a thigh lift cannot prevent future weight gain or natural skin sagging due to age.
Who Is the Ideal Thigh Lift Candidate?
An ideal candidate for the thigh lift procedure is someone who has excess sagging skin around the inner and/or outer thighs that doesn't respond to diet and exercise. You may be a good candidate for a thigh lift if you're at a relatively stable weight and are unhappy with skin that has lost elasticity over time, or following a massive weight loss. Thigh lifts are a very common procedure for patients who have lost a significant amount of weight, which often results in loose, hanging skin on the inner and outer thighs.
Patients should either be non-smokers or willing to stop smoking for at least two weeks before and two weeks after the thigh lift procedure to allow for proper tissue healing. It's also important that thigh lift patients have realistic expectations for the procedure and are committed to making healthy lifestyle choices to maintain their results over time.
Which Procedures Can Be Combined With a Thigh Lift?
Many of our massive weight loss patients pursue a thigh lift in combination with other body contouring procedures to help achieve the ideal end result: tighter, smoother skin with better contours. Inner and outer thigh lifts are often combined with cosmetic procedures such as a tummy tuck, lower body lift/belt lipectomy, an arm lift, and/or liposuction for full body contouring.
A common misconception among weight loss patients is that a thigh lift and thigh liposuction are the same; however, the two procedures use different techniques and achieve different results. A thigh lift is designed to remove both excess fat and skin as opposed to reducing fat only, whereas liposuction addresses only isolated fat deposits (and not excess skin) in the upper leg region.
While the thigh lift procedure involves the excision of excess skin and tightening of the remaining tissue, liposuction targets and breaks up fat cells, gently removing them using a suction device called a cannula. Therefore, liposuction is recommended for patients who are specifically concerned with stubborn deposits of fat, as opposed to sagging skin.
In addition to body contouring procedures, some women may also opt for cosmetic breast surgery along with their thigh lift, such as breast augmentation and/or breast lift to restore volume and reshape breasts to a more youthful appearance.
What Should I Do If I'm Interested In A Thigh Lift?
If you're interested in the thigh lift procedure, the next step is to schedule your consultation with a board-certified plastic surgeon who specializes in breast and body procedures. During your consultation, your plastic surgeon will ask questions about your areas of concern and goals for your results. They'll also be able to assess the amount and location of the excess skin on your thighs to make a treatment recommendation personalized to meet your needs.
Schedule your consultation with one of our expert plastic surgeons to talk in detail about how you want your thighs to look, express any concerns you have, discuss the expectations you have for your results, and learn about which thigh lift procedure will best align with your aesthetic goals.