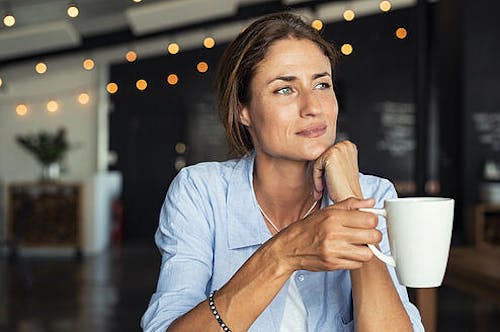 Being in our 40s is an exciting decade, filled with countless milestones and moments to remember. They're also a great time to get serious about skin care. By taking proactive steps to create a routine focused on anti-aging, you can slow down the signs and preserve the youthful features that you love.
In this article, we'll share the common signs of aging to expect in your 40s, along with surgical and nonsurgical cosmetic procedures to help you look your best.
Common Signs Of Aging To Expect In Your 40s
While our 40s are mostly about taking the right preventative measures to slow future signs of aging, there are still some areas of concern you can expect to see:
Crow's feet develop around the corners of the eyes.
Fine lines and wrinkles appear on the upper and lower face.
Frown lines appear and deepen in the forehead.
Upper and lower eyelids begin to sag.
Cheeks begin to lose their volume.
Nasolabial folds around the mouth deepen.
Stubborn fat that's resistant to diet and exercise may appear on tummy, thighs, arms, and love handles.
Loose skin develops as a result of age, pregnancy, and weight changes.
Breasts begin to sag from weight changes, pregnancy, and/or breast-feeding.
Cosmetic Procedures To Have In Your 40s
Fortunately, there are several surgical and nonsurgical cosmetic procedures you can have to address early signs of aging and look fabulous in your 40s. Here are some of the most popular cosmetic procedures to have during this time of your life:
#1. Injectables and Fillers
An increasing number of 40-somethings are exploring nonsurgical injectables and fillers to revitalize their face without surgery.
Botox is the most popular nonsurgical cosmetic treatment for men and women alike. If you're looking to diminish and smooth the appearance of frown lines, crow's feet, and other facial lines and wrinkles without surgery, you may want to consider Botox or another injectable.
Dermal fillers like Voluma, Restylane, Restylane Lyft, Sculptra, and Bellafill achieve a more youthful look by correcting a number of common issues, such as:
Laugh and smile lines
Crow's feet
Acne scars
Facial folds
Fine lines
Thinning lips
Weak jawline
The best filler(s) for you depends on the areas you want to treat, the duration of the results, and your final desired look. You can work with a master injector to decide which fillers make the most sense for you, based on your personal goals.
Here's how one of our patients felt after getting dermal fillers:
"I just wanted to restore some of my natural features and smooth out some of the lines that I was experiencing through the natural aging process. I feel great about the way my fillers came out. I feel like they gave me back at least five years, if not more." –Gloria
Many people also seek out Kybella, a nonsurgical solution for eliminating submental fullness or "double chin." After a simple treatment, Kybella reduces the appearance of a double chin by permanently melting the fat cells that created it.
What should you be doing NOW to ensure you age gracefully? Check out our guide, Cosmetic Procedures For Every Decade Of Your Life."
#2. Fat Reduction Treatments
Even if you're watching what you eat and regularly working out at the gym, there may still be stubborn areas of fat accumulation that you just can't seem to lose. Thanks to modern technology, there are now non-invasive fat reduction treatments to help you target and get rid of those pesky fat cells.
SculpSure is a nonsurgical treatment that reduces unwanted fat using state-of-the-art laser technology. It relies on heat to reduce fat cells and tighten the skin. SculpSure has demonstrated proven results and can melt 25 percent of your body fat—without the need for anesthesia, surgery, or downtime.
CoolSculpting is the leading non-invasive fat reduction treatment for men and women. It works by freezing away fat cells that contribute to body fat and the appearance of a double chin. Many people seek out CoolSculpting to remove stubborn, diet- and exercise-resistant fatty tissue. The result is a 20-25 percent reduction of unwanted fat accumulation—even in areas that can be particularly troublesome!
CoolTone is the latest way to contour your body. Whereas SculpSure and CoolSculpting remove fat, this treatment uses technology that tones and strengthens your muscles via magnetic muscle stimulation. Even better, it doesn't require downtime or a recovery period. For optimal results, CoolTone is often combined with CoolSculpting. We're proud to be one of the first practices in the country to offer this exciting new treatment to you!
Both SculpSure and CoolSculpting provide lasting improvement in several areas of the face and body, including:
Abdomen ("muffin top")
Upper back ("bra rolls")
Lower back
Flanks ("love handles")
Upper arms
Male breasts
Inner, outer, and posterior thighs ("saddlebags")
Double chin
In addition to reducing body fat in these areas, both procedures are alternative treatments to Kybella that address double chin and enhance the jawline.
Here's what one of our many satisfied CoolSculpting patients had to say after her treatment was complete:
"I am very pleased with the results of my CoolSculpting procedure. I can see and feel the difference in my appearance and also the way clothes fit. I have more of a waistline and am able to wear clothes that were previously tight. I am very happy with the results and plan to have additional treatments since the last result was so good." –D.G.
#3. Mommy Makeover
Having children is no doubt one of the greatest joys in life for a new mother, but pregnancy can take a serious toll on your body. Muscle and skin tissues expand to accommodate the growing baby, particularly in areas like the abdomen, hips, and breasts. The breasts also lose volume and firmness as they shrink back down to their original size.
So how can you fully restore your body after pregnancy?
If you're struggling to get your pre-pregnancy body back, a Mommy Makeover is the perfect solution, and it's a very common cosmetic procedure for women in their 40s following pregnancy and/or weight changes.
A Mommy Makeover is usually a combination of cosmetic procedures to help a woman get her figure back in shape after she's finished having children. It is completely customizable based on your unique goals for your appearance. Restoring a tight, shapely figure can include your choice of the following procedures:
Our specialist in cosmetic breast and body procedures takes a unique approach to liposuction known as Liponique™ Custom Body Contouring. We often include Liponique when performing a Mommy Makeover for patients to sculpt the midsection by removing excess fat.
Look Fabulous In Your 40s And Beyond
Taking proactive steps to care for your face and body can go a long way in slowing the visible signs of aging and looking healthy throughout your 40s.
If you want to learn more about any of these cosmetic procedures, the next step is to meet with a specialist to discuss your options. Schedule your consultation with one of our specialists in your treatment of choice to learn more about the different cosmetic procedures that can help you love how you look and feel in your 40s.