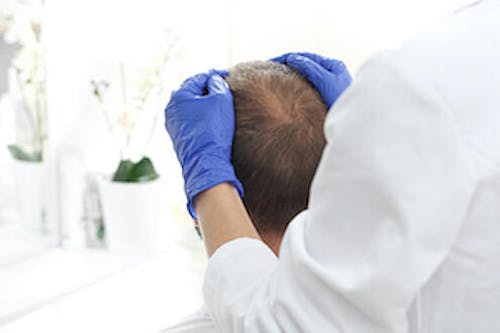 Each year, millions of people struggle with hair loss and search for ways to treat it safely and effectively. Despite how common it is, losing your hair can make you feel like you're losing your whole identify. The good news is that there are multiple treatment options available to help you regrow your hair and regain your confidence in the process—including nonsurgical options that are minimally invasive and highly effective for treating hair loss.
This blog post will address some of the most frequently asked questions related to the NeoGraft "MaxGraft" hair restoration procedure.
1. How does the NeoGraft MaxGraft technology work to restore lost hair?
Our hair restoration specialists utilize the follicular unit extraction (FUE) technique to remove individual hair follicles and transplant them to other areas of the scalp. Hair follicles are removed from a donor site, typically on the back of the scalp, and transplanted to other areas to stimulate growth and restore hair over time.
2. How is NeoGraft MaxGraft different from other hair restoration techniques?
Traditional hair restoration techniques remove part of the scalp—usually an entire strip of tissue—and this can cause significant scarring and difficult recovery. NeoGraft MaxGraft is a surgery-free way to restore hair permanently to balding areas and correct the hairline. The procedure is minimally invasive and automated to ensure accuracy and minimize the risk of complications. Because it is conveniently performed in-office with light oral sedation to ensure your comfort and safety, it doesn't require general anesthesia or a hospital stay. In fact, patients tend to be back to work within a few days of having this procedure.
3. Is NeoGraft MaxGraft a permanent solution to hair loss?
Though these grafts are intended to be permanent, differences in hair loss patterns may still cause future issues. Some transplanted hair will remain permanently; however, the procedure cannot prevent all future hair loss from occurring. In some cases, patients may require additional transplant procedures to maintain results for many years.
Are you a candidate for hair restoration? Take this simple quiz to find out!
4. Will people be able to tell I've had a hair restoration procedure done?
Not at all! Because the NeoGraft MaxGraft procedure is completely customizable, each patient receives the ideal number of grafts to achieve natural-looking results (as seen in these before/after photos). Because the hair is transplanted one strand at a time, the result is natural and often imperceptible. This is unlike techniques in the past that left an unnatural "cornrow" like appearance. Patients typically experience no scarring and have no visible incision marks following the hair restoration procedure—which is a huge improvement over traditional surgical options.
5. Who is a good candidate for NeoGraft MaxGraft hair restoration?
Anyone who is in good health and experiencing hair loss is a candidate for NeoGraft MaxGraft hair restoration. Those who wear their hair in a shorter style are particularly good candidates because the procedure doesn't leave visible scars like traditional transplants. NeoGraft MaxGraft is also a great option for athletes and active individuals because recovery time and activity restrictions are minimal.
6. How many NeoGraft MaxGraft sessions will I need?
The number of required sessions is dependent on the individual. A hair restoration specialist can discuss the possible need for multiple treatments during a consultation for the NeoGraft MaxGraft procedure. Some patients will only require one session, whereas others may opt to undergo maintenance to guarantee long-lasting results.
7. How long will the NeoGraft MaxGraft recovery process take?
Recovery is significantly shorter and more comfortable with the NeoGraft MaxGraft procedure than with a traditional hair transplant because hair follicles are removed without incisions. Most patients return home the same day and are back to work the day after the procedure is completed. You can resume your regular exercise routine and most daily activities within two weeks following the procedure.
If you're experiencing hair loss that is getting you down, NeoGraft MaxGraft might be the solution you've been searching for. Take our Hair Restoration quiz to learn if hair restoration treatments are the best fit for you.