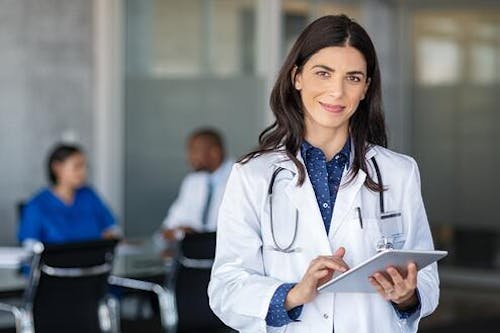 Medical problems are commonplace. Nearly everyone experiences them at one point or another. Although they're far from fun, they should not deter you from pursuing your goals or living life on your terms—nor from seeking cosmetic surgery.
In the majority of cases, medical problems are not an obstacle to moving forward with surgery safely and successfully. Leading plastic surgeons deal with them on a routine basis and know which steps to take to ensure an optimal surgical outcome. In fact, many of our successful surgical patients come to us with preexisting medical conditions that do not prevent them from having the cosmetic procedure that interests them.
To protect the health and safety of our patients, we often obtain medical clearance to learn about their health history, as well as any health concerns. Medical clearance for plastic surgery serves as a green light, indicating it's safe for patients to move forward with an operation. From time to time, the medical clearance process even reveals medical problems the patient was not aware of beforehand, and so this process is helpful for patients to discover their health condition more thoroughly.
If you're interested in having plastic surgery, but you're concerned about a medical problem preventing you from moving forward—or unsure of whether or not you'll need to be medically cleared at all—don't let it hold you back from seeking a procedure. Here's what you need to know about getting medical clearance for plastic surgery.
When Is Medical Clearance Required For Plastic Surgery?
Whether or not medical clearance is necessary for plastic surgery is typically decided on a case-by-case basis. Different plastic surgeons have different approaches and requirements when it comes to medical clearance. Our decision to seek medical clearance is tailor-made based on each individual's health and well-being, so it is difficult to make predictions or render advice before meeting each prospective patient.
In other words, it all comes down to you and your individual needs and health concerns. For example, if you have a history of heart problems, such as high blood pressure, or have even had a heart attack in the past, it would be common for us to ask for medical clearance from your cardiologist to ensure that we may safely proceed with your surgery. In such an instance, your cardiologist may require further testing such as an electrocardiogram (EKG) or a cardiac stress test in order to test for any irregularities and grant medical clearance.
Along with preexisting medical conditions, we also take prescribed medications into consideration. We find that blood thinners are common for a variety of medical reasons. Before asking you to stop taking your blood thinner, we communicate with your prescribing physician to understand why you are on the medication, whether it is safe for you to stop taking it in advance of your cosmetic surgery, and for how long you can safely stop taking it to avoid complications.
In addition to plastic surgery practices requesting medical clearance, many ambulatory surgical centers (ASCs) require their own tests, to ensure that only qualified candidates can move forward with an operation in their facility. To ensure the safety and comfort of our patients, we perform our procedures in a fully accredited ASC with a physician anesthesiologist, as opposed to a nurse or certified registered nurse anesthetist (CRNA). Performing a cosmetic procedure under the supervision of a board-certified physician anesthesiologist provides even greater patient protection during surgery. This is in large part due to the additional training, education, and experience required to become a physician anesthesiologist, which is much more extensive than for CRNAs.
Although office-based procedures are prevalent, they may not be as safe as ambulatory surgery center-based surgery, because ASCs are required to meet the same stringent licensing and inspection requirements as hospitals. Even plastic surgery patients with preexisting conditions can rest assured they'll be in safe hands under the supervision of a physician anesthesiologist and a board-certified surgeon in an accredited ASC.
What's Involved In Medical Clearance For Plastic Surgery?
In most cases, you'll receive your medical clearance from your primary care physician (PCP) leading up to surgery, although some ASCs have the ability to perform their own preoperative testing. With the permission of the patient, we contact their family doctor or specialty doctor to learn more about their medical condition.
Oftentimes, patients wish to avoid telling their regular doctor they're having cosmetic surgery—and that's totally fine! Don't let that be a deterrent; it's not necessary to reveal the specific type of procedure to complete the medical clearance process.
As part of a process known as medical clearance, a PCP or specialist will shed light on your medical condition and any preexisting medical problems to help guide our surgical care. This is often very helpful for our anesthesiologist to plan for their safe care during surgery. Medical clearance typically involves a thorough physical exam and blood work; however, other testing may be required depending on patient-specific health concerns.
Wondering how recent your medical clearance needs to be? Most surgical centers and plastic surgery groups (ours included) require a letter of medical clearance and lab results to be completed in advance of surgery to allow sufficient time for review by the surgical and anesthetic teams.
How Do I Know If I Need Medical Clearance For Plastic Surgery?
Medical clearance allows plastic surgeons to perform procedures safely, minimizing the risk of complications and increasing the likelihood of a positive surgical outcome. The best way to determine whether or not you'll require medical clearance is to consult with a board-certified plastic surgeon to express any concerns you may have, learn more about their requirements, and discuss if it makes sense for you.
Want to learn more? Schedule your consultation to meet with one of our board-certified plastic surgery specialists and their care team to discuss your goals, health concerns, and the cosmetic procedure(s) that interest you.