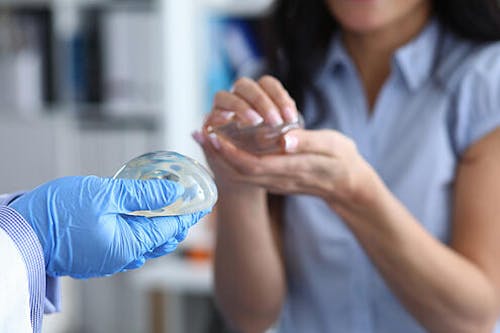 When considering breast implants, many patients have questions about the consultation. After all, there are many variables to consider. Here are some of the top questions my patients are considering when planning for a consultation before their breast augmentation surgery.
1. How do I choose a plastic surgeon?
In order to best prepare for your breast implant consultation, it is always wise to do your own research regarding your plastic surgeon. You should look for the following when choosing your provider:
2. What can I do to prepare for my consultation?
In order to prepare for your breast augmentation consultation, consider your goals for the procedure. Make a list of your goals and questions, and decide what you would like to accomplish so that you can discuss everything with your surgeon in detail. For example, is it most important to you to achieve a certain size, or is it most important to achieve a particular natural look or fit in certain clothing? You will need to bring a list of your current medical history, medical conditions, medications, and allergies as well. Here are other important questions to go over with your surgeon:
Where will your breast implant be placed?
How should I decide what size is right for me?
How do you prevent rippling in the breast?
What is the potential for nipple loss sensation?
How do you make cleavage with breast implants?
It may be helpful to review various photos online prior to coming in for the consultation. While it may be useful to review before-and-after photos online to give you a rough idea of what you are looking for, it is also important to be realistic about your expectations. Your surgeon can help you with this during your consultation and fitting to determine the size of your implants.
3. What is involved in the breast augmentation consultation?
Prior to your consultation, you will speak with a Patient Care Coordinator regarding your thoughts and goals, and you will have the opportunity to share your medical history, current medications, allergies, and other information as well. This will give your doctor and care team the needed medical background information to assist you in planning for your surgery safely.
When you arrive at our office for your consultation, you will be greeted by a team member who will help you complete additional medical forms. Then you'll speak with a Patient Care Coordinator who can then further assist you in communicating your goals and preferences.
Next up, you'll meet with me to review all of this information. I will then perform an examination and help you focus on the aspects of the procedure that will best meet your goals. In addition, I will take measurements and photographs, and you will try on implants in a bra so that you can choose the best size for you. I may also advise you if additional procedures are needed, such as a breast lift, in order to achieve optimal results.
We will then review the recommended procedures together and discuss various considerations as you prepare for your surgery. At the end of the consultation, you will see your Patient Care Coordinator again to discuss your financing options, and can even schedule your surgery for a time that works for you.
Get the most out of your consultation. Come prepared with this comprehensive checklist to help you ask all the right questions.
4. What about after the consultation?
After your breast implant consultation, you may be very excited about all the new information you received and looking forward to your new look. At this point you may seek the opinions of others, who may or may not be supportive of your decision. Keep in mind this is a decision solely for you. Sometimes patients describe that others are very happy for them, but sometimes others can be negative or even jealous. Stick with your trusted friends on this. Not everyone will be supportive of your exciting decision.
If there are additional questions in your mind, be sure to keep a list and discuss with your Patient Care Coordinator or your Board Certified Plastic Surgeon.
5. What happens next?
Whenever you're ready, your Patient Care Coordinator will assist you in scheduling your breast augmentation surgery. You will also receive information about your pre-op medical clearance exam, EKG, and labs, and whether it is recommended that you get an updated mammogram prior to surgery.
Before your operation (pre-op), you will also have a visit with your care team to review all your additional breast implant questions, so bring your list. During that pre-op visit, you will review all the pre-op and post-op instructions, consent forms, and other considerations unique to you. We invite patients to bring along the person who will serve as your primary caregiver after your procedure, so he or she can learn all about how to support you during your recovery.
Breast Augmentation is one of the most popular plastic surgery procedures for women in the U.S. In fact, 98 percent of patients who have gotten breast implants say their procedure was "worth it," according to RealSelf. If you have questions or would like to learn more about whether breast augmentation is right for you, schedule your consultation today to get expert guidance and begin your journey to look and feel your best!