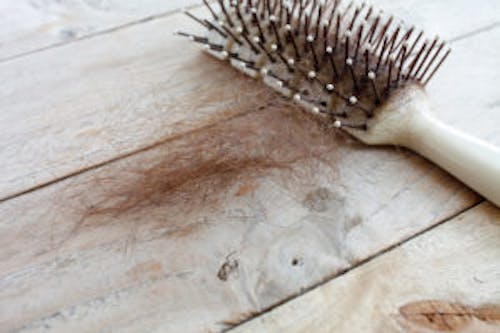 Hair loss is common and affects millions of people all over the world. Although it is a common concern, that doesn't mean most people are content to sit back and accept it. What you can do about your thinning hair depends in large part on the cause of the hair loss. In some instances, hair will grow back on its own. In others, surgery might be needed to provide long-lasting results.
Alopecia
Alopecia, or male pattern baldness, might be what people are most likely to think of when they think of hair loss. The hormone dihydrotestosterone (DHT) plays a big part in male pattern baldness, and also a part in female pattern baldness. DHT causes certain hair follicles, usually, those located on the top of the head, to spend less time growing and more time resting. Over time, the hair follicle shrinks, a process known as "miniaturization." After some time, the follicle will no longer produce any hair at all.
It's pretty easy to spot cases of alopecia. Usually, the hair is lost gradually from the top of the head. As the hair loss progresses, the only hair that remains appears on the sides and back of the scalp. Since the hair on the back and sides of the head is unaffected by DHT, it can be used during a hair transplant procedure and relocated to the top of the head.

Although people often think of hereditary hair loss as something that happens to men, DHT can also cause women to lose hair. The pattern of hereditary hair loss in women is different than in men. They are more likely to lose hair all over their scalps, rather than just on the top.
Alopecia Areata
Another cause of hair loss is alopecia areata, or hair loss due to an overactive immune system. In this case, a person's immune system attacks the hair follicles, causing hair to fall out. Typically, hair loss occurs in round patches all over the scalp and on other areas of the body. It's possible for the hair to grow back on its own over time, although it might be lighter or finer than the original hair when it regrows.
Alopecia areata can be difficult to predict. Some people have only one attack over the course of their lifetime, while others might lose and regain hair, then lose and regain hair over and over. While hair loss can occur in patches, it's also possible for a person to lose all of his or her hair.
Since this condition can be unpredictable, hair restoration surgery is generally not a suitable treatment. There's no way to say for certain which areas of hair will be unaffected or how to choose hair to transplant to a bald patch.
Tension, Scarring, and Burns
Physical force on the hair follicle can lead to hair loss in some people. For example, people who regularly style their hair in styles that pull or tug on it, such as tight ponytails and braids, can end up with traction alopecia, or hair loss due to force. Changing your hairstyle can help reduce hair loss due to traction alopecia.
An injury to the scalp, such as a cut or a bad burn, can also lead to hair loss if a scar forms in the area where the follicles were. Hair loss due to injury or scarring can be restored in many cases through a hair transplant.
Telogen Effluvium
Hair loss can also occur after a major life event or major shock to a person's system. Usually, this type of hair loss is temporary and the hair that falls out will regrow after the shock or triggering issue is corrected or removed. A few examples of factors that can trigger a rapid amount of hair loss include being pregnant, dealing with a lot of stress, being very ill, or not getting enough nutrients.
When a person loses hair rapidly and temporarily, it's known as telogen effluvium. Under normal circumstances, less than 10 percent of the strands of hair on a person's head are in the telogen, or resting phase. Instead, they are in the anagen, or active growth stage, or catagen, a transitional stage. But, a sudden shock or change in the body can cause a considerable number of hairs to shift into the telogen phase.
Those hairs might hang around the scalp for a while, then be shed in rapid succession after a few months. That means many people experiencing telogen effluvium experienced a shock months before they actually experience hair loss. While telogen effluvium can be a trying time and alarming, the good news is hair usually comes back on its own and is most likely to come back if the issue stressing the body is gone.
Figuring out the cause of your hair loss allows you to determine the most appropriate way to treat it. Getting a proper diagnosis is key. In central Florida, Ross A. Clevens, MD, FACS, an Ivy League trained and double board-certified facial plastic surgeon, can determine the cause of your hair loss and let you know if a hair restoration procedure using Neograft is right for you. Call (321) 727-3223 to schedule your consultation with Dr. Clevens today.
Take the Quiz! Is Hair Restoration Right for You?